OBSERVING AND SITES FOR ASTROPHOTOGRAPHY
HOME SWEET HOME...
Well… that is the result after negotiations with my wife Silvina. Actually more than an observatory is just a site with a Pier at the border of the swimming pool in the house backyard. Although the location is a bit risky, it is a convenient place for the rig.
The pier is placed directly in the basement. There are a bunch of people who used to build a block of cement underground. That was too much and no space for discussion with Silvina. However the pear, is stable enough. An investment of something around us$ 100.- gave me all the stability the most expensive tripods might provide. Nevertheless l have to be careful not falling into the pool. e swimming pool. On the right, Ruben Barros testing the Meade DSI Camera during the Pizza Star Party we had in March 2006. (courtesy of Sur Astronómico) Agustina, our baby daughter, (center) is helping us with the swimming pool

My backyard visual magnitude is approximately 3.5 to 4. In goods clear nights it might reach 4.5 Not bad for suburban locations. My house is located in the City of Martinez some 25 kilometres north from Buenos Aires. The coordinates are lat -34.483; long -58.500.
The panoramic picture shows the south side. The west is obstructed 30º from the ground, by a house next to my neighbour.
Due the regular to bad transparent conditions my backyard is only used to test equipment and eventually a picture of an open cluster or bright objects
---
OBSERVATORIO CIELOS ALBERTINOS
ALBERTI, PROVINCIA DE BUENOS AIRES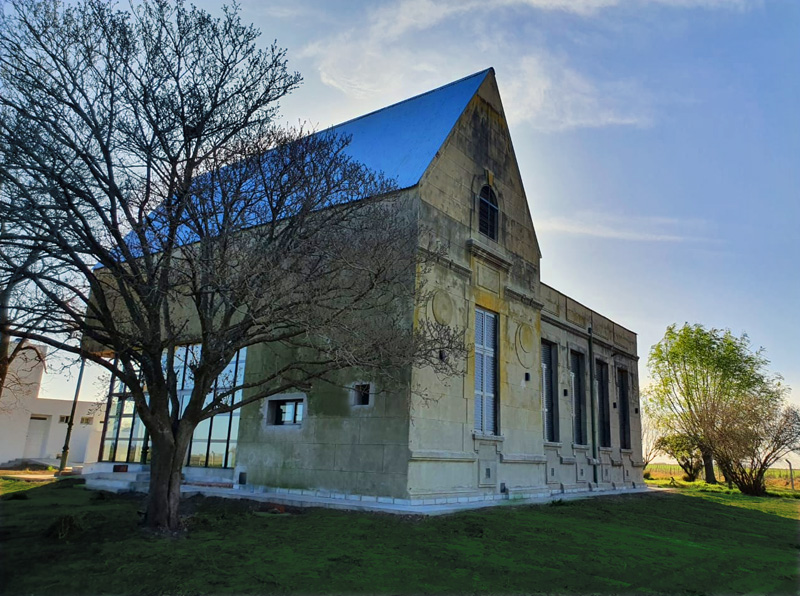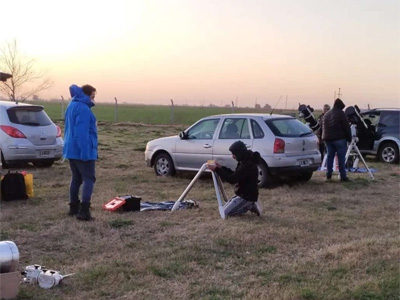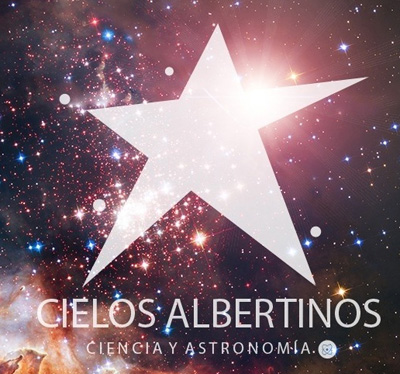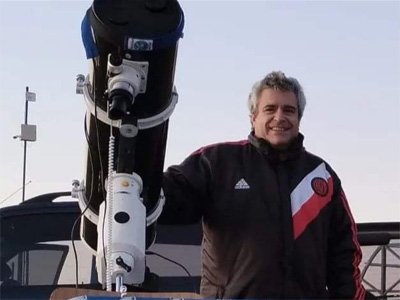 ---
SAN ANTONIO DE ARECO
After testing some other places outside Buenos Aires, we found this Camping as a comfortable location for astro imaging. This is a very nice site 110 km north from Buenos Aires. The night sky is acceptable for regular objects, however faint galaxies and nebulae might require some relative hard work. The place gives us an area of about 150 square meters of flat lawn. The area is surrounded by trees that baffles the light domes coming from San Antonio de Areco. Also it is very good that there is absolute no compromise from the owner of the place, to receive astro photographers.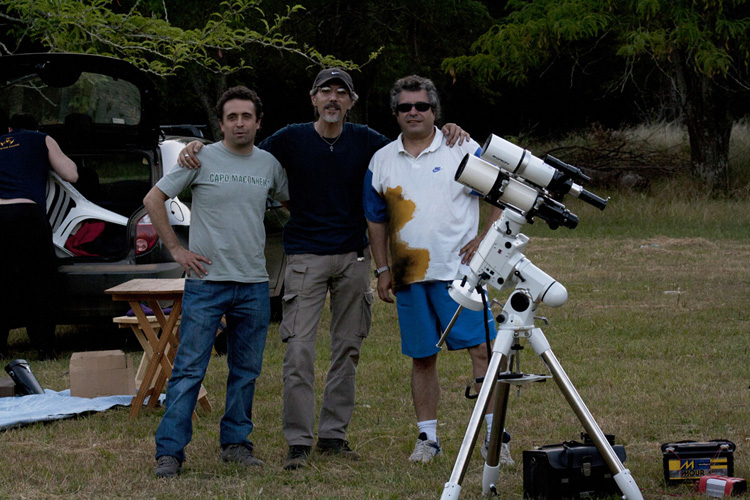 In the picture above from left to right: Sebastian Colombo; Carlos Di Nallo and Sergio Eguivar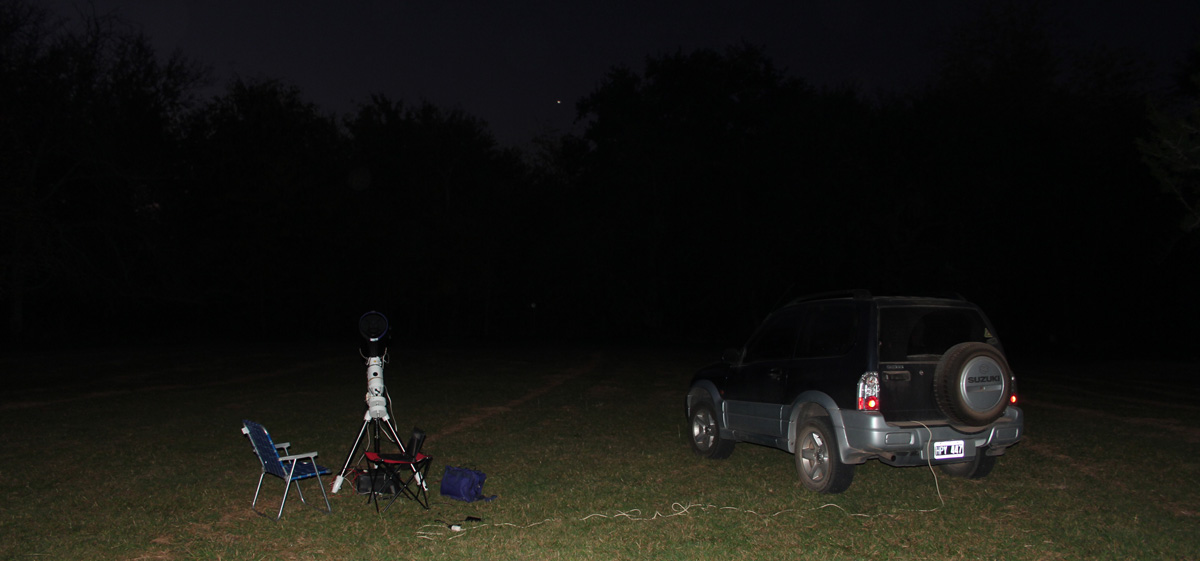 Gear in San Antonio de Areco - waiting for darkness
---
Observatorio La Banderita - La Pampa
Amazing site and Observatory owned by Leonardo Julio (Astronomía Pampeana). 550 km away form Home... but it pays back going there.
Orion Optics UK 8" Newtonian under Bortle 2 skies
The Observatorio La Bandrita (OLB for short) during daytime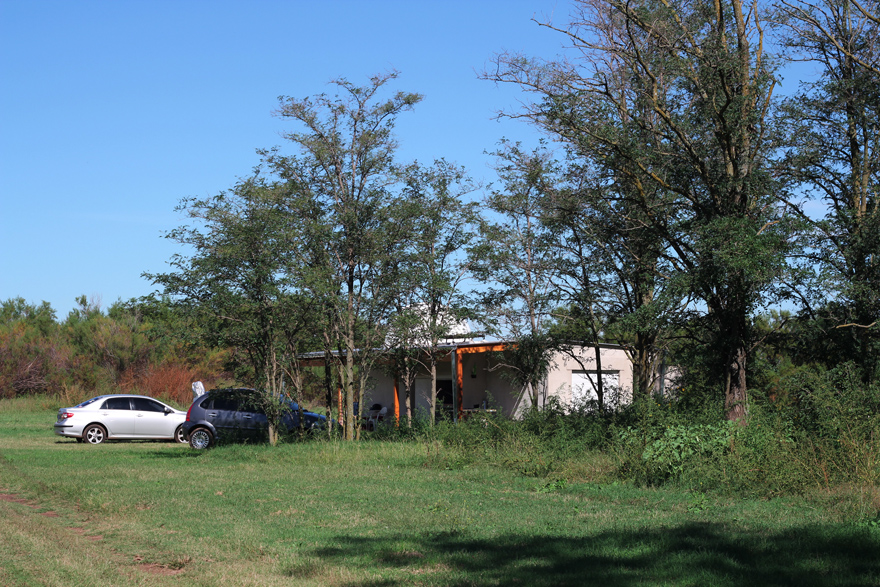 Leonardo Julio and me at down... all set for imaging.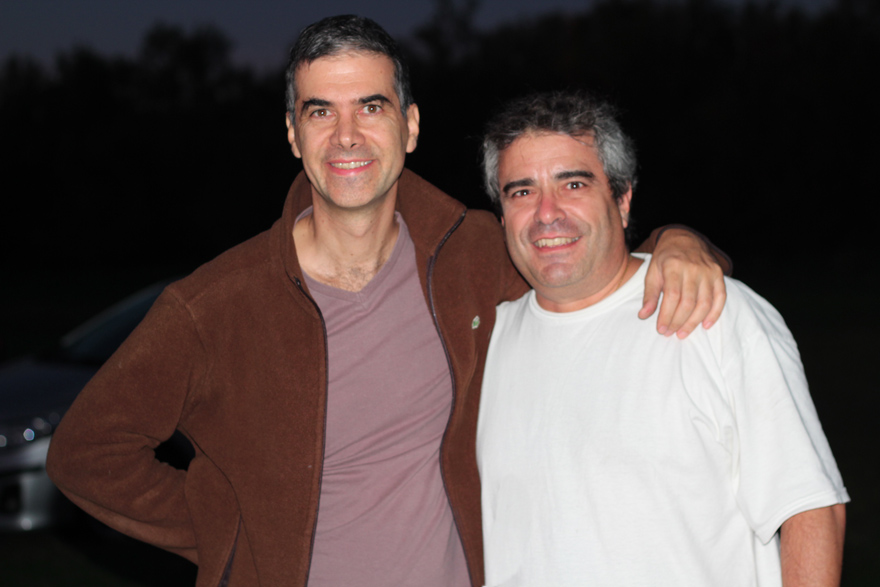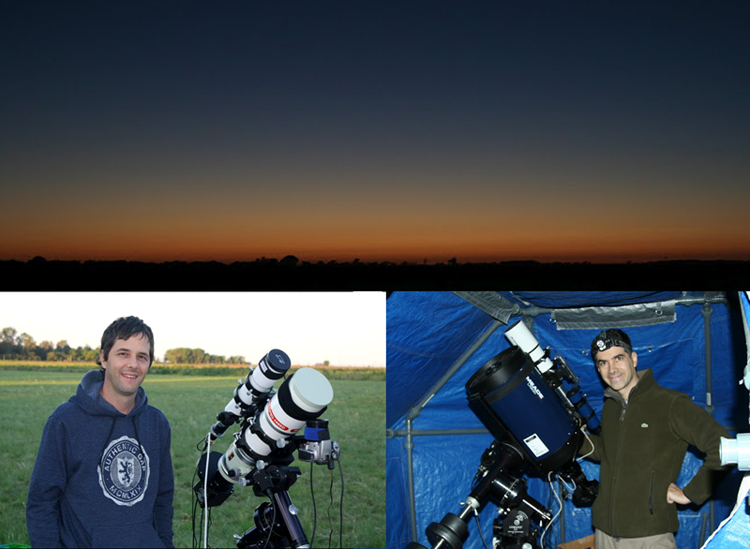 Up Center Intendente Alvear at dawn.
Left Ezequiel Bellocchio. Right Leonardo Julio
---
LIGHT POLLUTION MAP AROUND BUENOS AIRES