HENIZE 70 - LMC
Dorado
(ra: 5:45.5 / dec -67:54'17'')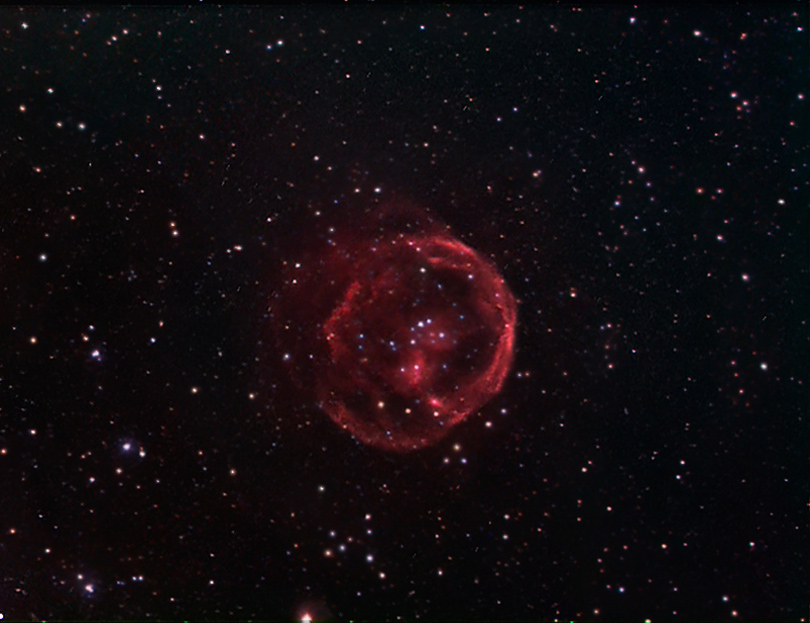 ---
DATA
TYPE: Emission Nebula
APARENT MAGNITUDE: n/a
SIZE: 10 arcs minutes (rough calculation by the author)
DISTANCE: 160,000 light years
OBJECT DESCRIPTION
I was interested in this object for a while. Not much pictures around except those wide angle shots from NGC 2070.
Henize 70 is a faint interstellar gas bubble. The luminance channel did not brought it up so i had to use the Ha filter with more exposure time. The bubble measures about 300 light-years in diameter. It was created by winds from hot, massive stars. and supernova explosions and the interior is filled with tenuous, hot expanding gas.
IMAGE INFORMATION
SCOPE: Celestron C8 (SCT). Vixen GPDX. Sky Sensor 2000,
SKY CONDITIONS: visual magnitud 4.5
CAMERA: SXV M7 in @ F6.3.
FILTERS: Astronomik Ha 6nm, Type II
EXPOSURES: LHaRGB (20,60,15,15,20) for a total of 130 minutes with 5 minutes subs.
GUIDING: Synta Refractor 70/400 SXV Guide Head and Astro Art Control Camera Plug in release 3.71
PROCESSING: Calibration darks, flats & bias in ImagesPlus 2.75. Ritchardson Lucy Deconvolution. Photoshop CS
---