M1 – CRAB NEBULA
Taurus
(ra: 5:35,5/ dec 22:01)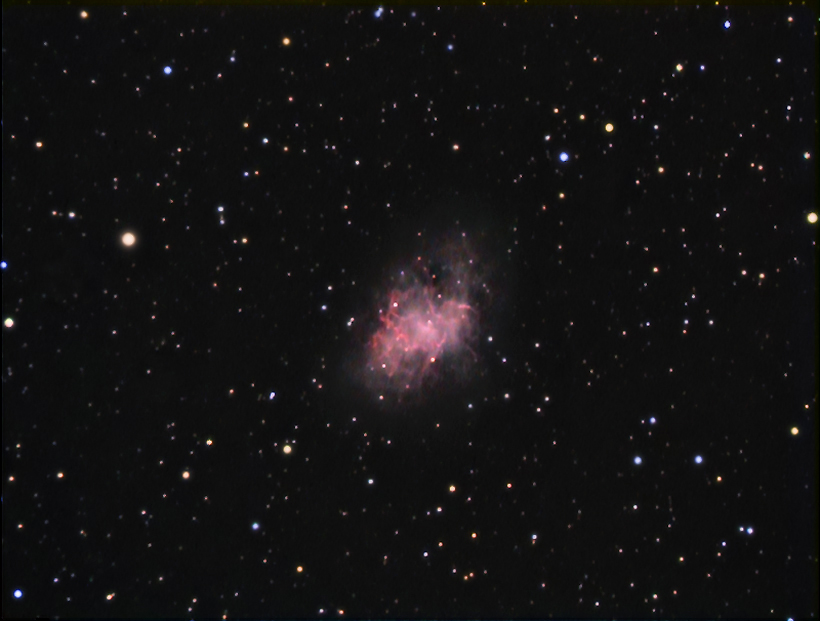 ---
DATA
TYPE: Supernova Remnant
VISUAL MAGNITUDE: 8.4
SIZE: 6 x 4 arc minutes
DISTANCE: 6500 light years
OBJECT DESCRIPTION
The Crab nebula is one of the most famous Supernova remnants. The expansive gas cloud was generated after an explosion which was observed in the year 1054. There are records of Chinese astronomers affirming a bright light of magnitude -6 visible also during the day light through 23 days.
Charles Messier identified this object in 1758 while he was searching for Comet Halley in his first predictive return. He soon realized that the object has no apparent proper motion and he catalogued. It was the discovery of this object which caused Charles Messier to begin with the compilation of his catalog to prevent comets hunters of getting confused with non self motion objects.
IMAGE INFORMATION
SCOPE: Celestron C8 (SCT),riding in a Vixen GPDX with Sky Sensor 2000
SKY CONDITIONS: Visual limit magnitude 4. Object too low for channels Green and Blue
CAMERA: Starlight Xpress SXV M7 at f 6.3
FILTERS: Astronomik Type II Astronomik CLS
EXPOSURES: LRGB (46,12,10,12)
PROCESSED: Calibration with darks & bias in Images Plus. Nasa Fit Liberator. Photoshop CS.
---