NGC 2032 - Cluster associated with Nebulosity
Dorado
(ra: 5:35.3 / dec -67:34')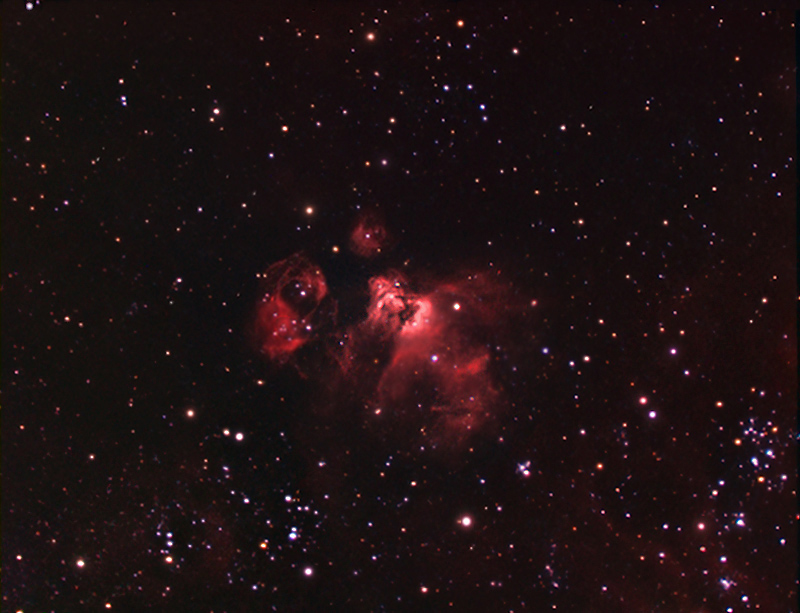 ---
DATA
TYPE: Cluster associated with Nebulosity
APARENT MAGNITUDE: n/a
SIZE: 12 arcs minutes for the main nebulosity complex (rough calculation by the author)
DISTANCE: aprox. 160,000 light years
OBJECT DESCRIPTION
Another cluster with nebulosity arround the LMC which is 1º 33' away from the Tarantula Nebula. The image has aproximatelly a FOV of 25 arc minutes. The nebula is a complex containing NGC 2029 and NGC 2035; at the lower right we have NGC 2021 a nice colorfull cluster of 12.1 magnitude. Objects can be checked in the map below.
NGC 2032 was discovered by Sir William Herschel in 1834.
IMAGE INFORMATION
SCOPE: Celestron C8 (SCT). Vixen GPDX. Sky Sensor 2000,
SKY CONDITIONS: visual magnitud 4
CAMERA: SXV M7 in @ F6.3.
FILTERS: Astronomik Ha 6nm, Type II
EXPOSURES: LHaRGB (18,30,12,12,12) for a total of 84 minutes with 3 minutes subs.
GUIDING: Synta Refractor 70/400 with SXV Guide Head and Astro Art Control Camera Plug in release 3.71
PROCESSING: Calibration darks, flats & bias in ImagesPlus 2.75. Photoshop CS
---

NGC 2032 - and Company
Dorado
(ra: 5:35.3 / dec -67:34')