ALPHA PYXIS - GIANT STAR
AKA SAO 199.546
(ra: 8,44.07 / dec -33º 13´ 57")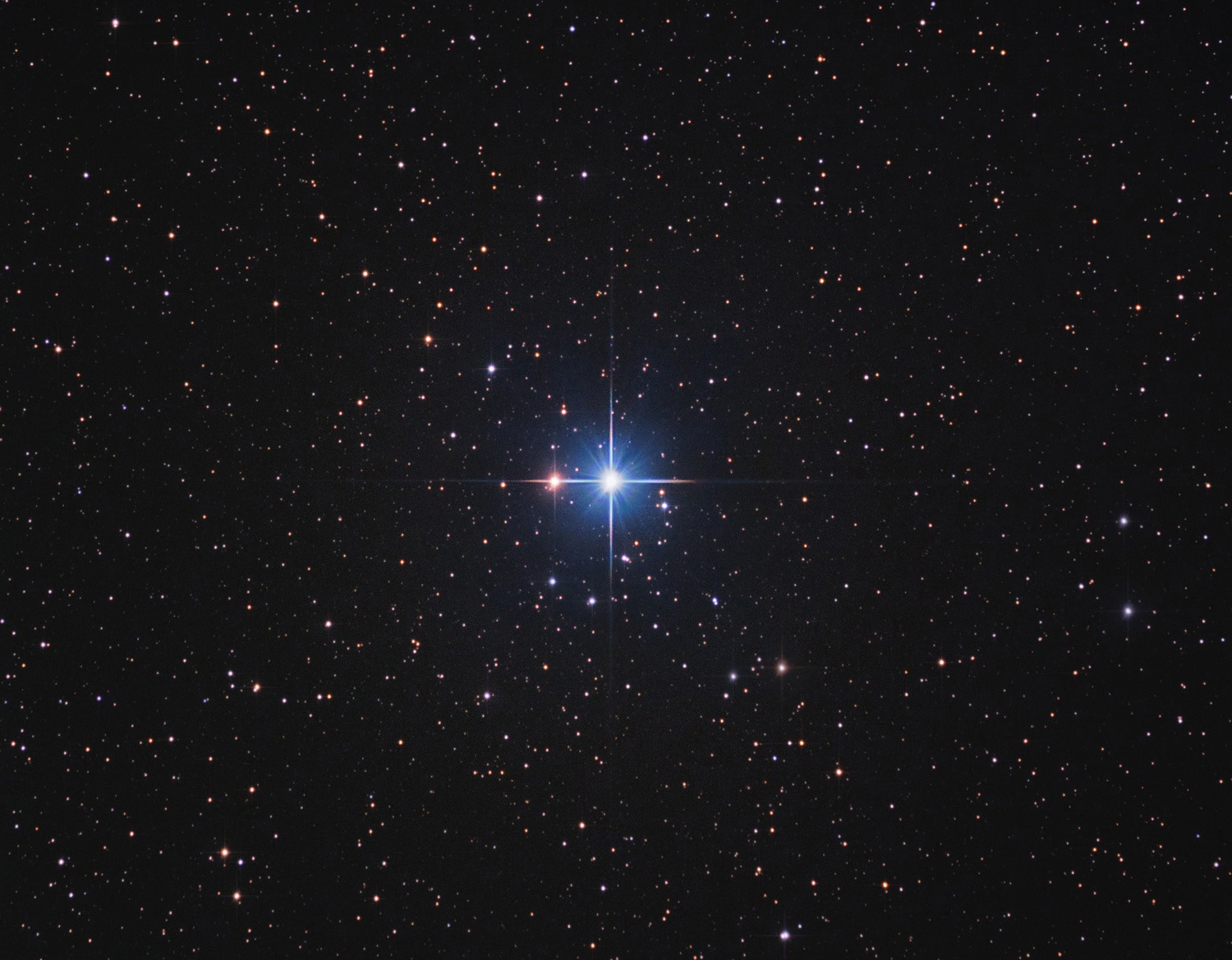 January 2012, Home Backyard in Martinez - Buenos Aires, Argentina
---
DATA
TYPE: Star
Apparent Magnitude: 3.65
Apparent Separation with TYC 7141-2724-1: 1´46 "
DISTANCE: 846 light years
IMAGE INFORMATION
SCOPE: Orion Optics UK 200/1000 f5 Ultra Grade Mirror with Televue ParaCorr
CAMERA: QSI 583 WS
MOUNT: NEQ6
GUIDING: Synta 70/400 refractor with Starlight Xpress LodeStar PHD Guiding 12
FILTERS: Baader 2" LRGB downsized to 31 mm
SKY CONDITIONS: transparency and seeing bad
EXPOSURES: LRGB (5,5,5,5) one minute subs
PROCESSING: Images Plus, CCD Sharp, NASA Photoshop Fits Liberator, Photoshop CS2
OBJECT DESCRIPTION AND IMAGE SESSION
The constellation of Pyxis is located to the south of the ecliptic plane. Time ago it was considered part of the ancient constellation of Argo Navis as the "mast" of the ship. Alpha Pyxis is 850 light years away from us and is a very nice star to look specially because it appears with magnitude star 8.05 TYC 7141-2724-1 and both show a colorful pair that can be seen with any type of telescopes even from light polluted areas.
Alpha Pyxis is quite dim because of the interstellar dust around. The dust was eliminated with processing because the higher light pollution. This is a hot blue-white giant star about 18,000 times brighter than our own Sun and about 8 times larger. Hiding inside a circumstellar shell.