ANTARES REGION
CLUSTER AND NEBULOSITY COMPLEX IN SCORPIUS / OPHIUCHUS
(Image centred at ra: 16.28/ dec -25:28)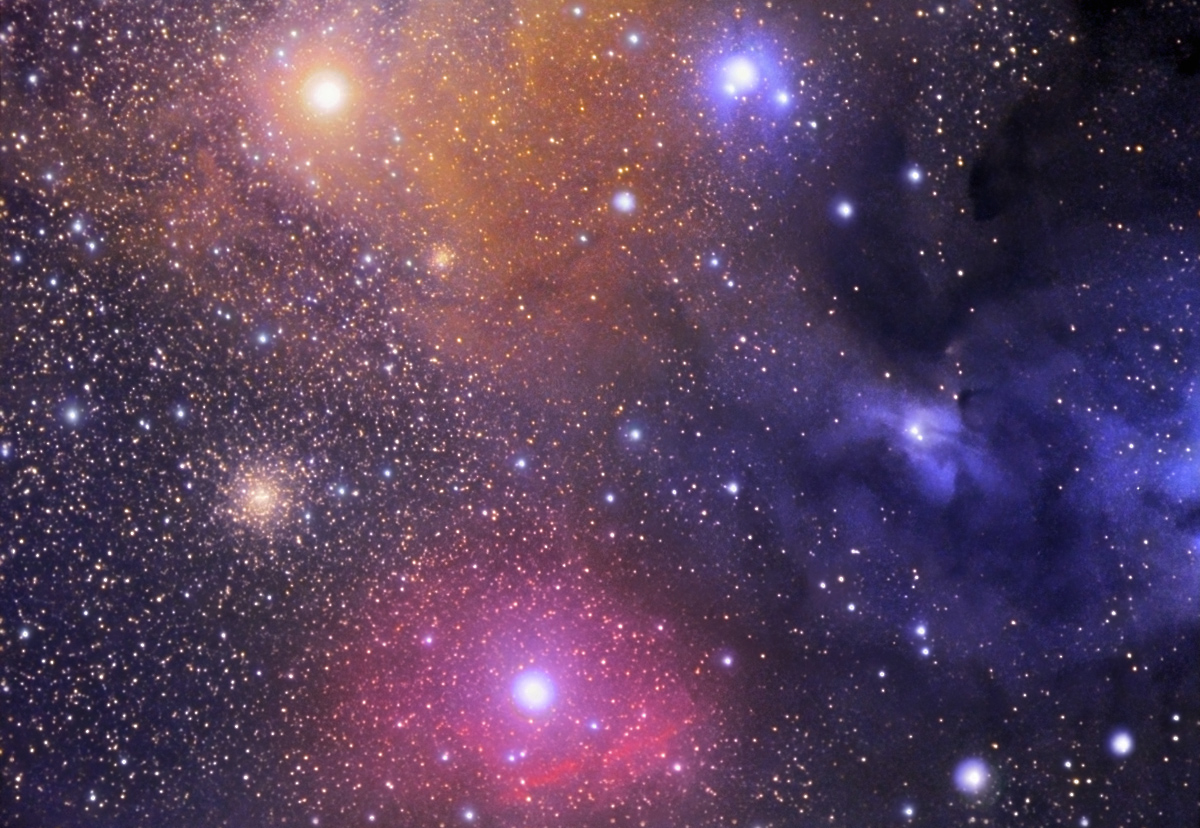 September 2009, Mercedes Observatory Backyard, Buenos Aires, Argentina
---
DATA
TYPE: Emission, Reflection and Dark nebulas
Apparent Magnitude: diverse
Apparent Diameter: Picture is arround 220 arc minutes
DISTANCE: M4 7000 lights years, Antares approximately 600 light years, emission nebula complex around 700 light years
IMAGE INFORMATION
SCOPE: Pentax Takumar f2.8 135 mm lens working at f4
CAMERA: SXVF H9
GUIDING: Orion ED 80 with Starlight Xpress Guide Head
IMAGE ACQUISITION: AstroArt 3.0 - Control Interface 3.72 plug in
FILTERS: Astronomik Type II - Astronomik Ha 6 nm for Sharpless 2-9 - Atik Filter Wheel
SKY CONDITIONS: rural skies - transparency and seeing regular
EXPOSURES: LHaRGB (20,20,20,20,20)
PROCESSING: Images Plus (no darks no flats no bias) CCD Sharp, Photoshop CS2
OBJECT DESCRIPTION AND IMAGE SESSION (*)
The many spectacular colors of the Antares Region Clouds highlight the many processes that occur there. The blue regions shine primarily by reflected light from nearby stars. The red and yellow regions shine primarily because of emission from the nebula's atomic and molecular gas. Light from nearby blue stars knocks electrons away from the gas, which then shines when the electrons recombine with the gas. The dark regions are caused by dust grains, born in young stellar atmospheres, which effectively block light emitted behind them.
This complex is in front Globular Cluster Messier 4 visible on the centre left.
A variety of objects can be seen:
The green nebula around Antares is Van den Berg 107: Messier 4 is the bigger globular cluster while NGC 6144 is the smaller one shining at magnitude 9 with a 7.4 arc minutes diameter.
The reddish nebula surrounding Sigma Scorpii is Sharpless 2 -9; the butterfly shaped blue relection nebula is IC 4605 which is associated at magnitud 4.7 star 22 scorpii. IC 4603 is the other bluish reflection nebula at the centre right of the image. Rho Ophiuchus is not visible in the image.
Again the lens worked very good in all channels except the blue. Getting rid of the blue halos was a tough work which was mainly done in Photoshop.
(*) NASA APOD