CG4
COMETARY GLOBULE IN PUPPIS
(Image centered at ra: 07h 34.16/ dec -46º 64')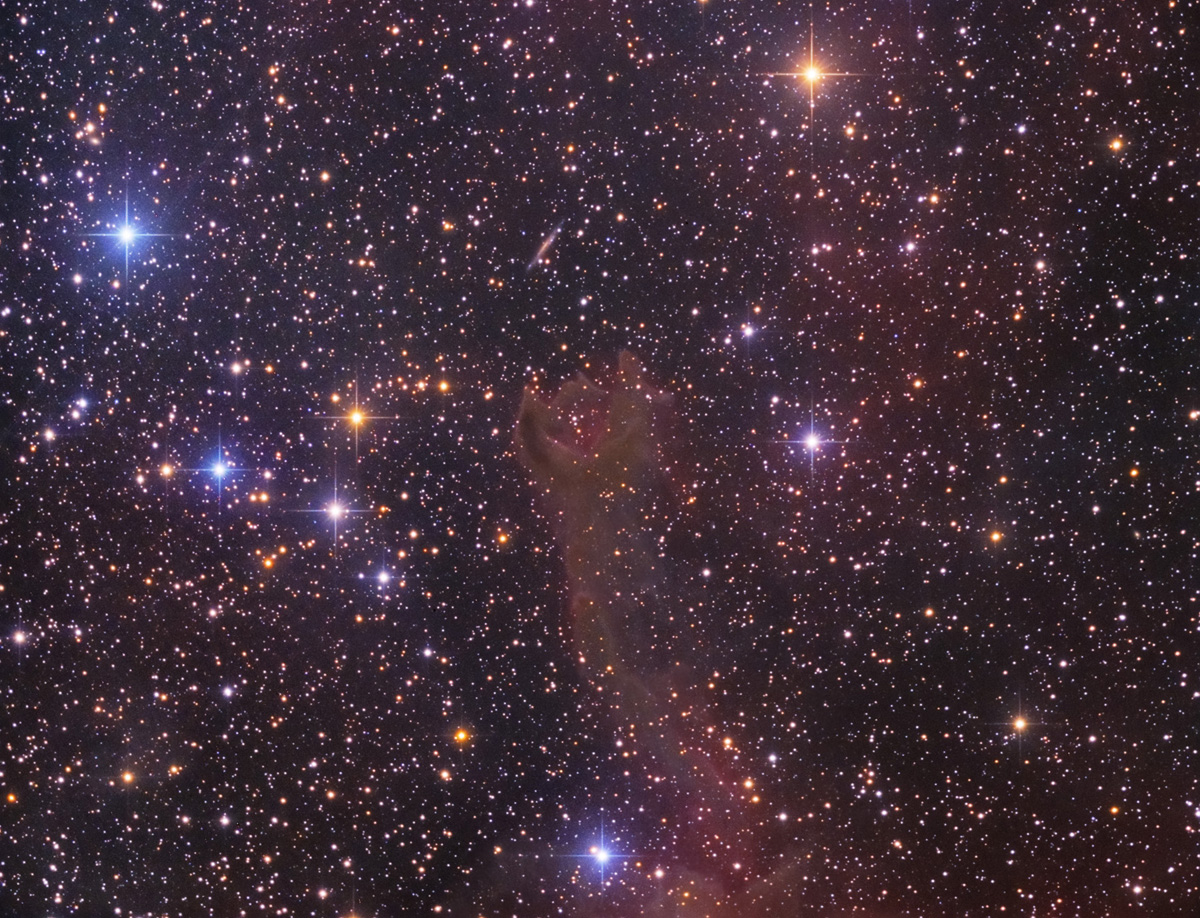 CLICK IN THE IMAGE FOR A HIGH RESOLUTION VIEW
CLICK HERE TO SEE LUMINANCE IN 100% RESOLUTION
December 2012, - Camping La Porteña, Areco, Buenos Aires - Argentina
---
DATA
TYPE: Cometary Globue
APPARENT MAGNITUDE: n/a
APPARENT DIAMETER: Image FOV 60 x 46 arc minutes
DISTANCE: CG4 1300 light years / ESO 257-19 118 Mio light years
IMAGE INFORMATION
SCOPE: ORION OPTICS UK 6" f5 Newtonian
CAMERA: QSI 583 WS
MOUNT: NEQ6
GUIDING: LodeStar in Synta 70/400 refractor / PHD Guiding
FILTERS: Baader LRGB Set
SKY CONDITIONS: Rural Skies.
EXPOSURES: LRGB (80,30,30,30)
OBJECT DESCRIPTION AND IMAGE SESSION
Cometary globules are typically characterized by dusty heads and elongated tails. These features cause cometary globules to have visual similarities to comets, but in reality they are very much different. Globules are frequently the birthplaces of stars, and many show very young stars in their heads. The reason for the rupture in the head of this object is not completely known.
The galaxy on top is ESO 257-19 a spiral galaxy that appears elongated because it is inclined to our field of view. It is very far in the distance, and only placed near CG4 because our view in perspective from Earth. (*)
(*) Free adaptation from NASA APOD
---
CG4
COMETARY GLOBULE IN PUPPIS
LUMINANCE AT 100% RESOLUTION - LINEAR STRETCHING
ORION OPTICS UK ULTRA GRADE MIRRORS