DELTA CHAMAELEONTIS
STARS IN CHAMAELEON
(ra: 10.45,16/ dec -80:31)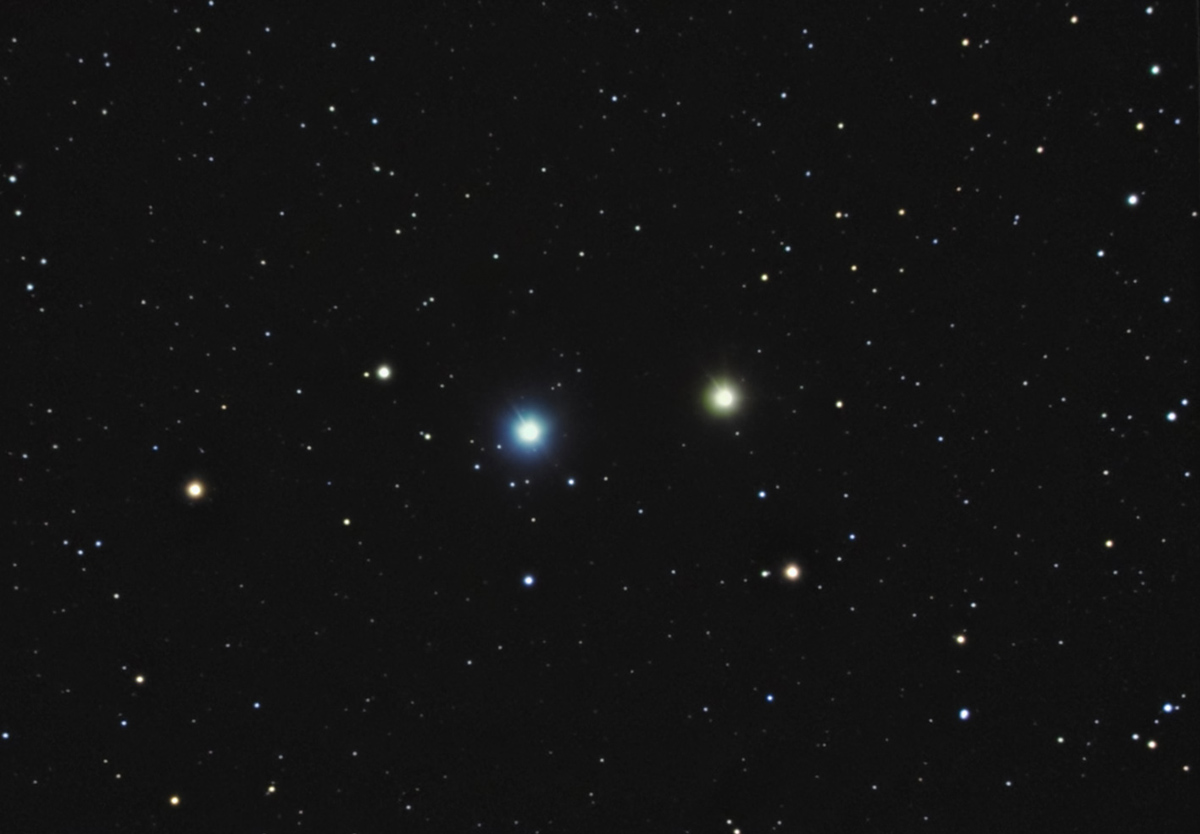 June 2009, Home Backyard in Martínez, Buenos Aires, Argentina
---
DATA
TYPE: Stars
Apparent Magnitude: 4.42 & 5,58
Separation: 4.28 arc minutes
DISTANCE: 364 & 354 lights years
IMAGE INFORMATION
SCOPE: Celestron C8 SCT working at f6 (roughly)
CAMERA: SXVF H9
GUIDING: William Optics Zenithstar 66 with WO 0.8 x fr/ff
IMAGE ACQUISITION: AstroArt 3.0 - Control Interface 3.72 plug in
FILTERS: Astronomik Type II, Astronomik CLS Atik Filter Wheel
SKY CONDITIONS: urban skies - transparency and seeing bad.
EXPOSURES: LRGB (5,5,5,5)
PROCESSING: Calibration in Images Plus Sigma Median Combination (nor darks, no flats, no bias), CCD Sharp, Photoshop CS2
OBJECT DESCRIPTION AND IMAGE SESSION
Near the South Celestial Pole lies the small constellation of Chamaeleon, with some nice gems to offer. In this case a lovely pair of stars with colour contrast known by Delta 1 & 2 Chamaeleontis. Delta 1 is the dimmer of the two main stars with a yellow to red colour. Delta 2 is the brightest one with a pale blue colour. Both are very good visual targets for binoculars and telescopes. They do not show the contrast of Albireo in Cygnus and this two are not related to each other. They are just placed in perspective.
The Southern Pole is quite polluted in my backyard.
It is the southerner object I have imaged so far. The mount made lots of corrections in DEC while imaging very short exposures.