DELTA CHAMAELEONTIS
STARS IN CHAMAELEON
(ra: 10.45,16/ dec -80:31)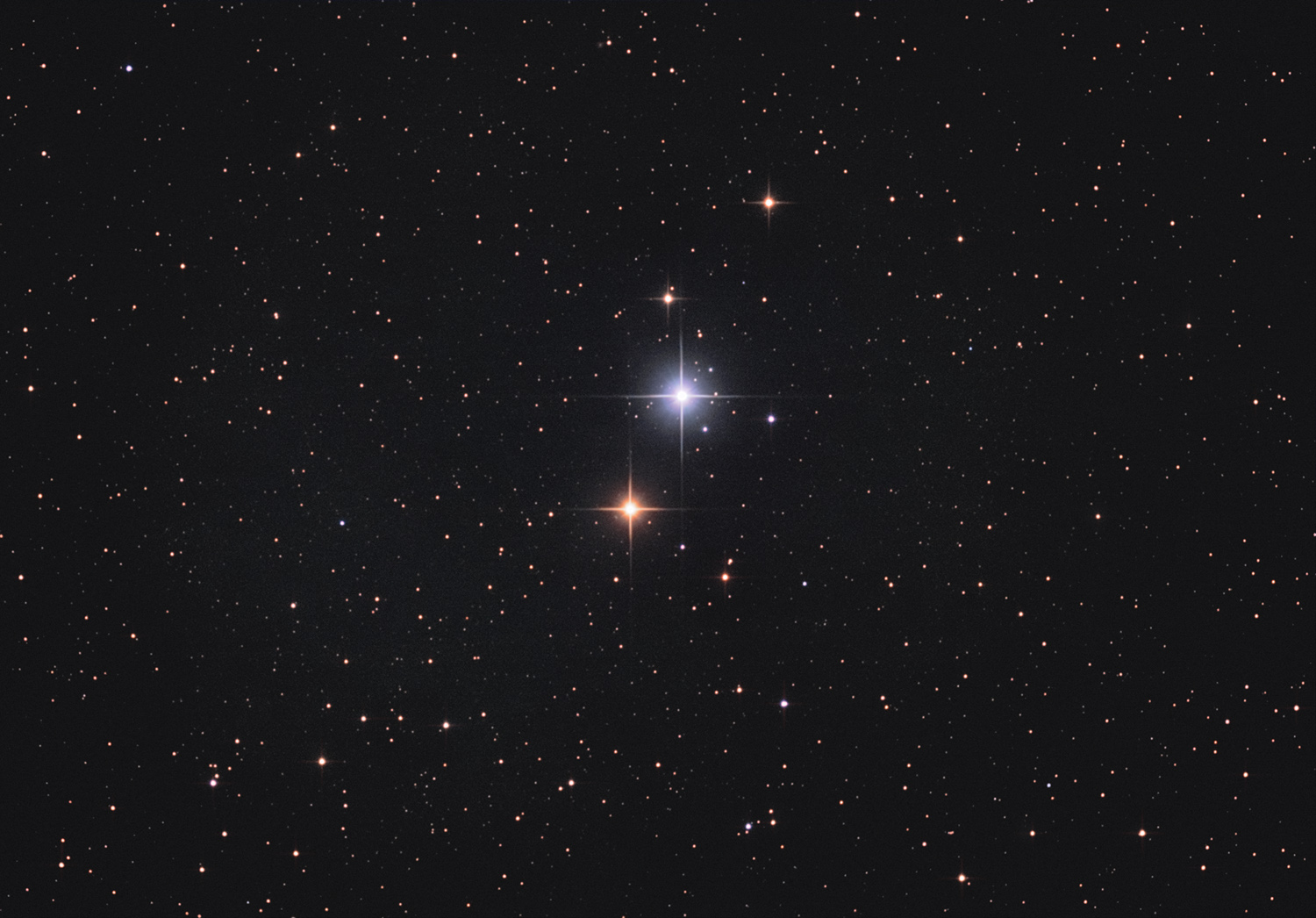 CLICK FOR HIGHER RESOLUTION IMAGE
March 2020 - Home Backyard in Martinez, Buenos Aires, Argentina
---
DATA
TYPE: Stars
Apparent Magnitude: Delta 2 4.42 & Delta 1 5,58
Separation: 6 arc minutes
DISTANCE: 364 & 354 lights years
IMAGE INFORMATION
OPTICS: 8" f5 Orion Optics Reflector with Televue Paracorr working at 5.75
CAMERA: QSI 583 WS
FILTERS: Baader LRGB
MOUNT: Sky Watcher NEQ6
SKY CONDITIONS: Seeing acceptable, southern area strongly polluted.
EXPOSURES: LRGB (10,10,10,10) all bin 1x1
OBJECT DESCRIPTION AND IMAGE SESSION
Near the South Celestial Pole lies the small constellation of Chamaeleon, with some nice gems to offer. In this case a lovely pair of stars with colour contrast known by Delta 1 & 2 Chamaeleontis. Delta 1 is the dimmer of the two main stars with a yellow to red colour. Delta 2 is the brightest one with a pale blue colour. Both are very good visual targets for binoculars and telescopes. They do not show the contrast of Albireo. These two are not related to each other. They are just placed in perspective.
The Southern Pole is quite polluted in my backyard.
It is the southerner object I have imaged so far. The mount made lots of corrections in DEC while imaging very short exposures.
---
DELTA CHAMAELEONTIS
LUMINANCE CHANNEL
8 INCHES NEWTONIAN - ORION OPTICS UK
100 % RESOLUTION