IC 2602 AKA THE SOUTHERN PLEIADES
OPEN CLUSTER IN CARINA (THE KEEL)
(Image centered at: ra 10 h:42 m / dec - 64º 23')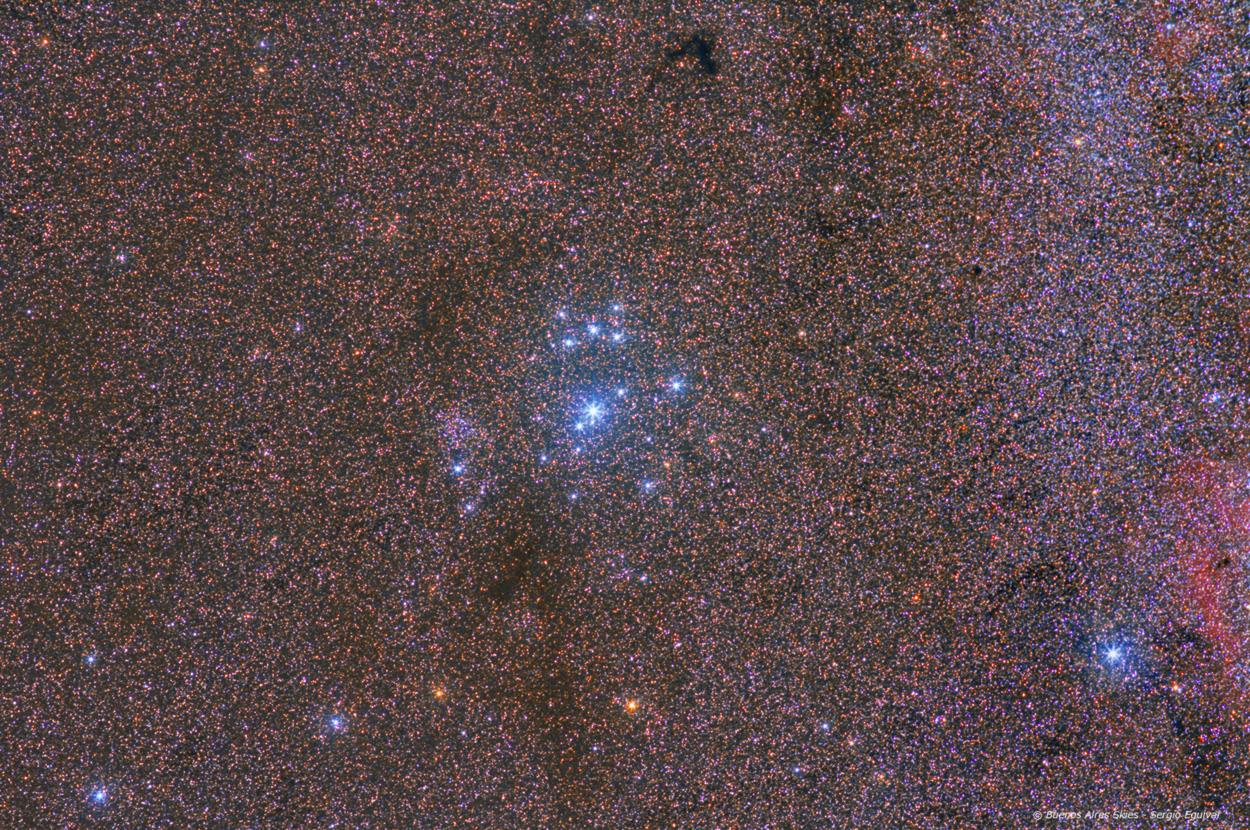 CLICK THE IMAGE FOR A HIGH RESOLUTION VIEW
February 2023, Observatorio Cielos Albertnos, Alberti, Buenos Aires, Argentina
---
DATA
TYPE: Open Culster
APPARENT DIAMETER: FOV approximately 6 x 4 degrees
APPARENT MAGNITUDE (V): 1,9
DISTANCE: 486 light years
IMAGE INFORMATION
INSTRUMENT: CANON EF 200 mm f2,8 L lens stoped at 4,5
CAMERA: Canon 60Da
MOUNT: Synta EQ3 with GOTO kit with QHY 5 II guiding camera
FILTERS: none
SKY CONDITIONS: dark skies - Bortle 3
EXPOSURES: 35 x 2 minutes exposures. No darks, no bias, no flats.
OBJECT DESCRIPTION AND IMAGE SESSION
iC 2602 (also known as the Southern Pleiades, Theta Carinae Cluster, or Caldwell 102) is an open cluster in the constellation Carina. It was Discovered by Abbe Lacaille in 1751 from South Africa. This cluster is easily visible to the unaided eye and a beautiful target for binoculars. It is one of the nearest star clusters, centred about 149 parsecs (486 light-years) away from Earth.
Theta Carinae is the brightest star within the open cluster, with the apparent visual magnitude of +2.74. Theta Carinae is part of the asterism known as the Diamond Cross, which is often mistaken for the Southern Cross asterism in the constellation of Crux.
p Carinae (PP Carinae) is another third-magnitude star known to be a member of IC 2602, it lies well outside the main visible grouping of stars but it is visible in this image at the bottom right. p Carinae exhibits a variable apparent magnitude ranging from 3.22 to 3.55.
I have started imaging this object just passing the meridian and falling to the west which is in fact the darkest area of the Observatorio Cielos Albertinos.
Great night with good company... meeting astrophotographers and local authorities of Alberti
By the 2023 summer Buenos Aires interior is suffering from the "la niña effect" and consequently we had dry fields over the pampas. North winds brought some dust into de atmosphere which was of very little effect on a 200 mm focal length lens.
---
+