IC 4628 & COLLINDER 316 REGION
WIDE FIELD IN SCORPIUS
(Image Centred at ra 16h:55m / dec -41:16)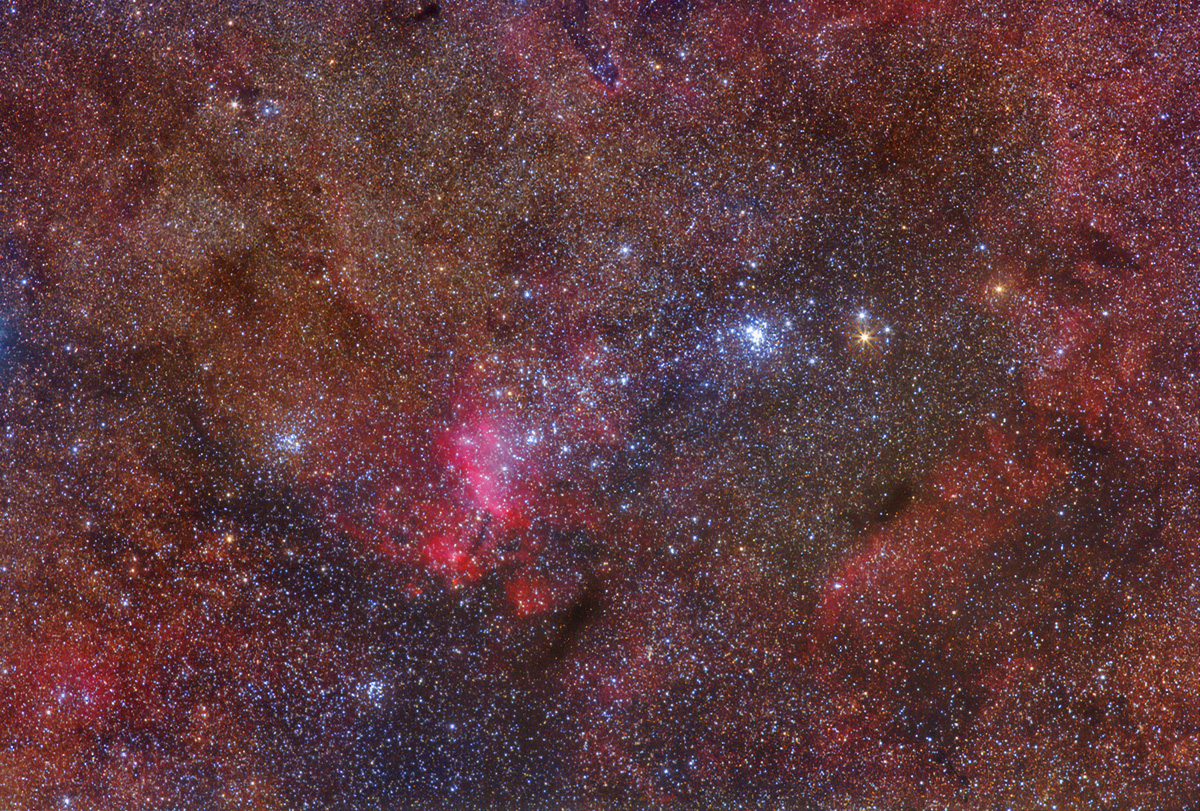 CLICK THE IMAGE FOR A HIGHER RESOLUTION VIEW
May 2015 - Camping La Porteña, San Antonio de Areco, Buenos Aires, Argentina
---
DATA
Type: Wilde field area
Apparent Magnitude: 3.4 for Collinder 316
Image FOV: roughly 5º x 3.4º
Distance: 6.000 light years for IC 4628
IMAGE INFORMATION
INSTRUMENT: Canon EF 2.8 / 200 mm stopped at f4 lens
CAMERA: Canon 60Da
FILTERS: none
SKY CONDITIONS: rural skies
EXPOSURES: 16 x 5 minutes
OBJECT DESCRIPTION AND IMAGE SESSION
A must to see area during fall and winter in the Southern Hemisphere. The image is dominated in its center by open star cluster Collinder 316 of about 105 arcs minutes in extension and Magnitude 3.4 A stunning group of stars is a delightful target for binoculars. This group of stars it is frequently called the "the false comet".
IC 4628 is also present close to the center of the image. It is an impressing arc shaped rim of HII structure. The nebula is also known as Gum 56 after Australian Astronomer Collin Gum who catalogued emission nebula using wild field astrophotography.
There are many interesting objects in the area. Below is the a image with levels.
---
IC 4628 & COLLINDER 316 REGION
WITH LABELS