IC 4678
REFLECTION NEBULA IN SAGITTARIUS
(Image centered at: ra 18 h:07 m / dec - 23º 57')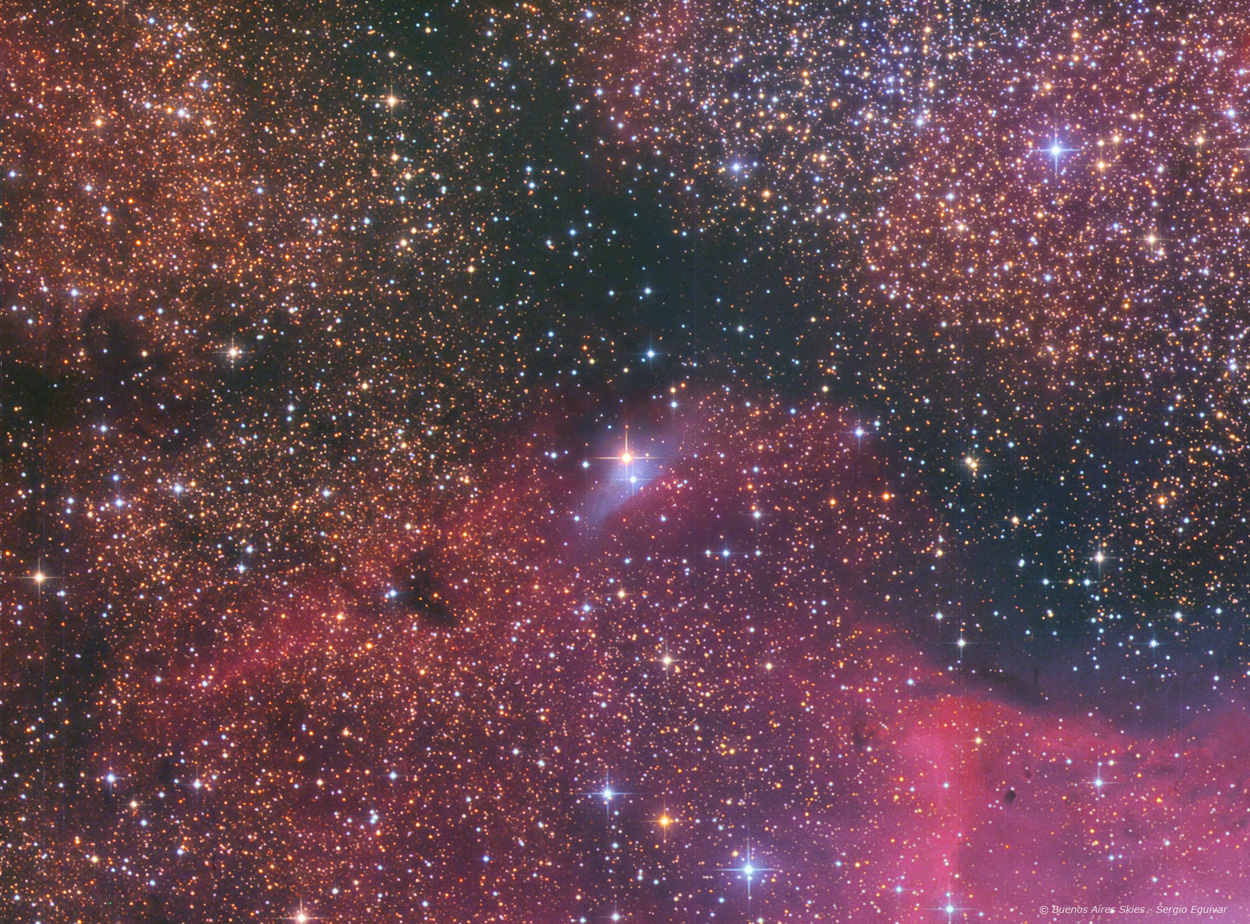 CLICK THE IMAGE FOR A HIGH RESOLUTION VIEW
August 2022, Observatorio Cielos Albertnos, Buenos Aires, Argentina
---
DATA
TYPE: Reflection Nebula
APPARENT DIAMETER: 1,5 x 6 arc minutes
APPARENT MAGNITUDE (V): NA
DISTANCE: 5000 light years
IMAGE INFORMATION
INSTRUMENT: 8" ORION OPTICS UK (Ultra Grade Optics) w/Televue Paracorr working at at f5,75
CAMERA: QSI 583 WS
MOUNT: SKY WATCHER NEQ6, OAG with Starligh Xpress Lodestar
FILTERS: Baader LRGB Set,
SKY CONDITIONS: dark skies - Bortle 3
EXPOSURES: LRGB (66,60,60,60)
OBJECT DESCRIPTION AND IMAGE SESSION
Just in the middle of the well known Sagittarius Triplet (composed by Messier 8; Messier 21 and NGC 6559) we found this intriguing emission and reflection nebula IC 4678. Looks like a path of blue light coming from stellar winds and dust reflected by hot blue background stars. The reflection structure stands out in contrast to the emission nebula whose reddish hues are the product of the ionization of the HII gas. At the bottom right it can be distinguished Messier 8 east side. Also visible dark absorption zones formed by dust which are blocking the light of background stars.
IC 4678 spans through a distance of 25 light years. It was discovered by American astronomer Edward Emerson Barnard in August 1905
---