LARGE MAGELLANIC CLOUD
NEIGHBOUR GALAXY IN MENSA & DORADO
(Image centered at: ra 05 h:23 m / dec - 69º 45')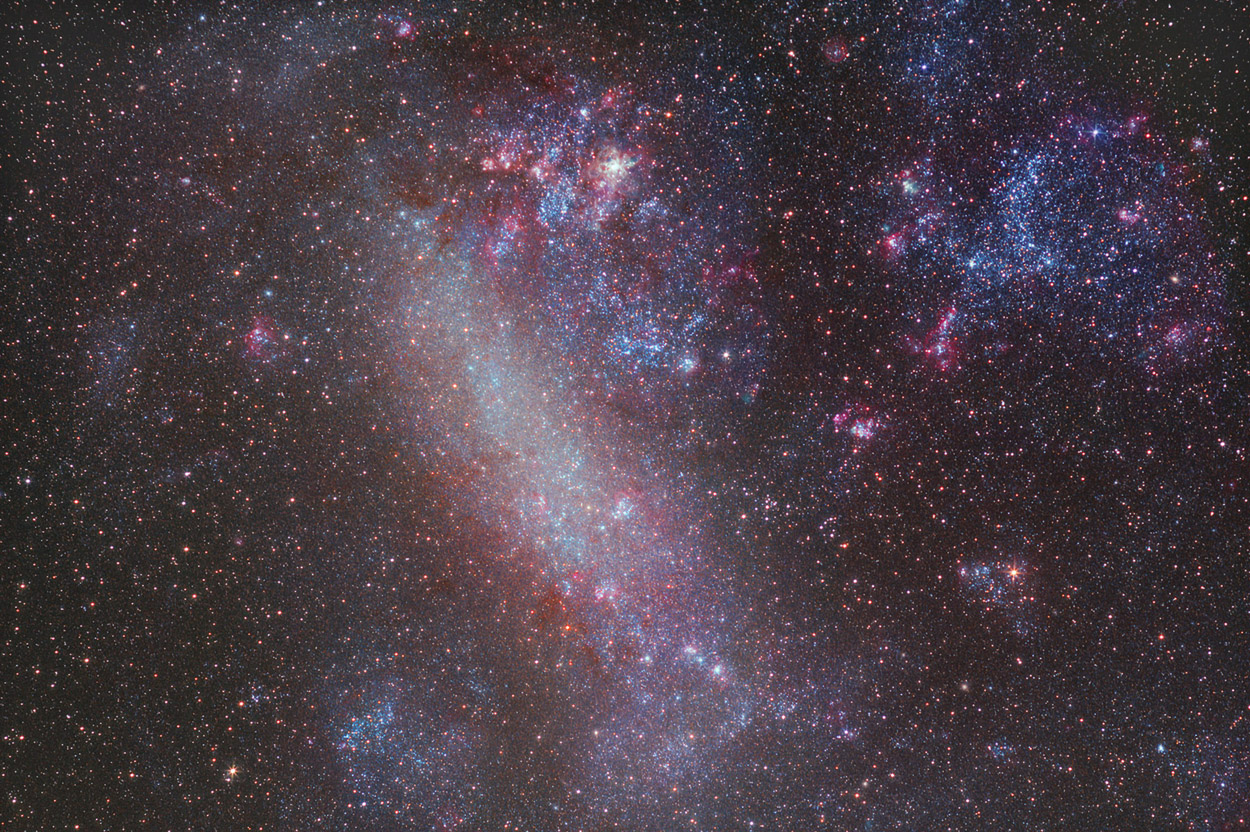 CLICK THE IMAGE FOR A HIGH RESOLUTION VIEW
February 2023, Observatorio Cielos Albertnos, Alberti, Buenos Aires, Argentina
---
DATA
TYPE: Irregular Galaxy
APPARENT DIAMETER: 10.7 x 9.17 degrees
APPARENT MAGNITUDE (V): 0.13
DISTANCE: 157.000 light years
IMAGE INFORMATION
INSTRUMENT: CANON EF 200 mm f2,8 L lens stoped at 4,5
CAMERA: Canon 60Da
MOUNT: Synta EQ3 with GOTO kit with QHY 5 II guiding camera
FILTERS: none
SKY CONDITIONS: dark skies - Bortle 3
EXPOSURES: 90 x 2 minutes exposures. No darks, no bias, no flats.
OBJECT DESCRIPTION AND IMAGE SESSION
Our nearby galaxy (after Sagittarius Dwarf Galaxy) the Large Magellanic cloud is one of the marvelous sight of the southern sky. First spotted by Persian astronomers and afterwards by Amerigo Vespucci, but it was by Ferdinand Magellan on his voyage in 1519 who brought it to popularity.
Like many irregular galaxies the LMC is very rich in dust and HII regions. Right now is under a intense process of star formation activity.
Starting imaging this object just passing the meridian and falling to the west which is in fact the darkest area of the Observatorio Cielos Albertinos.
Great night with good company... meeting astrophotographers and local authorities of Alberti
By the 2023 summer Buenos Aires interior is suffering from the "la niña effect" and consequently we had dry fields over the pampas. North winds brought some dust into de atmosphere which was of very little effect on a 200 mm focal length lens.
---
+