LARGE MAGELLANIC CLOUD - NEIGHBOUR GALAXY
MENSA & DORADO
(Image Centred at: ra 05.27,00/ dec -68:36)
-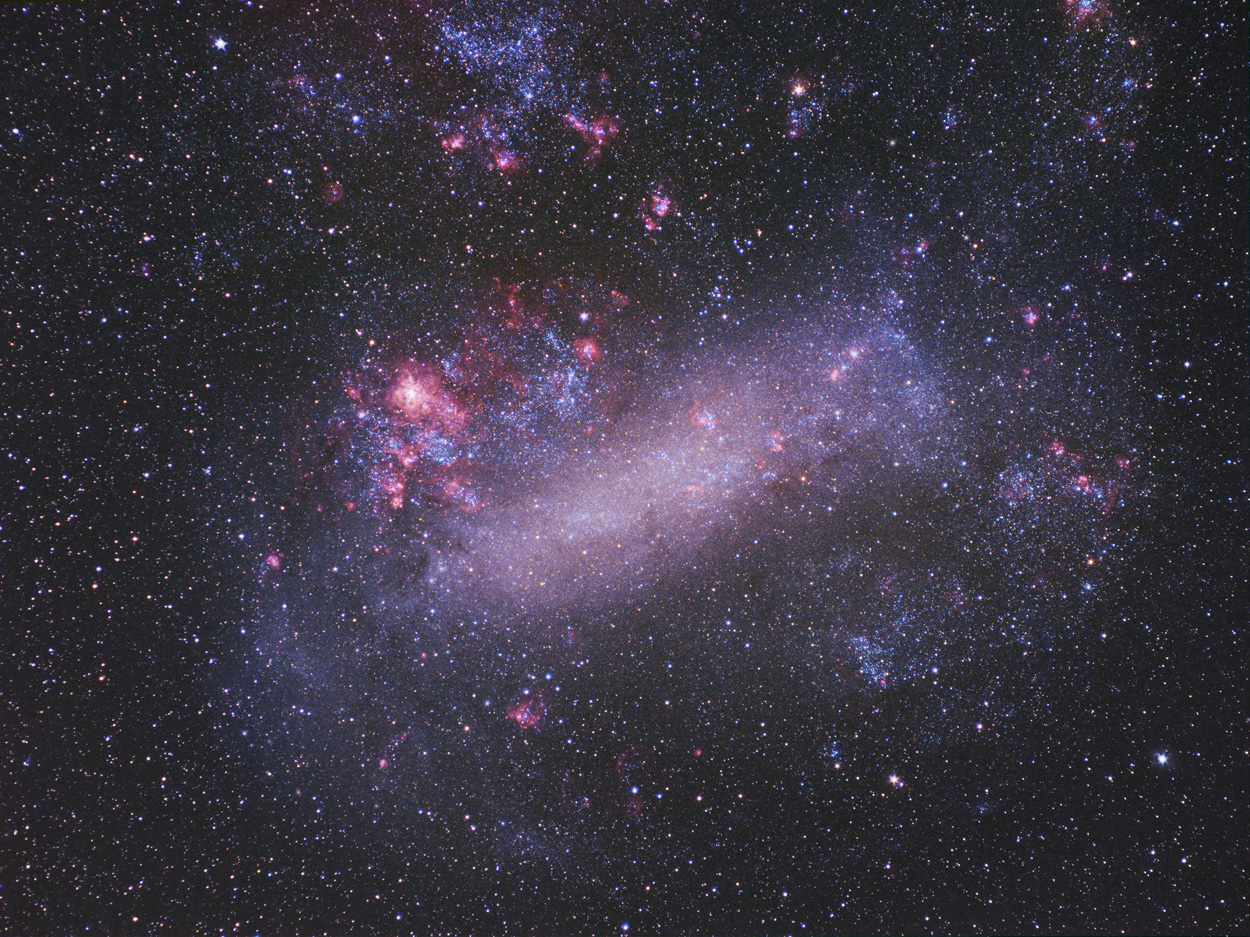 CLICK IN THE IMAGE FOR HIGHER AND CLOSE UP VERSION
November 2010, Mercedes Observatory Buenos Aires, Argentina
Collaboration with Juan Jose Destefani
---
DATA
TYPE: Irregular Galaxy
Visual Magnitude: 0.1
Apparent Diameter: arround 8 degrees
DISTANCE: 157.000 lights years
IMAGE INFORMATION
SCOPE: Carl Zeiss Jenna 135 f3.5 lens stopped down at 5.6
CAMERA: QSI 583 WS at -15C
MOUNT: NEQ6
GUIDING: Orion ED 80 f7.5 - AstroArt 3.0 - Control Interface 3.72 plug in
FILTERS: Astronomik LHaRGB
SKY CONDITIONS: rural skies - transparency and seeing good
EXPOSURES: Total 80 minutes (16 x5)
PROCESSING: Calibration (Sigma Median) done in Images Plus. No darks no flats no bias used. Color Combination in Images Plus. Photoshop CS2
OBJECT DESCRIPTION AND IMAGE SESSION
Our nearby galaxy (after Sagittarius Dwarf Galaxy) is one of the marvelous sight of the southern sky. First spotted by Persian astronomers and afterwards by Amerigo Vespucci, but it was by Ferdinand Magellan on his voyage in 1519 who brought it to popularity.
Like many irregular galaxies the LMC is very rich in dust and HII regions. Right now is under a intense process of star formation activity.
The night was windy and with the Moon around 1/4 stage or close to 1/3. I had to finish the session because I have run out the Power of the NEQ6.
The Jenna Carl Zeiss and the QSI 583 are a nice combo for this target.