LARGE MAGELLANIC CLOUD NORTH EAST SIDE
NEIGHBOUR GALAXY IN DORADO
NGC 1955; 2020; 1974; 2002; 1978; HENIZE 50;51; 55; 64; 65
(Image centered at: ra 05:31.22 / dec - 66:57)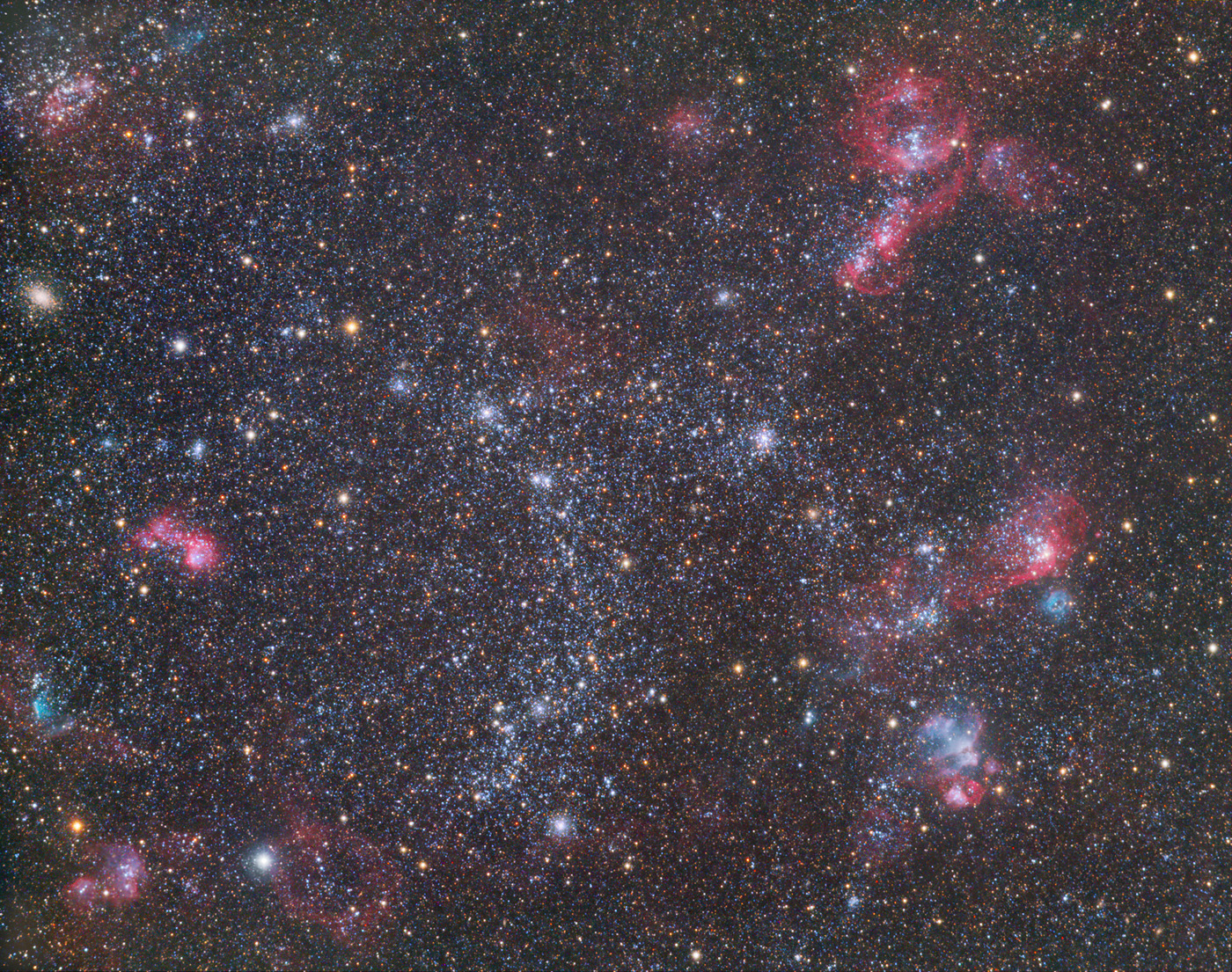 CLICK THE IMAGE FOR A LARGE VIEW
December 2020, Brisas Serranas Tandil, Buenos Aires, Argentina
---
DATA
TYPE: Galaxy
APPARENT MAGNITUDE: 0,9
IMAGE FIELD: around 1° 50' x 1° 10'
DISTANCE: 152,800 light years
IMAGE INFORMATION
SCOPE: TMB 92 SIGNATURE SERIES W/ASTRO TECH field flattener working at at f5,5
CAMERA: QSI 583 WS
MOUNT: SKY WATCHER NEQ6
FILTERS: Baader LRGB Set
SKY CONDITIONS: Semi - urban Skies
EXPOSURES: LRGB (60,40,40,40)
OBJECT DESCRIPTION AND IMAGE SESSION
Decided to aim to the North East side of the Large Magellanic Cloud. The central part of the image is dominated by a dense star field that belongs to our neighbor galaxy. The mentioned irregular field is surrounded by very interesting NGC; Henize (*) and DEM (**) objects, all of them belongs the the Large Magellanic Cloud.
Like many irregular galaxies the LMC is very rich in gas, dust and star formation activity. An astro-photographer can spend a whole season just catching each one of the outstanding objects this galaxy holds. This image shows a relative field of almost 2 x 1 degrees and provides a nice view of an area at the north east side of the Tarantula nebula complex.
---
References
(*) Karl Gordon Henize (1926 - 1993) North American astronomer and space scientist. N catalogue
(**) DEM stands for Astronomers R. Davis; K. Elliot and J Meaburn. Created the DEM catalogue for both the Large and the Small Magellanic clouds.
LARGE MAGELLANIC CLOUD NORTH EAST SIDE
NEIGHBOUR GALAXY IN DORADO
IMAGE WITH LABELS (***)
(***) Source of the Labels from Robert Gendler and Sakib Rasool in the following link