LARGE MAGELLANIC CLOUD - NEIGHBOUR GALAXY
MENSA & DORADO
(Image Centred at: ra 05.27,00/ dec -68:36)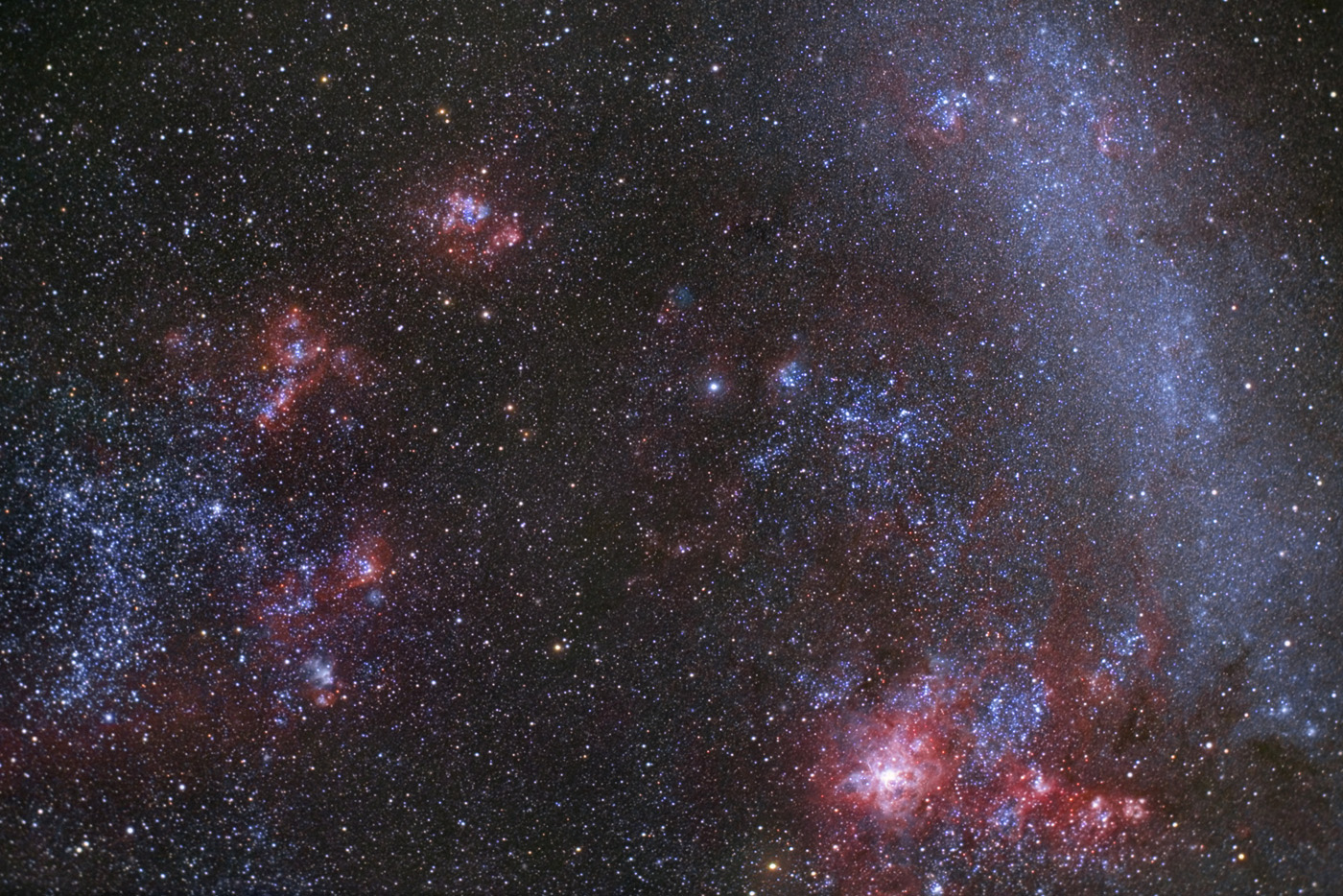 December 2009, Mercedes Observatory Buenos Aires, Argentina
AAAA - Star Party
Click to see image with higher resolution
---
DATA
TYPE: Irregular Galaxy
Visual Magnitude: 0.1
Apparent Diameter: arround 8 degrees
DISTANCE: 157.000 lights years
IMAGE INFORMATION
SCOPE: William Optics Zenithstar 66 with WO 0.8 x fr/ff
CAMERA: Canon 20Da
GUIDING: Celestron C8 SCT working at f5.1
IMAGE ACQUISITION: Images Plus - Guiding AstroArt 3.0 - Control Interface 3.72 plug in
FILTERS: None
SKY CONDITIONS: rural skies - transparency and seeing good
EXPOSURES: 30 shots of 5 minutes each
PROCESSING: Raw conversion, calibration (Sigma Median) done Images Plus. No darks no flats no bias used. CCD Sharp, Photoshop CS2
OBJECT DESCRIPTION AND IMAGE SESSION
Our nearby galaxy (after Sagittarius Dwarf Galaxy) is one of the marvelous sight of the southern sky. First spotted by Persian astronomers and afterwards by Amerigo Vespucci, but it was by Ferdinand Magellan on his voyage in 1519 who brought it to popularity.
Like many irregular galaxies the LMC is very rich in dust and HII regions. Right now is under a intense process of star formation activity.
The picture was composed in a non usual way. I locked the object with the finder and the first shot came in the position as its being shown in the image.
The night was very good with 2.3 seeing. Because it was during a star party the image suffered many lasers shots from our nice friends.
I have used Images Plus focus routine which I have found fantastic for the 20Da.