MESSIER 16, IC 4703 - EAGLE NEBULA
OPEN CLUSTER WITH NEBULOSITY IN SERPENS
(ra: 18:18.8 / dec -13:47)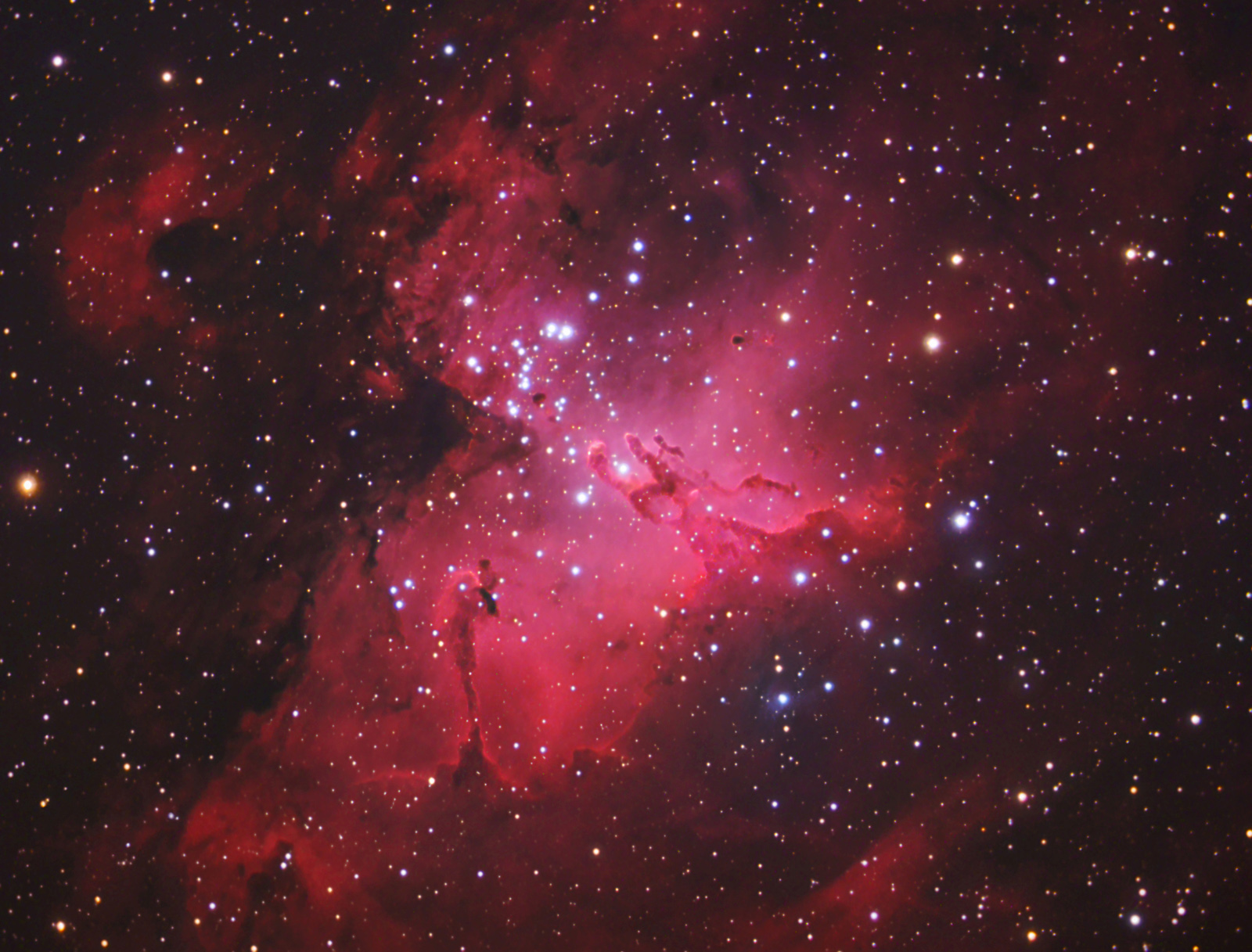 JULY 2010, Mercedes Observatory Buenos Aires, Argentina
---
DATA
TYPE: Emission Nebula with Open Star Cluster
APPARENT MAGNITUDE: 6.4 for M16
SIZE: 7 arcs minutes for the open cluster
DISTANCE: 7000
OBJECT DESCRIPTION AND IMAGE SESSION
Southern fall and winter give us very intresting objects on this side of the planet. We have Sagittarius and Serpens right in the overhead once the night is at its high entrance. The open cluster in M16 was formed after the massive gas and dust cloud IC 4703 that shines because the radioactive energy of its young and hot stars. IC 4703 is now at a star forming process. The event is being produced near the "elephant trunks" which are visible in the photograph.
The Eagle Nebula is located close to the borders constellations of Scutum and Sagittarius. The cluster was discovered in 1745 / 46 by De Cheseaux, however Charles Messier on his independent rediscovery in 1764 mentioned that the stars appeared merged with a faint glow. The nebula was probably photographed by E.Barnard in 1895 or by amateur astronomer Issac Roberts in 1897.
The focal reducer was not in the right place, thus a lot of aberrations showed up in the corners. The images was severely cropped and stars were corrected manually.
IMAGE INFORMATION
SCOPE: Celestron SCT 8" working at 6.3
SKY CONDITIONS: Regular night with poor seeing
CAMERAS: QSI 583 WS -20Cº
FILTERS: Astronomik Type 2
EXPOSURES: LHaRGB (80,24,20,20,24) 240 secs subs
GUIDING: William Optics ZenithStar 66 f6. Starlight Xpress Lodestar Camera. AA 3.71 Control Camera Plug-in
PROCESSING: No darks, nor flats, nor offsets. ImagesPlus (Sigma Median Combination); CCD Sharp Richardson Lucy Deconvolution; Photoshop CS
---