MESSIER 46 & NGC 2438
OPEN CLUSTER & PLANETARY NEBULA IN PUPPIS (THE POOP DECK)
(Image centered at: ra 07 h:42 m / dec - 14º 51')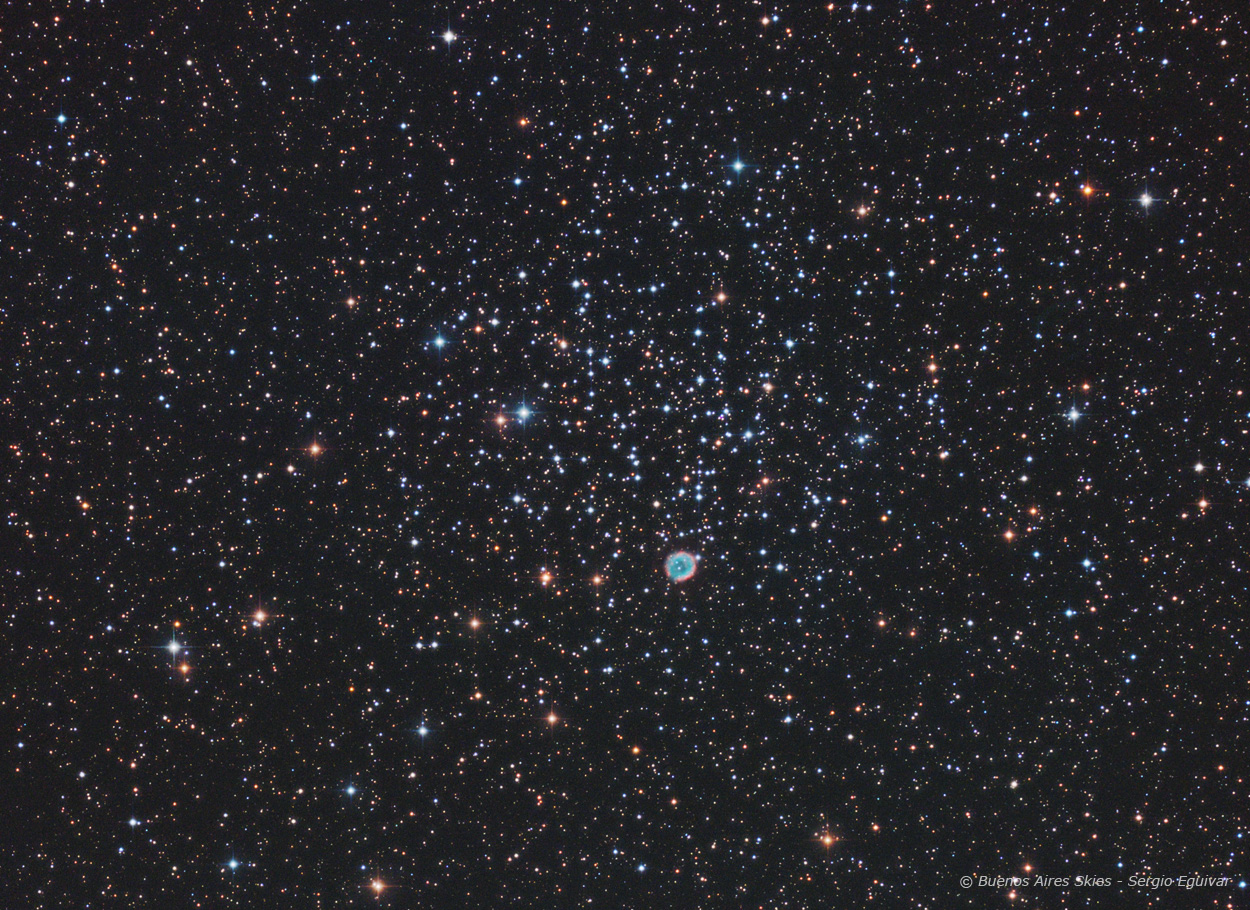 CLICK THE IMAGE FOR A HIGH RESOLUTION VIEW
December 2022, Home Backyard in Martínez, Buenos Aires, Argentina
---
DATA
TYPE: Open Cluster & Planetary Nebula
APPARENT DIAMETER: 27 arc minutes
APPARENT MAGNITUDE (V): 6
DISTANCE: 5.400 light years
IMAGE INFORMATION
INSTRUMENT: 8" ORION OPTICS UK (Ultra Grade Optics) w/Televue Paracorr working at at f5,75
CAMERA: QSI 583 WS
MOUNT: SKY WATCHER NEQ6, OAG with Starligh Xpress Lodestar
FILTERS: Baader LRGB Set; Astronomik Ha 6nm
SKY CONDITIONS: urban skies - Bortle 8
EXPOSURES: LHARGB (60,60,60,60,60)
OBJECT DESCRIPTION AND IMAGE SESSION
Messier 46 (M46, NGC 2437) was the first object Charles Messier discovered after he had published the first edition of his list (M1-M45). He added this one to his catalogue on February 19, 1771, three days after presenting it to the academy, together with three more Messier objects, M47, M48, and M49.
The cluster is very rich, with 150 stars of mag 10-13 and probably a total population of over 500. The brightest of these stars are of spectral type A0, and each about 100 times more luminous than the Sun (the brightest is of apparent magnitude 8.7). This indicates an age of about 300 million years. The members are scattered over an angular diameter of about 27', corresponding to a linear extension of 30 light years at the cluster's distance of 5,400 light years, and are receding from us at 41.4 km/sec, according to Baade. M46 is classified as of Trumpler type II,2,r.
As a special and famous feature which is also obvious in our photograph, a planetary nebula (NGC 2438, also FC 87) appears within the apparent borders of M46. This object appears to lie near the northern fringes of the cluster. However, this nebula is most probably not a true member but is superimposed, or perhaps a passing "guest".
---
NGC 2438
PLANETARY NEBULA IN PUPPIS
100% RESOLUTION