MESSIER 63 - THE SUNFLOWER GALAXY
SPIRAL GALAXY IN CANES VENATICI
(Image Centred at ra 13h:15m / dec +42:02)
IMAGE ACQUISITION BY JIM MISTI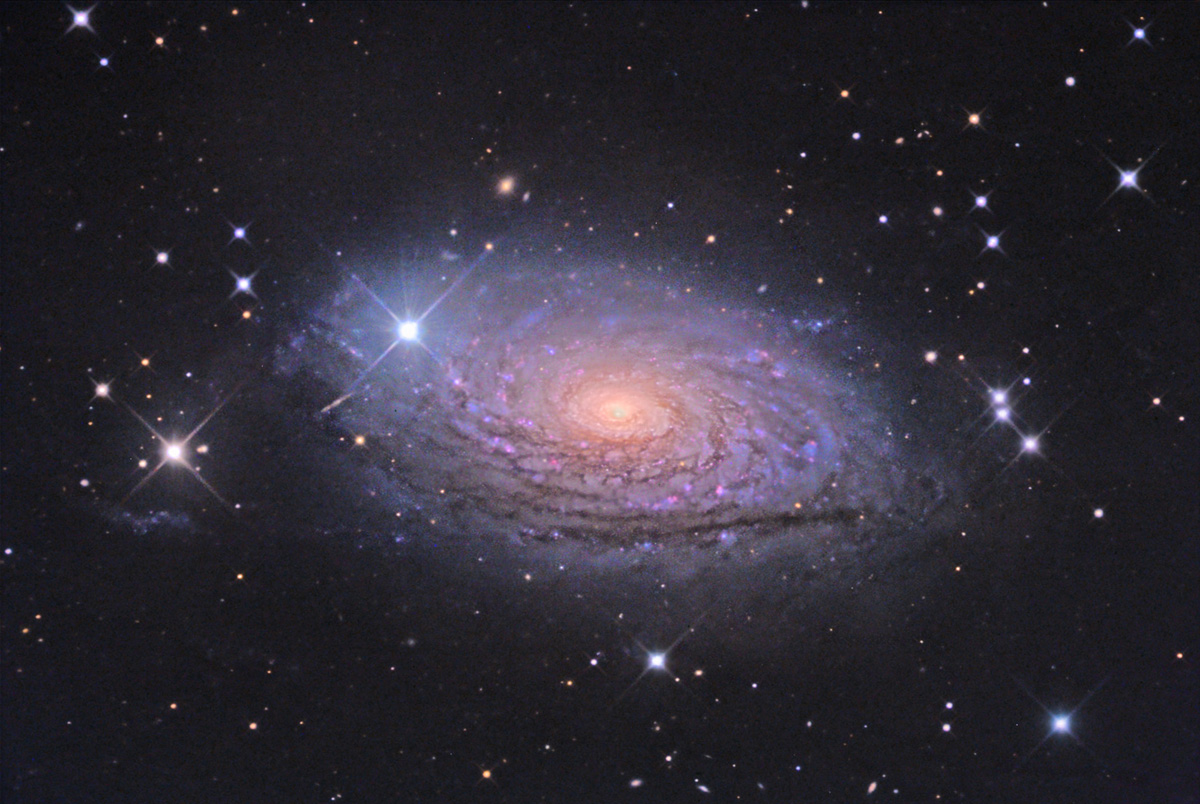 CLICK THE IMAGE FOR A HIGHER RESOLUTION VIEW
Misti Mountain Observatory, Arizona, USA
---
DATA
Type: Spiral Galaxy
Apparent Magnitude:8.6
Apparent diameter: 12.3 arc minutes
Distance: 25 Million light years
IMAGE INFORMATION
Optics: Ritchey Chrétien 32 inches f 7.2 telescope
CAMERA: SBIG STL 11.000
SKY CONDITIONS: Dark Skies
EXPOSURES: LRGB (60,20,20,20)
OBJECT DESCRIPTION AND IMAGE SESSION
Known by the popular name of the Sunflower Galaxy, Messier 63 is a beautiful spiral galaxy that belongs to the Messier 51 group. The object presents majestic blue arms and dust lanes. In its diameter covers 100.000 light years across, pretty much the size of our Milky Way. It has a yellowish and bright central core surrounded by many spiral arm segments. The arms presents several areas of star forming regions which are visible in the image as pink dots indicating that is a very active galaxy.
Messier 63 was the very first discovery of Charles Messier's friend Pierre Méchain who caught it in June 1779.
This galaxy is almost impossible to image from our southern latitudes. So no other chance that to pick up Jim Misti's raw files offered here for processing this gem. Thanks Jim !!