MESSIER 25 OPEN GALACTIC STAR CLUSTER
SAGITTARIUS - (ra: 18:31.6 / dec -19:15)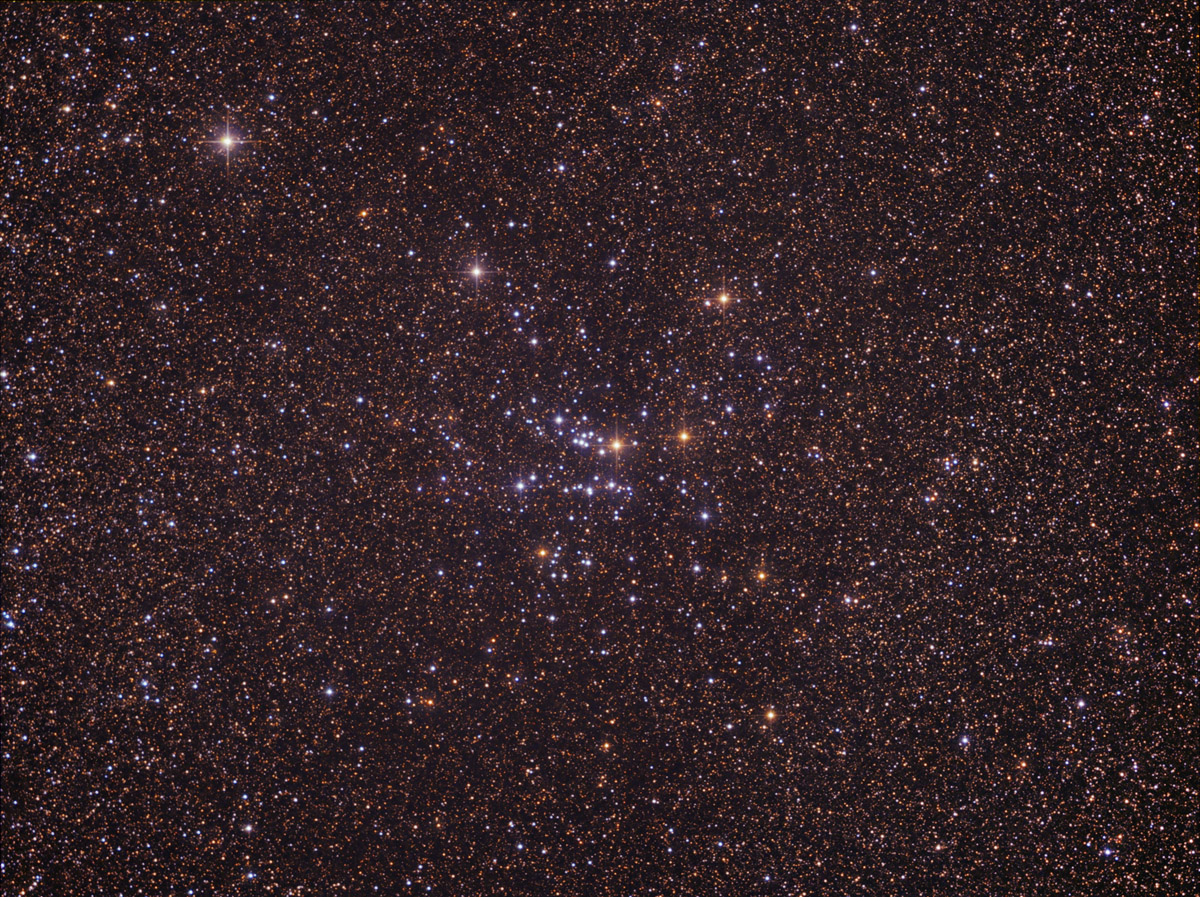 CLICK IN THE IMAGE FOR A HIGH RESOLUTION VIEW
September 2012, - Star Party Doyle, Buenos Aires - Argentina
---
DATA
TYPE: Globular Cluster
VISUAL BRIGHTNESS: 4.5
APPARENT DIAMETER: 32 arc minutes
DISTANCE: 2.000 light years
IMAGE INFORMATION
SCOPE: ORION OPTICS UK 6" f5 Newtonian
CAMERA: QSI 583 WS
GUIDING: LodeStar in Synta 70/400 refractor / PHD Guiding
FILTERS: Baader LRGB Set
SKY CONDITIONS: Rural Skies with 40% Crescent Moon at 21 degrees.
EXPOSURES: LRGB (30,30,30,30) for a total exposure time of 2 hours
PROCESSING: Images Plus / Photoshop CS2
OBJECT DESCRIPTION AND IMAGE SESSION
This young open star cluster is located in the direction of the galactic center in a crowded region, near much irregular absorption features on Sagittarius arm. Located about 2,000 light years away from Earth, this little group of stars spans across about 19 light years of space. Caught inside of its influence are four giant stars – two of spectral type M and two of type G. It contains around 86 members that may have began life together some 90 million years.
This galactic star cluster was originally discovered by Philippe Loys de Cheseaux in 1745 and included in Charles Messier's catalogue in 1764. Oddly enough, it was one of those curious objects that didn't get catalogued by Sir John Herschel – therefore it never received a NGC number. (*)

One of last chances to grab an object from Sagittarius. It is falling in the west by end of September. The Moon was relatively close at 21 degrees from to M25 but the OOUK Newtonian got very good contrast
(*) Text adapted from fragment of Universetoday