MESSIER 25
Open Cluster in Sagittarius
(ra: 18:31.6 / dec - 19:15)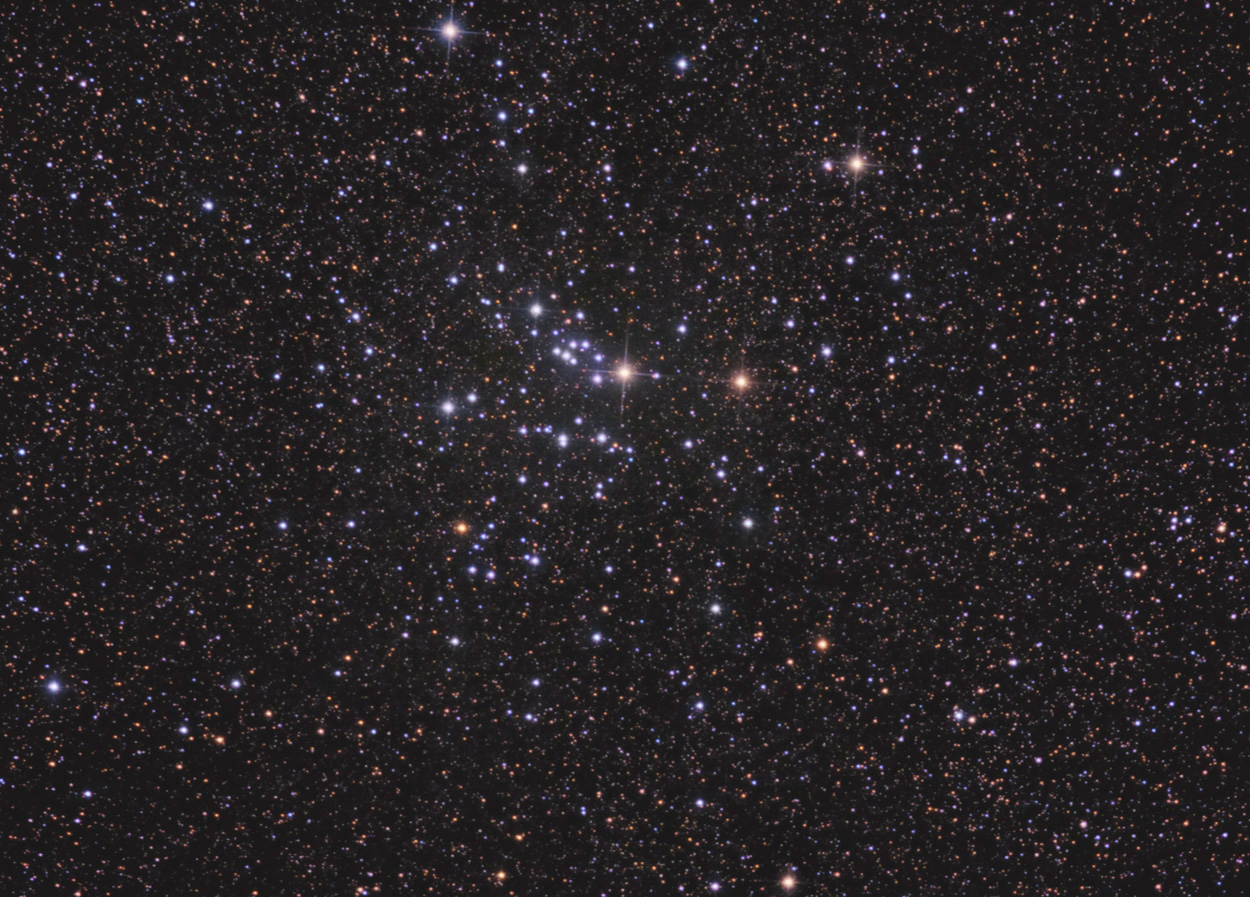 September 2010, Home Backyard in Martínez - Buenos Aires, Argentina
---
DATA
TYPE: Open Cluster
VISUAL MAGNITUDE: 4.6
SIZE: 32 arc minutes
DISTANCE: 2.000 light years
OBJECT DESCRIPTION AND IMAGE SESSION
A cluster easily visible with smaller telescopes and binocular. Surprisingly it was not catalogued by John Herschel so it has only a IC number.This galactic star cluster was originally discovered by Philippe Loys de Cheseaux in 1745 and included in Charles Messier's catalog in 1764. Messier 25 spans around 19 light years and is rather close to us. It is a young star cluster located in perspective with the galactic center.
Another late acquisition for the southern spring. The object deserves more attention to get the faint stars of the crowded star field.
I had the Orion UK reflector out of collimation, so the image was severely cropped.
IMAGE INFORMATION
SCOPE: 6" Newtonian with Orion UK Optics at f5
SKY CONDITIONS: Bad transparency. Regular seeing.
CAMERA: QSI 583 WS -15Cº
FILTERS: Astronomik Type 2, Ha 6nm
EXPOSURES: LRGB (20,20,20,20) L bin 1x1, RGB bin 2x2
GUIDING: Synta 70/400 refractor. Starlight Xpress Lodestar Camera. AA 3.71 Control Camera Plug-in
PROCESSING: No darks, nor flats, nor offsets. Images Plus (Sigma Median Combination) CCD Sharp Richardson Lucy Deconvolution Photoshop CS
---