MESSIER 33
(aka Triangulum Galaxy)
SPIRAL GALAXY IN TRIANGULUM
(Image Centred at ra 01h:33.9m / dec 30:39)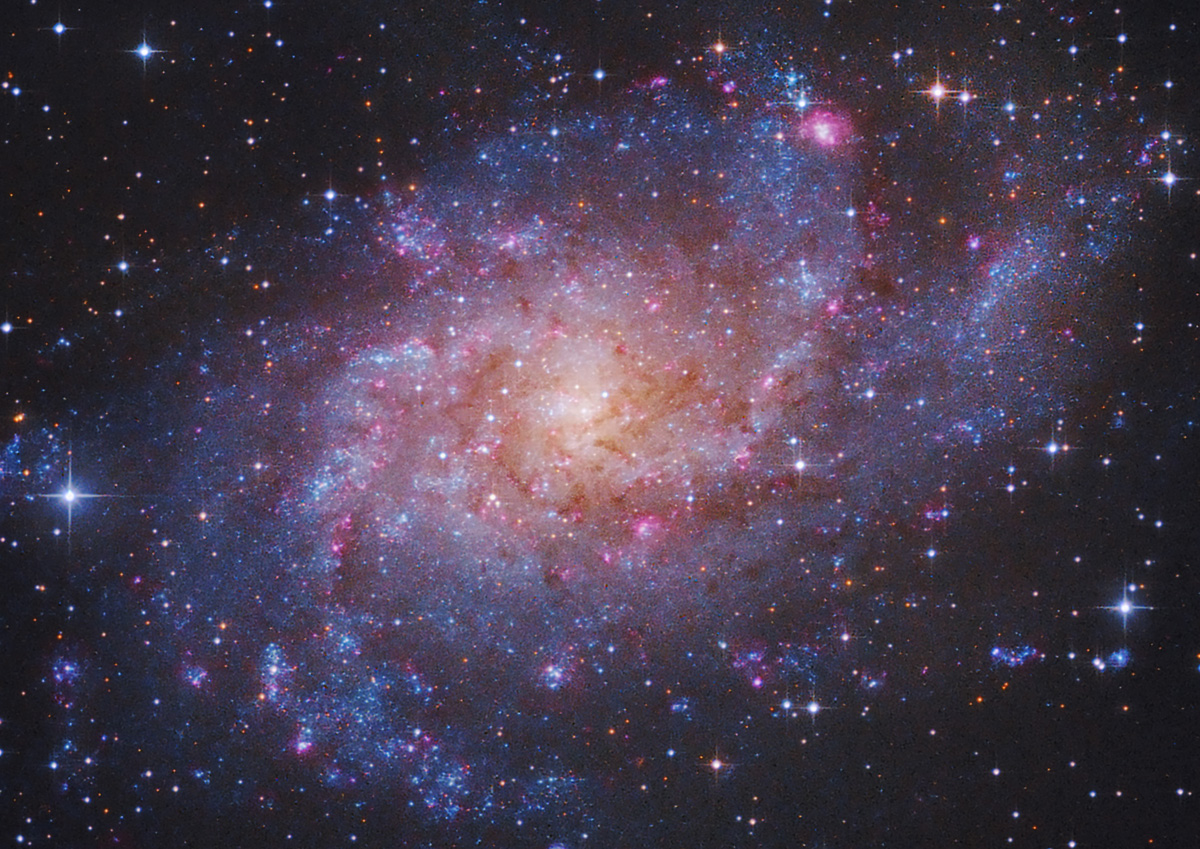 CLICK THE IMAGE FOR A HIGHER RESOLUTION VIEW
December 2014 - Camping La Porteņa, San Antonio de Areco, Buenos Aires, Argentina
---
DATA
Type: Supernova Remnant
Apparent Magnitude: 5.7
Apparent diameter: 73x45 arc minutes
Distance: 3 Million light years
IMAGE INFORMATION
TELESCOPE: 8" Orion Optics UK Mirror with Televue Paracorr (1150 mm focal length)
CAMERA: QSI 583 WS
FILTERS: Baader LRGB
SKY CONDITIONS: rural skies
EXPOSURES: LRGB (120,40,40,40) most shots at bin 1x1 but some Luminosity at bin2x2 to reinforce dim areas.
OBJECT DESCRIPTION AND IMAGE SESSION
Messier 33 is the third largest member of our Local Group. Only Andromeda and our Milky Way are lager, however Messier 33 has an average size for spiral galaxies of its type. It covers an estimated distance of 60.000 light years and it might be gravitational bound to the Andromeda Galaxy. It might be the home of 40 billions stars, compared to the 400 billion of our Milky Way and 1 trillion of the Andromeda Galaxy. Star formation is taking place at high rates. The HII areas are quite abundant. The brightest and most impressive is NGC 604 with a distance that can gather 40 Orion Nebulas.
Also known as The Triangulum Galaxy, it was probably discovered by Italian astronomer Giovanni Batista Hodierna before 1654. It was independently discovered by Charles Messier on the night of August 25-26 of 1764.
From our southern location in Buenos Aires it is not an easy object. Very low in the horizon. The image was cropped and rotated in order to give a different angle. Because of the rotation i was not able to work with the full array of pixels of the chip.