M 33 – SPIRAL GALAXY
Triangulum
(ra: 01:33,9/ dec 30:39)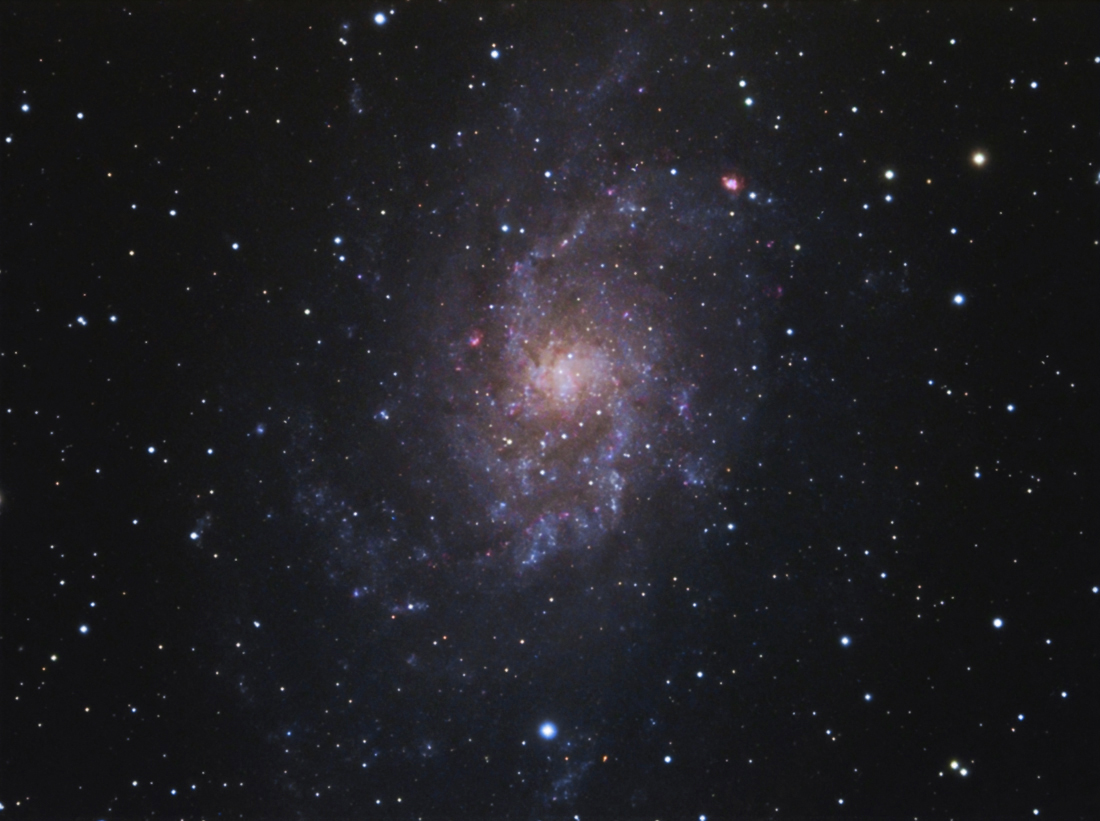 Mercedes, Buenos Aires Province - November 2008
---
DATA
TYPE: Spiral Galaxy
VISUAL BRIGHTNESS: 5.7
SIZE: 73 X 45 arc minutes.
DISTANCE: 3 Million light years
DATE & PLACE: October the 31st 2008, Mercedes Provincia de Buenos Aires
OBJECT DESCRIPTION
Messier 33 is a member of our Galaxy Local Group along with Andromeda and our Milky Way. It is the third largest member after the two mentioned. The Galaxy contains remarkable spiral arms which are rich in star forming HII regions. Although the image has no Ha sequence shots, the regions were brought up easily. The most remarkable area is NGC 604 which is one of the largest HII regions known.
The Galaxy was very however I was willing to shot this object for a long time. Very difficult processing: More data will be added in coming seasons.
IMAGE INFORMATION
SCOPE: Orion ED 80 @ 7.5 Meade LXD 75 guided with SXV guide Camera
SKY CONDITIONS: Seeing: regular. Visual limit magnitude 4.
CAMERA: Starlight Xpress SXVF H9
FILTERS: Astronomik Type II, IR for Luminance
EXPOSURES: LRGB(30,15,15,21)
IMAGE ACQUISITION & GUIDING: AstroArt 3.0 - CCD Control Interface 3.72 Plug In
DATE: November 2008
PROCESSED: ImagesPlus 2.75, Photoshop CS
---