MESSIER 42 & 43
BRIGHT EMISSION AND REFLECTION NEBULA COMPLEX IN ORION (THE HUNTER)
(Image centered at: ra 05 h:35 m / dec - 05º 27')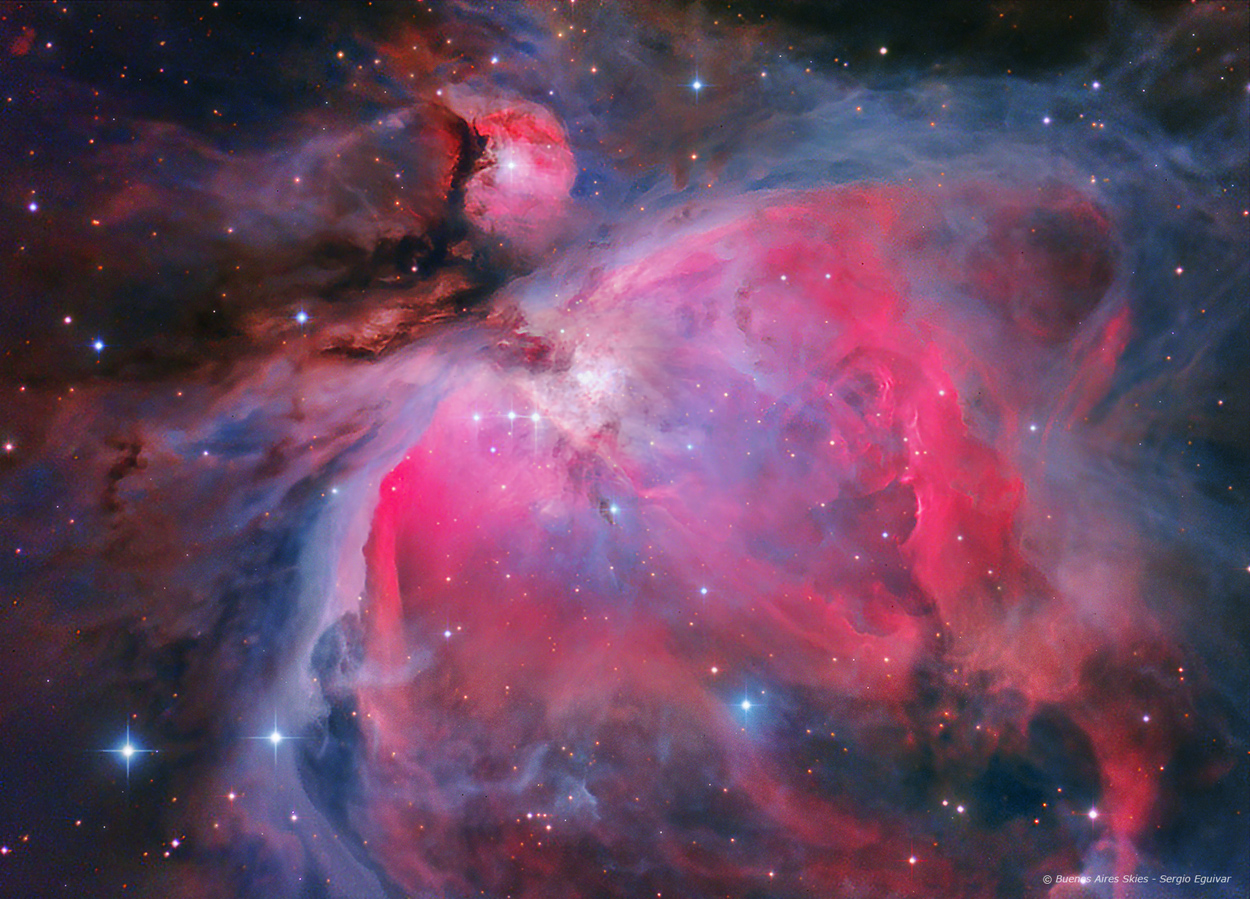 CLICK THE IMAGE FOR A HIGH RESOLUTION VIEW
March 2023, Home Backyard in Martínez, Buenos Aires, Argentina
---
DATA
TYPE: Bright Emission and Reflection Nebula
APPARENT DIAMETER: 85 x 60 arc minutes for Messier 42 and 20 x 15 for Messier 43
APPARENT MAGNITUDE (V): 4 and 9 respectively
DISTANCE: 1.350 light years
IMAGE INFORMATION
INSTRUMENT: 8" ORION OPTICS UK (Ultra Grade Optics) w/Televue Paracorr working at at f5,75
CAMERA: QSI 583 WS
MOUNT: SKY WATCHER NEQ6, OAG with Starligh Xpress Lodestar
FILTERS: Baader LRGB Set; Astronomik Ha 6nm
SKY CONDITIONS: urban skies - Bortle 8
EXPOSURES: LHARGB (60,120,60,60,60) Synthetic luminance used. Subs of 30 seconds used for the core
OBJECT DESCRIPTION AND IMAGE SESSION
The Orion Nebula Messier 42 (M42, NGC 1976) is the brightest starforming region, and the brightest diffuse nebula in the sky, and also one of the brightest deepsky objects. Shining with the brightness of a star of 4th magnitude, it visible to the naked eye under moderately good conditions, and rewarding in telescopes of every size, from the smallest glasses to the greatest Earth-bound observatories as well as outer-space observatories like the Hubble Space Telescope. It is also a big object in the sky, extending to over 1 degree in diameter, thus covering more than four times the area of the Full Moon.
As it is so well visible to the naked eye, one may wonder why its nebulous nature was apparently not documented before the invention of the telescope.
Messier 43 (aka NGC 1982) is the companion of the Great Orion Nebula. It is separated from the great nebula by an impressive, turbulent dark lane, and is lying 7 arcmin north of the Trapezium Cluster. M43 was first reported by de Mairan in 1731 as a "brilliance surrounding a star" which he thought was "very similar to the atmosphere of our Sun, if it were dense enough and extensive enough to be visible in telescopes at a similar distance" (De Mairan 1733). Charles Messier included in his fine drawing of the Orion Nebula, and assigned it an extra catalog number
By March 2023 Messier 42 and Messier 43 are going west and practically this month it was the last chance of the season for imaging. Even from my light polluted backyard this is not an easy object to process because its high dynamic range. I used for the core 30 seconds subs but still was to much for the bright signal coming from the trapezium.