MESSIER 50
OPEN CLUSTER IN MONOCEROS
(ra: 07:03.2 / dec -08:20)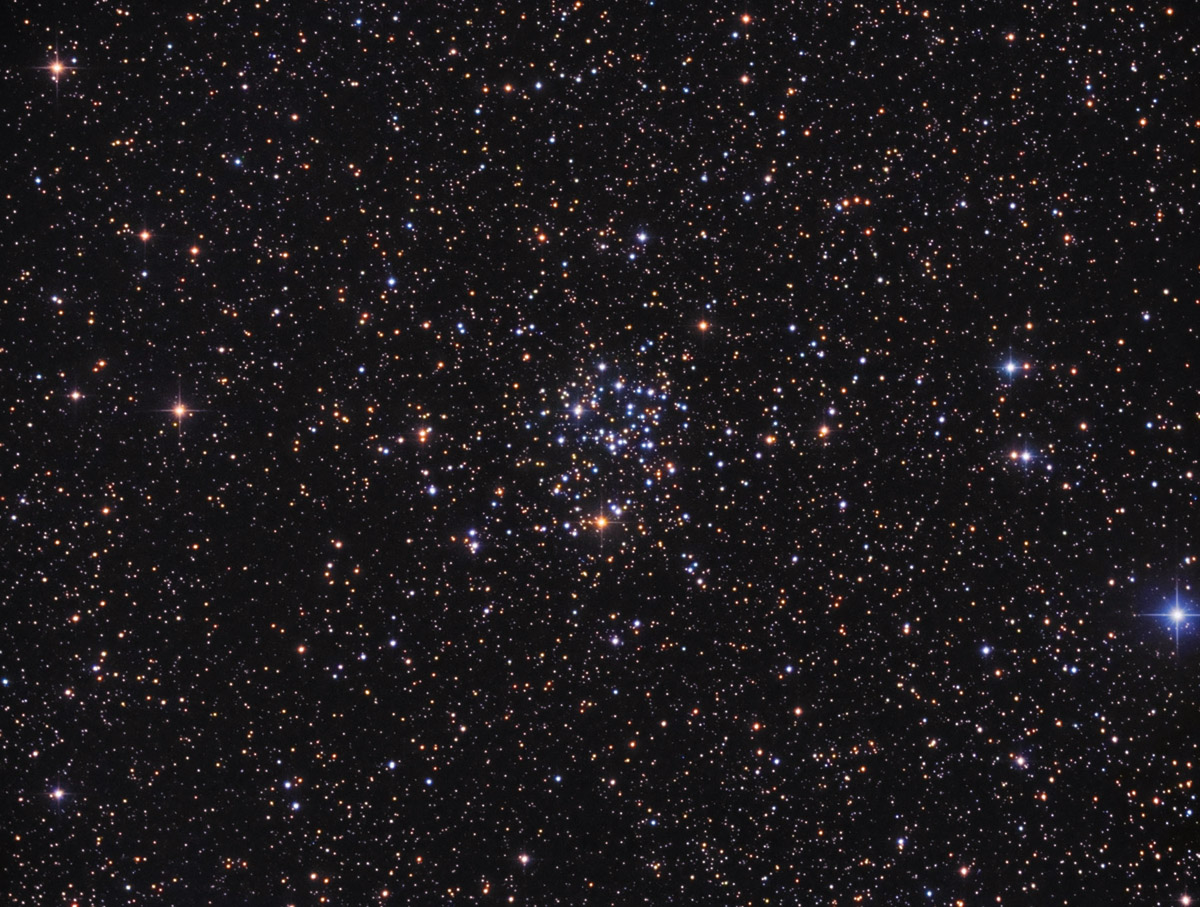 CLICK IN THE IMAGE FOR A HIGH RESOLUTION VIEW
October 2012, - Camping La Porteņa, Areco, Buenos Aires - Argentina
Additional Subs from my Home Backyard in Martinez
---
DATA
TYPE: Open Cluster
VISUAL BRIGHTNESS: 5.9
APPARENT DIMENSION: 16 arc minutes
DISTANCE: 3200 light years
IMAGE INFORMATION
SCOPE: ORION OPTICS UK 6" f5 Newtonian
CAMERA: QSI 583 WS
GUIDING: LodeStar in Synta 70/400 refractor / PHD Guiding
FILTERS: Baader LRGB Set
SKY CONDITIONS: Rural Skies.
EXPOSURES: LRGB (15,15,15,15) for a total exposure time of 60 minutes
PROCESSING: Images Plus / Photoshop CS2
OBJECT DESCRIPTION AND IMAGE SESSION
Messier 50 is a bright cluster located in a rich area of stars and nebulae in constellation Monoceros, near the border with Canis Major.

Its angular diameter of about 15x20 arc minutes corresponds to a linear extension of about 20 light-years. Photographic plates taken by Isaac Roberts in 1893, estimates its population as about 200 stars in the main body. Within its members there were discovered some yellow giants. The age of Messier 50 is estimated as 78 million years.

Due its location, the cluster can be seen from both hemispheres. The visual appearance is described as a "heart-shaped figure".
This cluster was discovered on April 5, 1772 by Charles Messier but possibly Giovanni Domenico Cassini had already discovered it before 1711, according to a report by his son, Jeaques Casinni in his book of 1740, Elements of Astronomy.