MESSIER 68
GLOBULAR CLUSTER IN HYDRA (THE WATER SNAKE)
(Image centered at: ra 12 h:39 m / dec - 26º 45')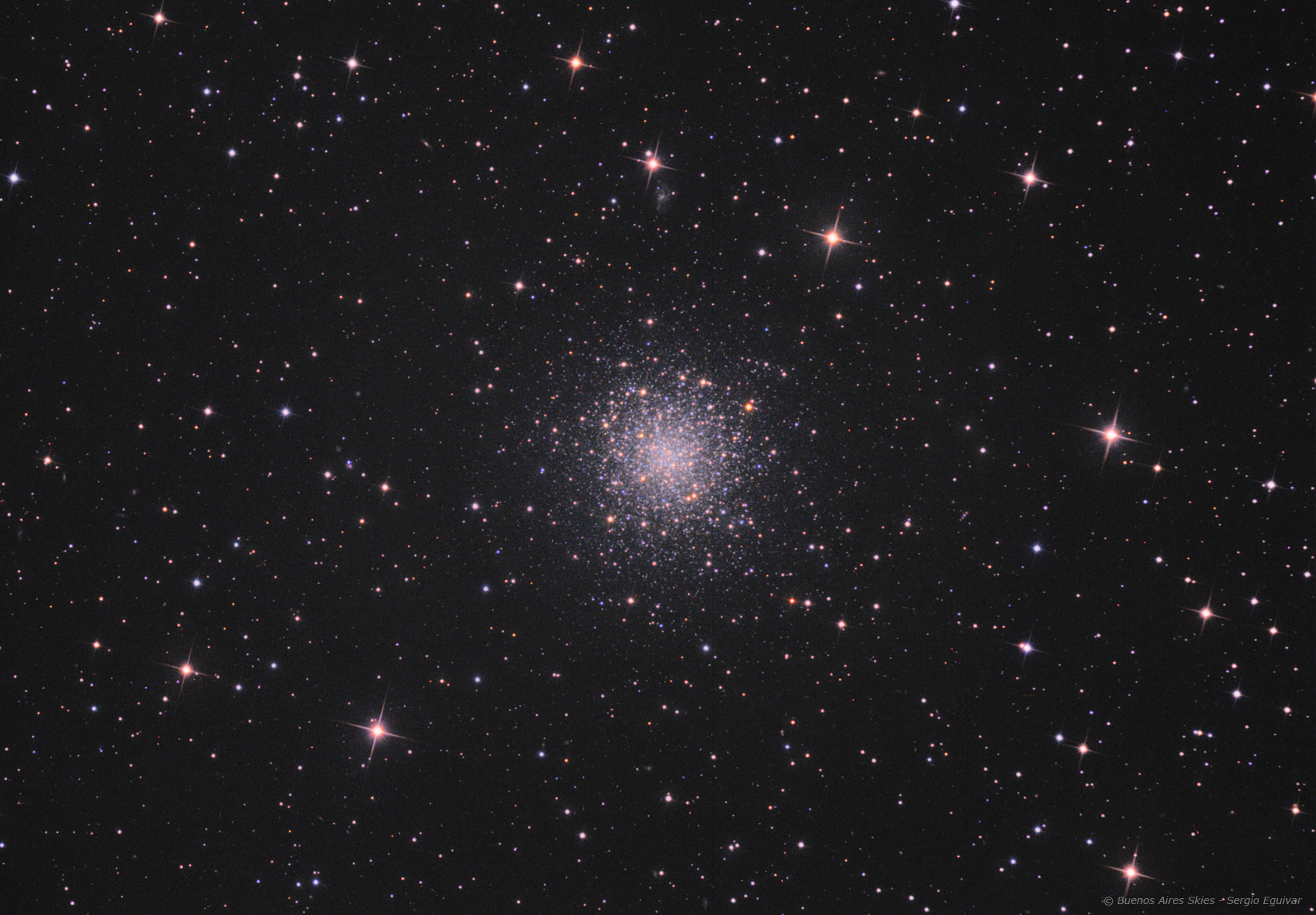 April 2022, Sarandi, Gualeguayachu, Entre Rios, Argentina
---
DATA
TYPE: Globular Cluster
APPARENT DIAMETER: 11 arc minutes
VISUAL BRIGHTNESS: 7,8 magnitude
DISTANCE: 33000 light years
IMAGE INFORMATION1
INSTRUMENT: 8" ORION OPTICS UK (Ultra Grade Optics) w/Televue Paracorr working at at f5,75
CAMERA: QSI 583 WS
MOUNT: SKY WATCHER NEQ6, OAG with Starligh Xpress Lodestar
FILTERS: Baader LRGB Set
SKY CONDITIONS: rural skies - very humid night
EXPOSURES: LRGB (60,40,40,40)
OBJECT DESCRIPTION AND IMAGE SESSION
Messier 68 is a globular cluster situated opposite to the Galactic Center which is an unusual place for a globular. It is orbiting the galactic bulge with an eccentricity of 0,5. Lying at a distance of about 33,000 light years from earth, the cluster spreads over 106 light years in diameter. It is one of the most metal-poor globular clusters, which means it has a paucity of elements other than hydrogen and helium. The cluster may be undergoing core collapse and it displays signs of being in rotation. The cluster may have been acquired in its gravitational tie to the through accretion from a satellite galaxy.
Not many colour pictures of this object besides the one of HST... this might be because Messier 68 is quite difficult to observe for Northern Hemisphere because of its southern declination. Messier 68 can be found by following a line from the stars Delta to Beta Corvi (mag 3), which points toward 5.4-mag ADS 8612 (SAO 180965). M68 is then easily located about 45 minutes NE of this star.
It was discovered by Charles Messier in 1780. William Herschel described it as "a beautiful cluster of stars, extremely rich, and so compressed that most of the stars are blended together". His son Jhon Herschel noted that it was "all clearly resolved into stars of 12th magnitude, very loose and ragged at the borders".
---