M 86, 84 & Co - MARKARIAN CHAIN
AKA VIRGO GALAXY CLUSTER
(Centered at 12.27,44/ dec +12:57)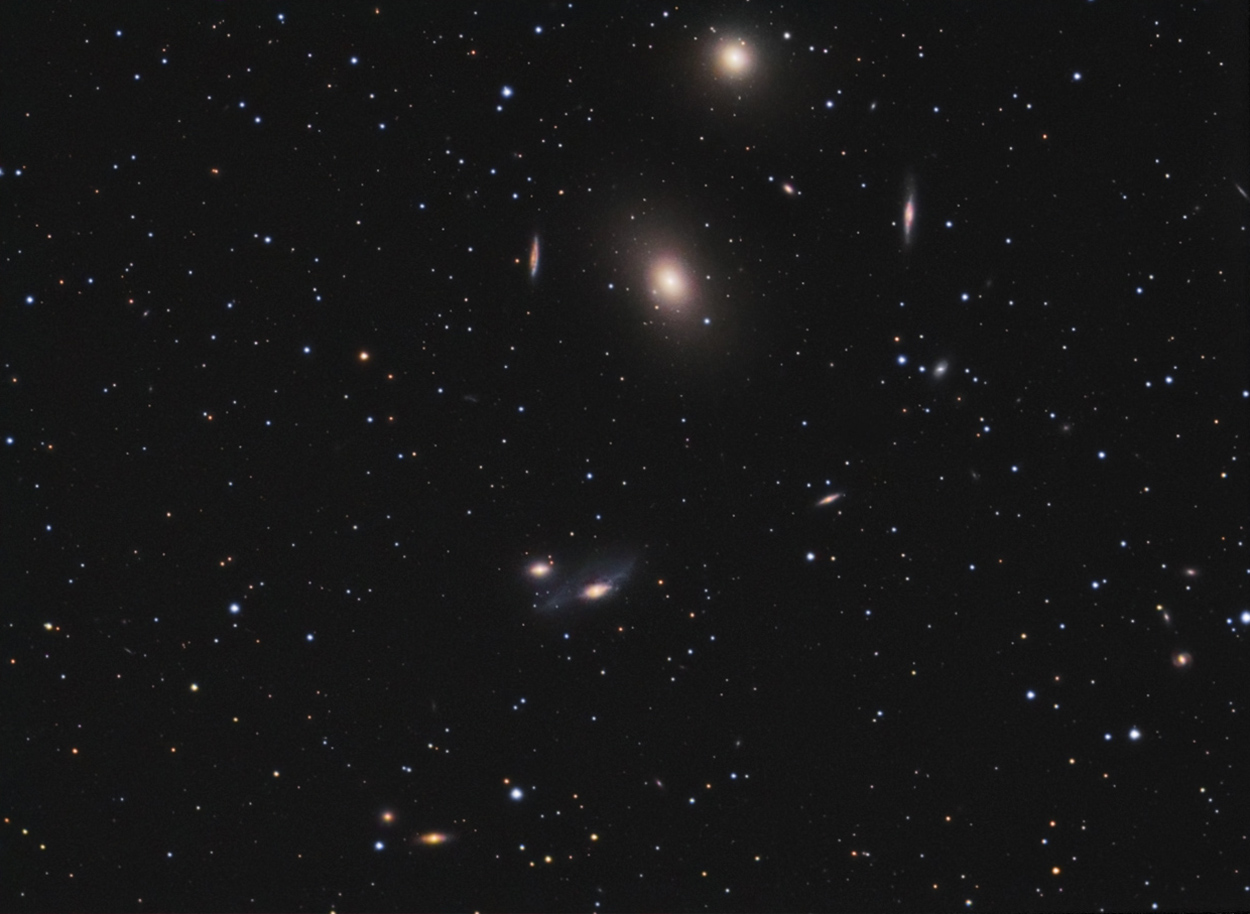 Collaboration with Guillermo Baldi AstroHobby
February 2010, La ALDEA Mountain House Complex in Merlo, San Luis, Argentina
---
DATA
TYPE: Galaxy Cluster
Apparent Magnitude: M86: 8,9 - M84:9.2 - The Eyes: 10.8 & 10 - NGC 4402: 11.8 - NGC 4388: 11
Apparent Diameter: FOV roughly 97 degrees
DISTANCE: 70 million lights years
IMAGE INFORMATION
SCOPE: William Optics Zenithstar 66 with WO 0.8 x fr/ff
CAMERA: SXVF H9
GUIDING: Celestron C8 SCT working at f5.1
IMAGE ACQUISITION: AstroArt 3.0 - Control Interface 3.72 plug in
FILTERS: Astronomik Type II - Atik Filter Wheel
SKY CONDITIONS: transparency and seeing: regular
EXPOSURES: LRGB (60,20,20,20)
PROCESSING: Calibration in Images Plus, CCD Sharp (1 RL pass), Photoshop CS2
OBJECT DESCRIPTION AND IMAGE SESSION
Virgo offers a stunning vista for telescopes and binoculars. A curved shaped river of Galaxies and countless fuzzies that belongs to the so called Markarian Chain. (Armenian Astrophysicist who studied it by mid 70's). The Virgo Cluster is the nearest galaxy cluster and contains more than 2000 members. It has a noticeable gravitational incidence over our Local Group (*). Unfortunately we were not able to turn the camera some degrees to get the usual frame, so the chain is presented somehow vertical.
A great night with my friend Guillermo during our vacation in the mountains. A truly team work. Guillermo helped me selecting the target and setting the SCT for guide star hunting. We turned down 20 lights of the house complex to get a dark sky. For those hours we had the whole night sky for us...
(*) Source SEDS, APOD.
---
M 86, 84 & Co - MARKARIAN CHAIN
LABELED