MESSIER 8 - LAGOON NEBULA
Sagittarius
(ra: 18:0.3:8 / dec -24:23)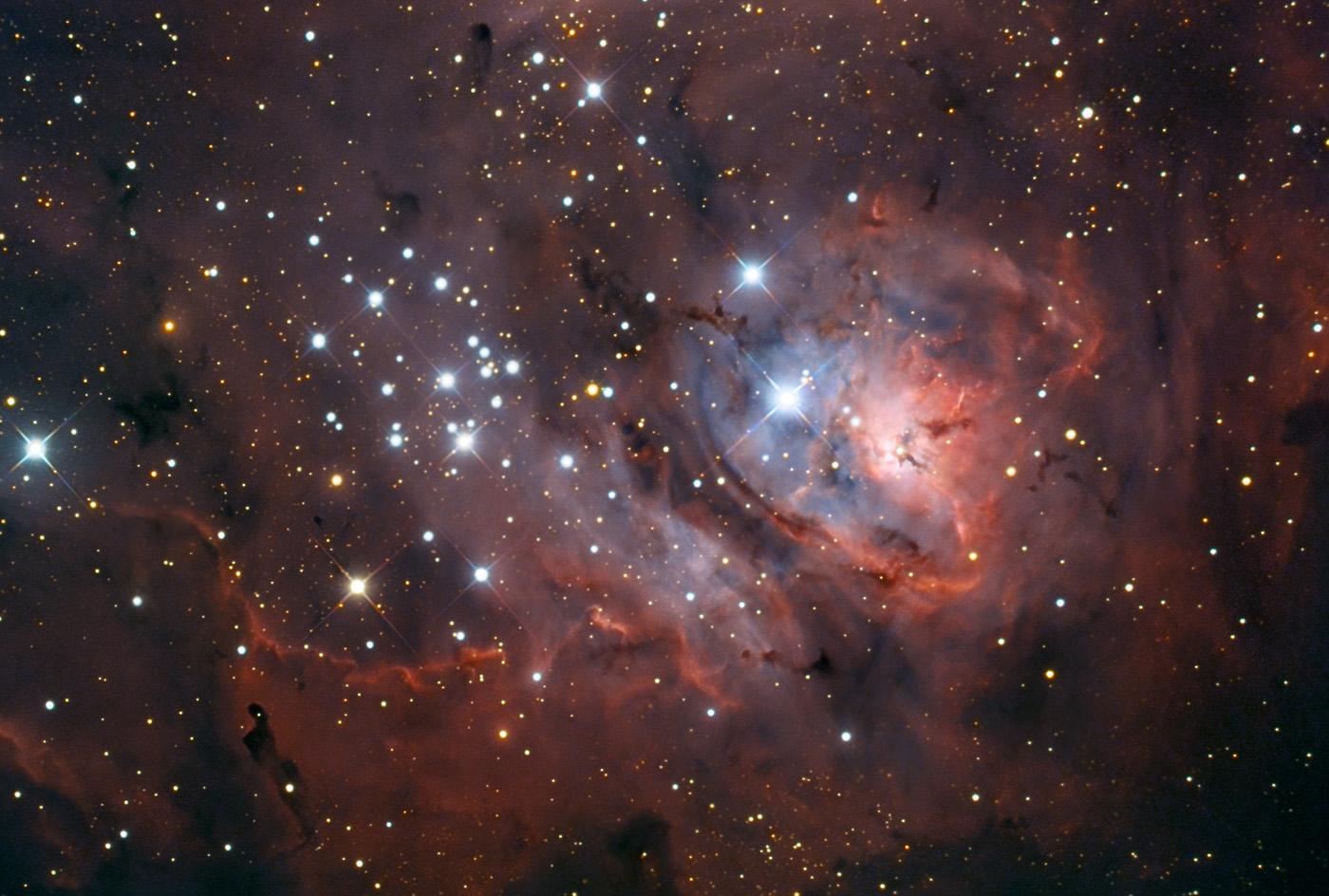 CLICK IN THE IMAGE FOR A HIGHER RESOLUTION VERSION
June 2010, Collaboration with Ezequiel Bellocchio of AstroPilar and Sergio Eguivar from some place in the Golf field.
Buenos Aires, Argentina
---
DATA
TYPE: Emission and Relexion nebula
VISUAL BRIGHTNESS: 5.8
SIZE: 90 arcs minutes
DISTANCE: 5200 light years

OBJECT DESCRIPTION AND IMAGE SESSION
The Lagoon Nebula is one of the most remarkables objects not only in Sagittarius but in the whole sky. Comparable with the Orion Nebula in its beauty and brightness, it is visible with binoculars. this instrument allows to cover M08 completely. The Lagoon Nebula spreads along 90 x 40 arcs minutes (the size of three moons). The extension of M08 covers an area of 140 x 60 light years. The Hourglass Nebula is located in its center (visible in the image) and is an active star formation region. As usual happens in this type of objects the discovery came after a star cluster, in this case NGC 6530 in the year 1680 by John Flamsteed. Charles Messier catalogued in 1764.
IMAGE INFORMATION
SCOPE: GSO RC 8" F8
SKY CONDITIONS: Steady night with nearly half Moon
CAMERAS: SBIG ST8300
FILTERS: Baader
EXPOSURES: LRGB (32,20,20,30) 120 subs
GUIDING: William Optics ZenithStar 66 f6. Starlight Xpress Lodestar Camera. PHD Guiding
PROCESSING: Images Plus Sigma Median Combination, CCD Sharp Richardson Lucy Deconvolution Photoshop CS
---