MESSIER 9 GLOBULAR CLUSTER
OPHIUCHUS - (ra: 17:19.2 / dec -18:31)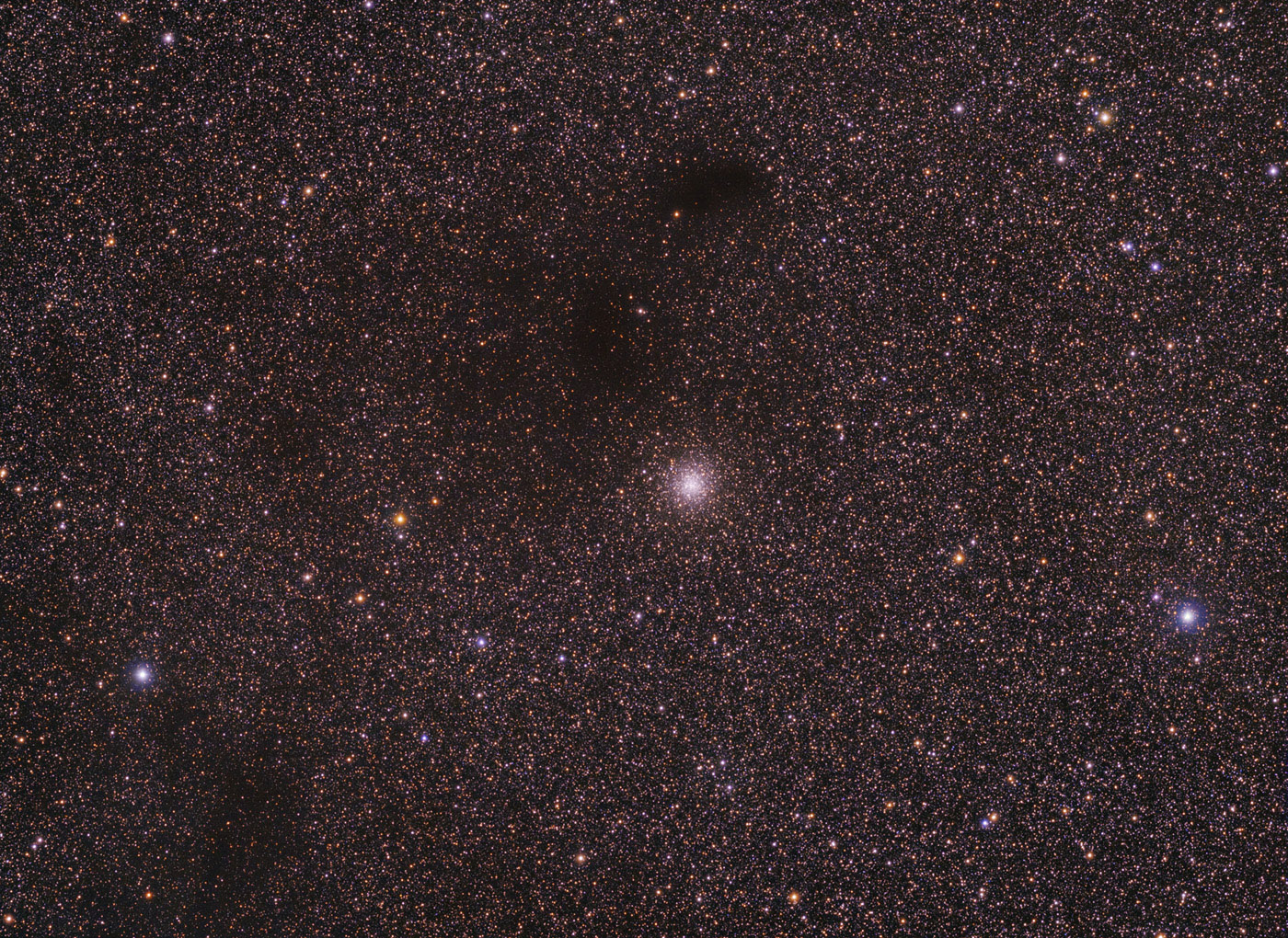 CLICK IN THE IMAGE FOR A HIGH RESOLUTION VIEW
July 2012, Arca de Noe - Rama Caída Mendoza, Argentina
---
DATA
TYPE: Globular Cluster
VISUAL MAGNITUDE: 7.9
APPARENT DIAMETER: 12 arc minutes
DISTANCE: 26.700 light years
IMAGE INFORMATION
SCOPE: TMB SS 92 working at f6 (roughly)
CAMERA: QSI 583 WS
GUIDING: LodeStar in Orion Short Tube 80/400 PHD Guiding
FILTERS: Baader LRGB Set
SKY CONDITIONS: Rural Skies with some street lights 70 meters away.
EXPOSURES: LRGB (40,30,30,30) for a total exposure time of 2 hours and 10 minutes
PROCESSING: Images Plus / Photoshop CS2 - no darks applied.
OBJECT DESCRIPTION AND IMAGE SESSION
MESSIER 9 is one of the nearer globular clusters to the nucleus of our Galaxy, with a computed distance of 5500 light-years from the Galactic Center (Burnham gives 7500, a slightly too high value). Its 12.0 arc minutes angular diameter corresponds to a linear extension of 90 light years at its distance of about 25,800 light years from our Solar system. However, it appears somewhat smaller visually, about 3 or 4', and on conventional photos can be traced to about 9.3 arc minutes. Its light is significantly dimmed by interstellar dust, as it lies at the edge of a patch of dark nebula (Barnard 64 - upper Dark Cloud in the image); its light is probably weakened by at least one magnitude (a factor of about 2.5). (*)
The FOV of the image is around 2 degrees times 1 degree 20 arc minutes. The star field in this area is impressive. DSS detected more than 10.000 stars in the image. At the left bottom of the image we can see partially Barnard 259.
(*) SEDS