MENZEL 1
PLANETARY NEBULA IN NORMA
(Image centered at ra 15:34.17 / dec - 59:09)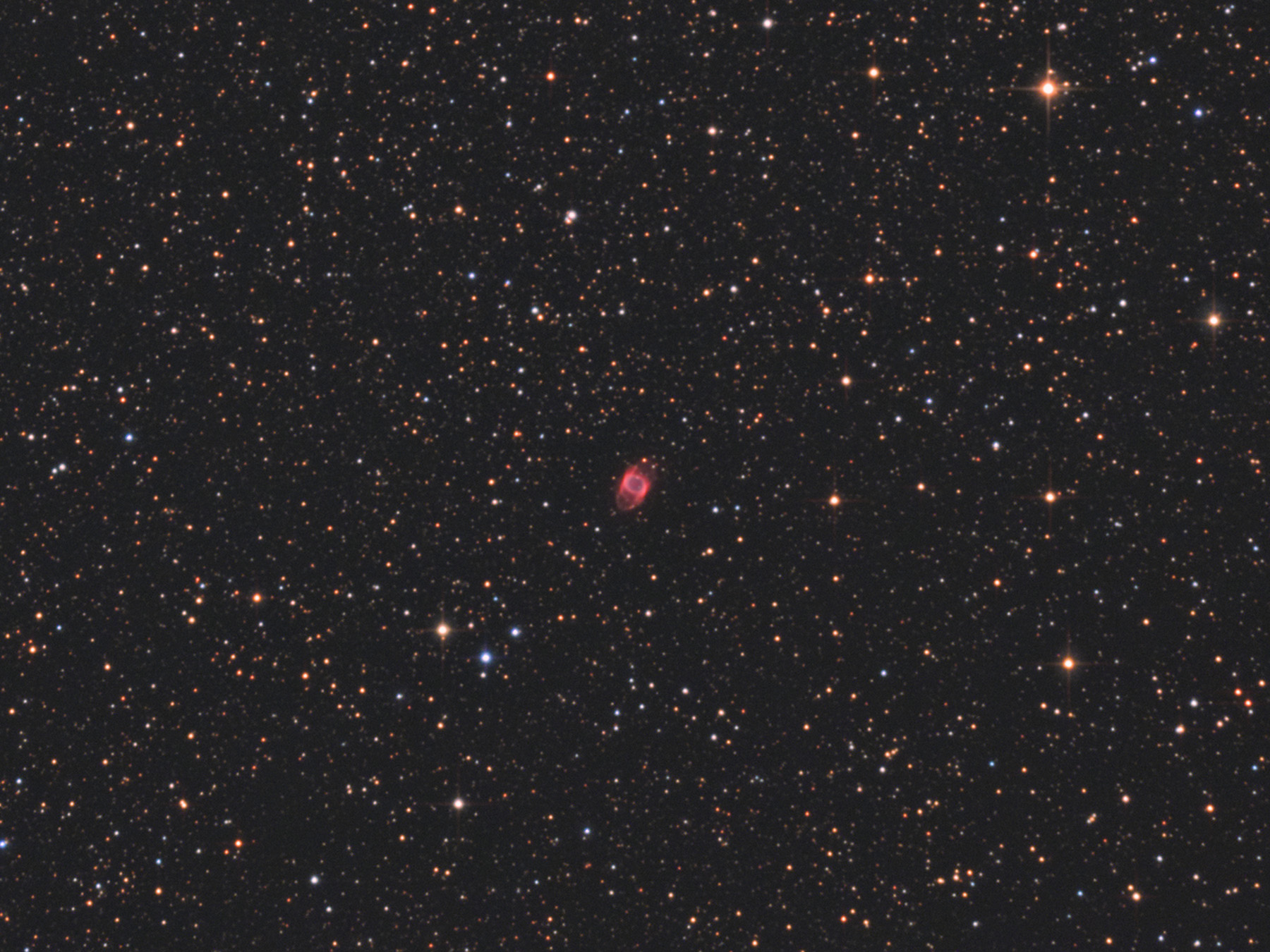 CLICK THE IMAGE FOR A WIDER VIEW
January 2020 - Home Backyard in Martinez, Buenos Aires, Argentina
---
DATA
TYPE: Planetary Nebula
APPARENT MAGNITUDE: 12
APPARENT DIAMETER: 76 x 23 arc seconds
DISTANCE: Roughly 3400 light years
IMAGE INFORMATION
SCOPE: ORION OPTICS UK 8" f5 Newtonian w/Televue Paracorr working at f5,75
CAMERA: QSI 583 WS
MOUNT: SKY WATCHER NEQ6
FILTERS: Baader LRGB Set
SKY CONDITIONS: Urban Skies.
EXPOSURES: LHaRGB (20,60,20,20,20) all bin 1x1
OBJECT DESCRIPTION AND IMAGE SESSION
Menzel 1 is a bright PN that has a prominent central ring of enhanced emission. One model of its structure is a three-dimensional hour glass shape with a smoothly decreasing density starting from the waist or equator as measured outwardly to the poles. It is radially expanding at a rate of about 23 km/s and estimated to be around 4,500 to 10,000 years old. Its polar axis is oriented at an angle of around 40° from the plane of the sky.
The central star estimated to have a mass of 0.63 ± 0.05. In 1992 Schwarz, Corradi, & Melnick published narrow band images of Mz 1 in Ha and OIII. H2 emission was observed in Mz 1 by Webster, Payne, Storey, Dopita in 1988. However, despite its relative brightness, Mz 1 has only been studied in a few papers (*)
(*) Wikipedia
---