HENIZE 70 (aka N 70)
Super bubble in the Large Magellanic Cloud
(ra: 5:45.5 / dec -67:54'17'')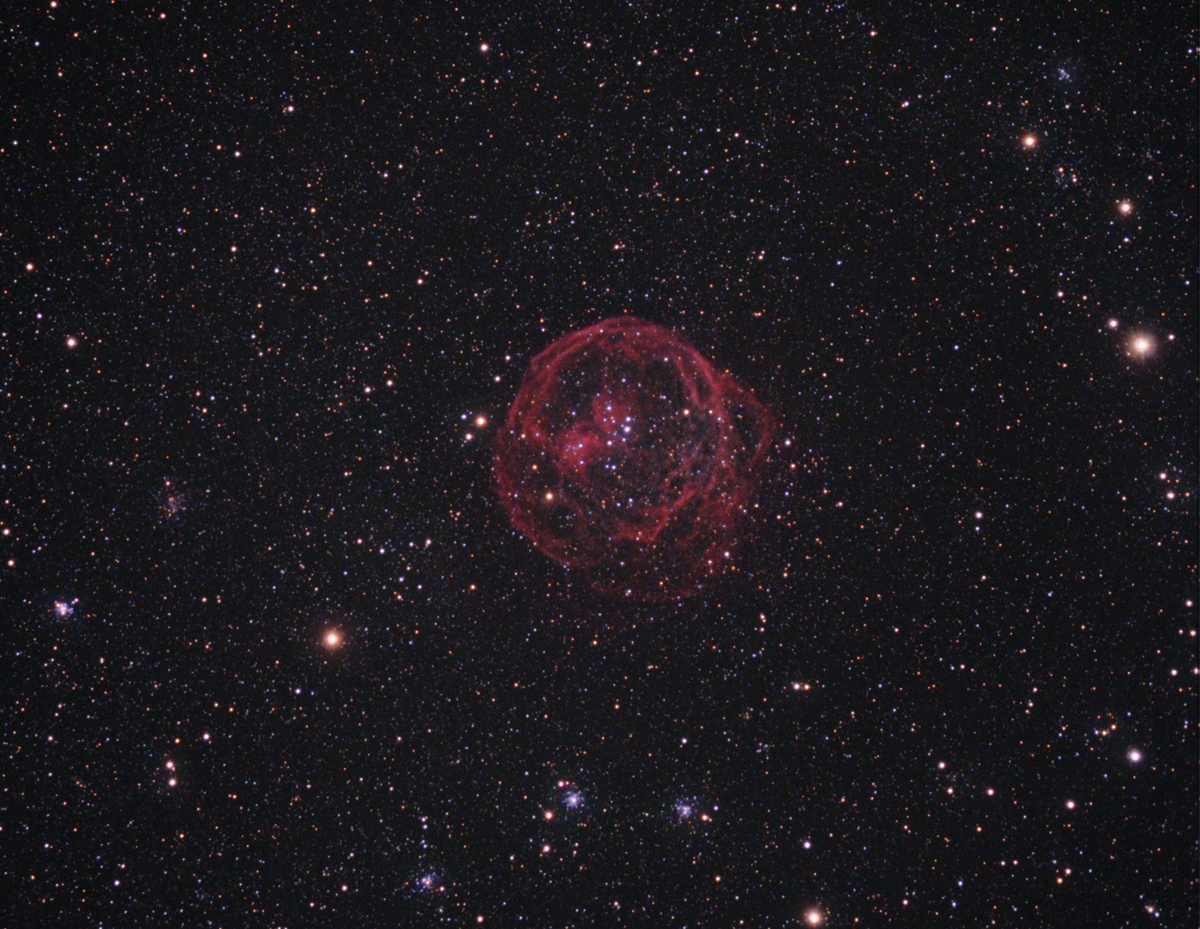 CLICK IN THE IMAGE FOR A HIGH RESOLUTION VIEW
January 2012, Camping La Porteņa - San Antonio de Areco
Buenos Aires, Argentina
---
DATA
TYPE: Gas & Dust Bubble in LMC
APPARENT MAGNITUDE: n/a
SIZE: 10 arcs minutes
DISTANCE: 160,000 light years
OBJECT DESCRIPTION AND IMAGE SESSION
Massive stars above tens times the mass of the Sun profoundly affect their galactic environment. Dramatic evidence of this is illustrated in our neighboring galaxy, the Large Magellanic Cloud, by the ring shaped nebula, Henize 70 (also known as N70 and DEM301). It is actually a luminous "superbubble" of interstellar gas about 300 light-years in diameter, blown by winds from hot, massive stars and supernova explosions, its interior filled with tenuous hot expanding gas. (*)
Because the lifetimes of massive O and B stars are measured in only tens of millions of years, after one supernova has swept clear a bubble around itself, there isn't enough time for the interstellar medium to back-fill the cavity before other stars explode in the same region. Each subsequent supernova will rejuvenate the cavity left by the previous ones. These superbubbles offer astronomers a chance to explore this crucial connection between the lifecycles of stars and the evolution of galaxies.

Karl Gordon Henize, Ph.D. (17 October 1926 - October 5, 1993) was an astronomer, NASA astronaut, space scientist, and professor at Northwestern University. He was stationed at several observatories around the world. He was in the astronaut support crew for Apollo 15 and Skylab 2/3/4. In 1956, Henize published the Catalogues of Hα-Emission Stars and Nebulae in the Magellanic Clouds. The paper references many objects which bear his name.
(*) NASA APOD
IMAGE INFORMATION
SCOPE: Celestron SCT 8" working with FR/FF Starizona at 0.8
MOUNT: Sky Watcher HEQ6
SKY CONDITIONS: Rural Skies - seeing bad. Dew in the plate corrector took down the image resolution.
CAMERAS: QSI 583 WS -10Cē
FILTERS: Baader 31 mm LRGB
EXPOSURES: LHaRGB (40,70,20,20,20) L bin 1x1
GUIDING: William Optics ZenithStar 66 f6. Starlight Xpress Lodestar Camera. PHD Guiding
PROCESSING: Images Plus, NASA Photoshop Fits Liberator, Photoshop CS
---