NGC 1313
GALAXY IN RETICULUM
(ra: 03,18.3 / dec -66:30)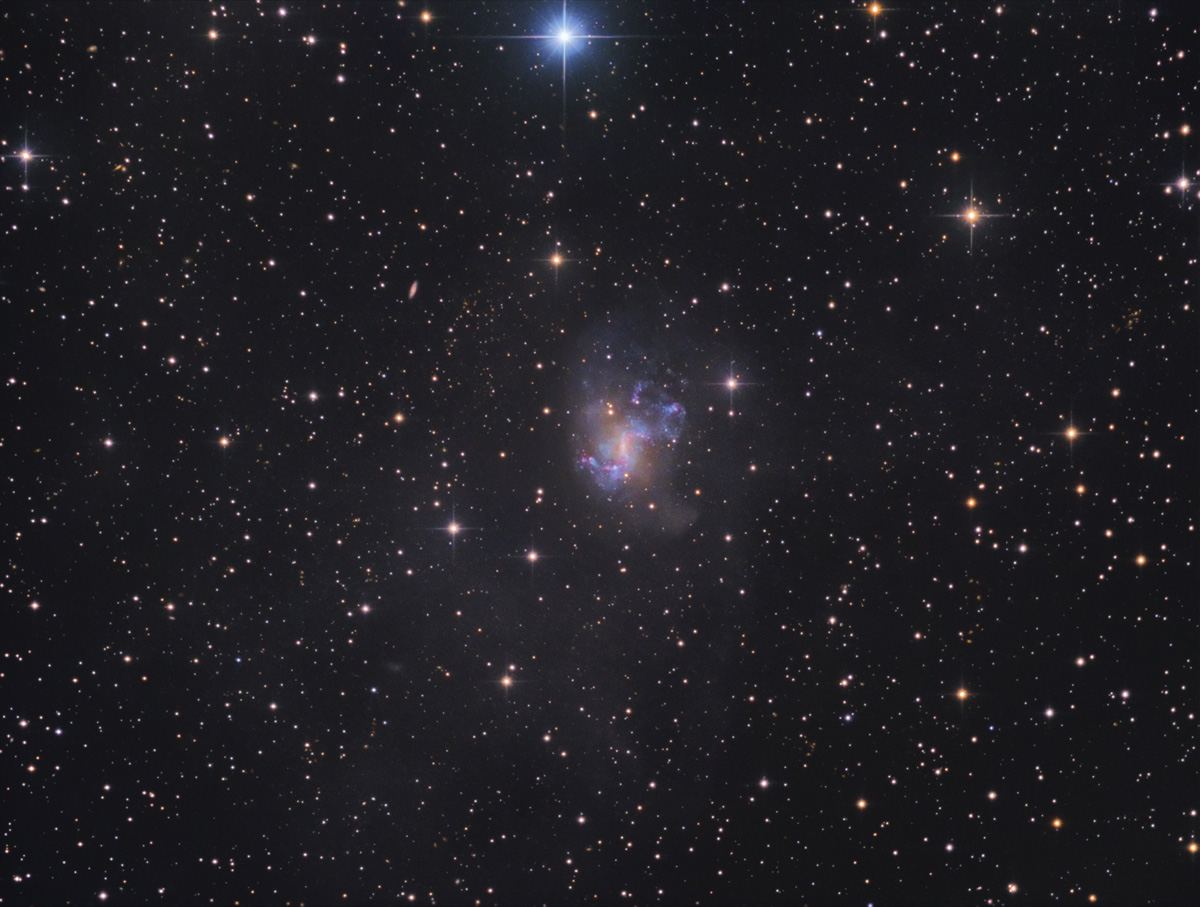 CLICK IN THE IMAGE FOR A HIGH RESOLUTION VIEW
October 2012, - Camping La Porteña, Areco, Buenos Aires - Argentina
---
DATA
TYPE: Galaxy
VISUAL BRIGHTNESS: 9
APPARENT DIAMETER: 8.5 arc minutes
DISTANCE: 15 Million lights years
IMAGE INFORMATION
SCOPE: ORION OPTICS UK 6" f5 Newtonian
CAMERA: QSI 583 WS
GUIDING: LodeStar in Synta 70/400 refractor / PHD Guiding
FILTERS: Baader LRGB Set
SKY CONDITIONS: Rural Skies.
EXPOSURES: LRGB (100,20,20,20)
PROCESSING: Images Plus / Photoshop CS2
OBJECT DESCRIPTION AND IMAGE SESSION
Deep South in the Constellation of Reticulum, lies this asymmetric shaped Galaxy which is also labeled as a Starburst Galaxy. There is evidence of brilliant clouds and massive blue stars scattered though its disc which spans through 50.000 light years. NGC 1313 is also rich in powerful Wolf Rayet stars of which 70 candidates where detected.(*)
The Orion Optics 750 mm focal length gave a nice FOV of approximately 1.30 º times 1º, so also interesting to see the dust clouds around the Galaxy. Such dust was brought by 60 minutes of luminance at 2x2 and Images Plus DDP. Then merged with the full resolution image but just the dim dusty areas.
(*) Free adaptation from Robert Gendler essay on NGC 1313