NGC 1365
BARRED SPIRAL GALAXY IN FORNAX
(ra: 03.33,6/ dec -36:08)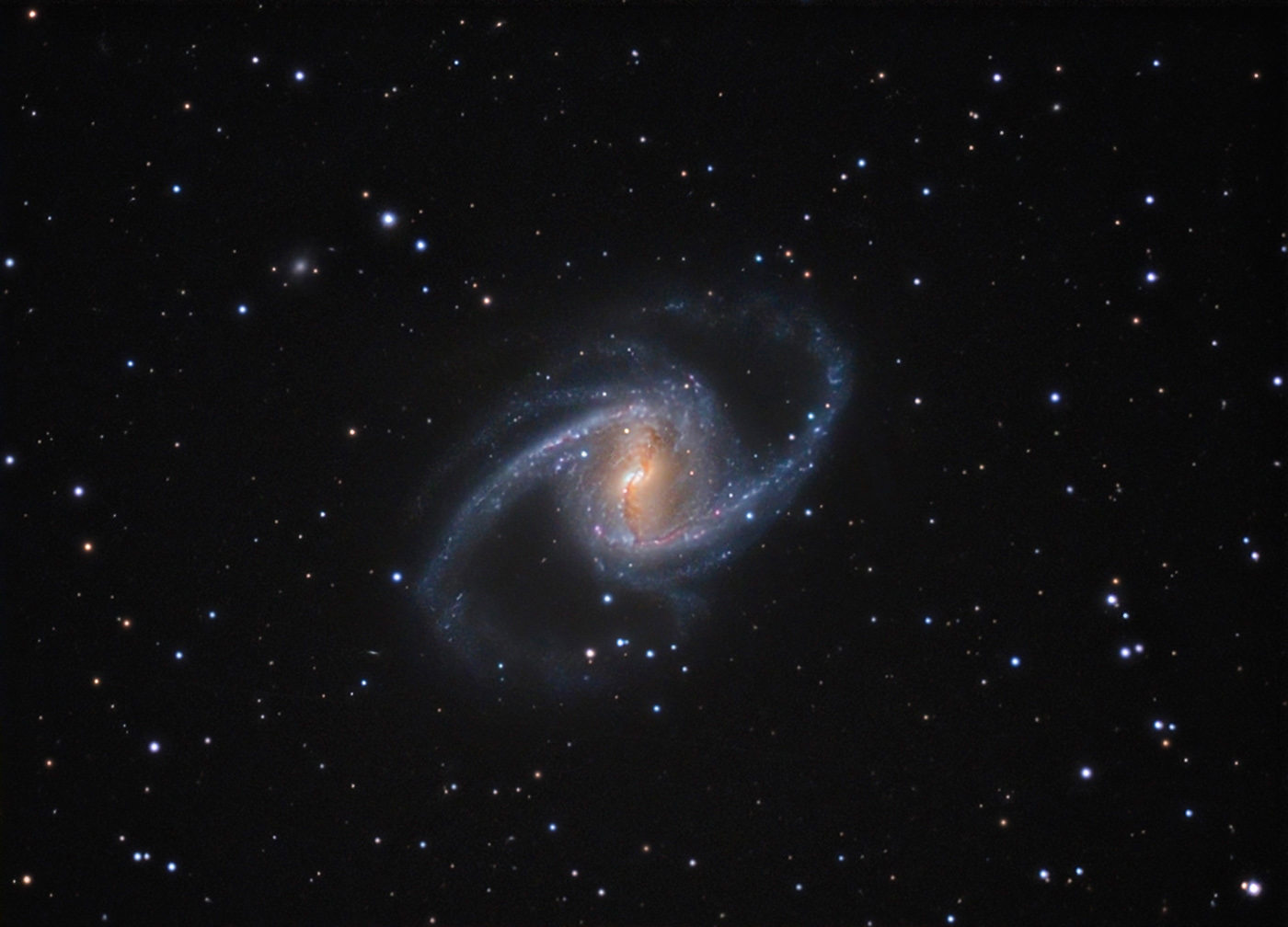 November 2009, Mercedes Observatory Buenos Aires, Argentina
---
DATA
TYPE: Spiral Galaxy
Apparent Magnitude: 9,5
Apparent Diameter: 9.8 arc minutes
DISTANCE: 60 Millions lights years
IMAGE INFORMATION
SCOPE: Celestron C8 SCT working at f5.1
CAMERA: SXVF H9
GUIDING: William Optics Zenithstar 66 with WO 0.8 x fr/ff
IMAGE ACQUISITION: AstroArt 3.0 - Control Interface 3.72 plug in
FILTERS: Astronomik Type II - Atik Filter Wheel
SKY CONDITIONS: rural skies - transparency and seeing good
EXPOSURES: LRGB (95,30,30,40)
PROCESSING: Images Plus, CCD Sharp, Photoshop CS2
OBJECT DESCRIPTION AND IMAGE SESSION
One of the finest barred spiral Galaxies of the sky and the largest spiral in the constellation of Fornax. NGC 1365 is as massive as our Milky Way and its structure spans over 200 thousands light years. The galaxy nucleus presents a well shaped bar which is surrounded by cooler stars that appear yellow in the image and had visible dust lanes. The bar ends in two main curved arms. Some HII regions were revealed in the image indicating star forming regions.
NGC 1365 belongs to the Fornax Galaxy cluster, located a bit more that 1º from Chi2 Fornax near the limits with Eridanus. NGC 1365 and NGC 1399 are the brightest members of the mentioned cluster.
According the calculations of Miguel de Laurentis, the night had a seeing of 2.3 arc seconds. No wind but lot of due motivated to use the hair dryer each 2 pictures.