NGC 1672
BARRED GALAXY IN DORADO (THE DOLPHINFISH)
(Image centered at: ra 04h:46 m / dec -59º 12')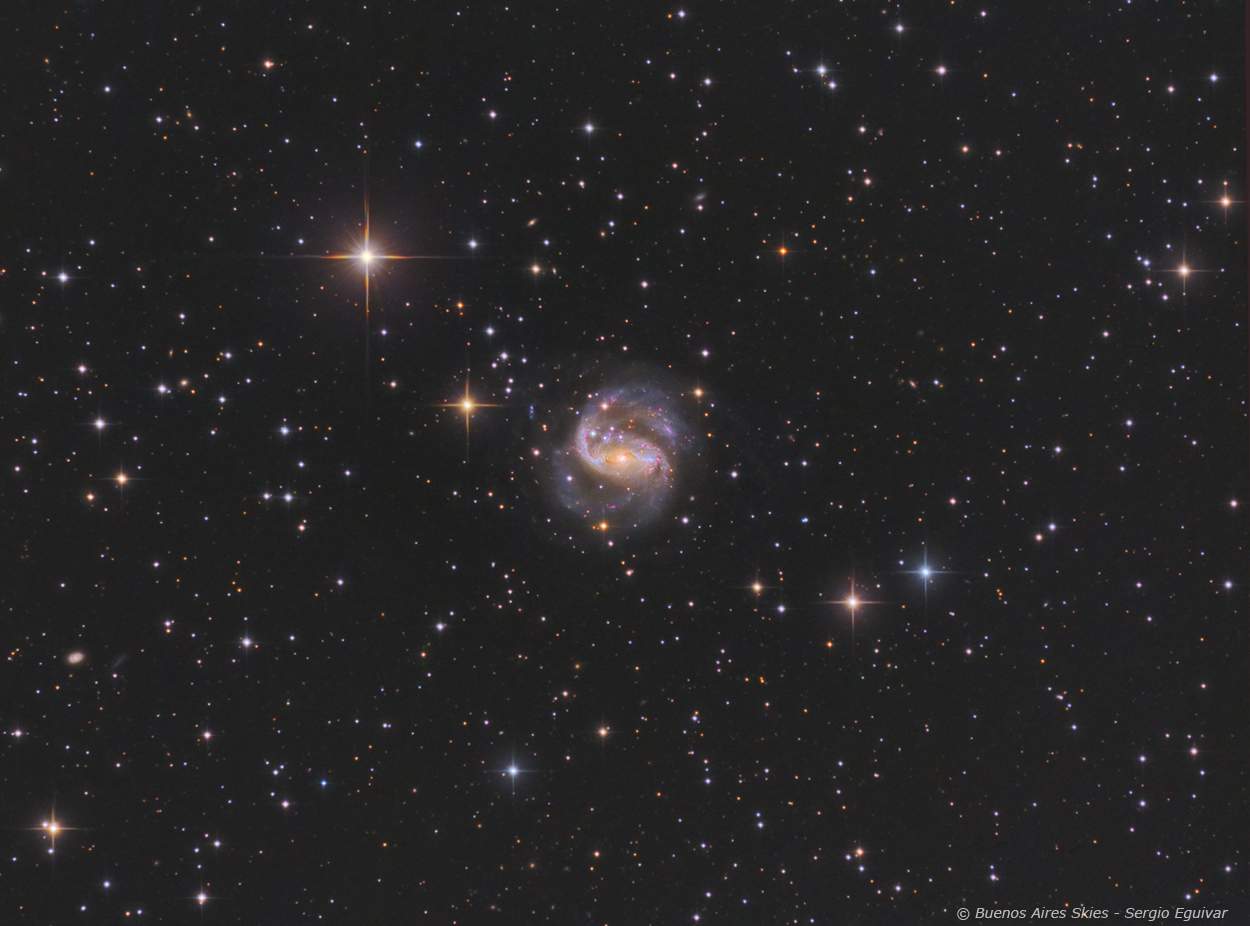 CLICK THE IMAGE FOR A HIGH RESOLUTION VIEW
November 2022, Observatorio La Banderita, La Pampa, Argentina
---
DATA
TYPE: Barred Galaxy
APPARENT DIAMETER: 6.7 x 5.6 arc minutes
APPARENT MAGNITUDE (V): 10.3
DISTANCE: 60 Millions light years
IMAGE INFORMATION
INSTRUMENT: 8" ORION OPTICS UK (Ultra Grade Optics) w/Televue Paracorr working at at f5,75
CAMERA: QSI 583 WS
MOUNT: SKY WATCHER NEQ6, OAG with Starligh Xpress Lodestar
FILTERS: Baader LRGB Set
SKY CONDITIONS: Bortle 2 skies
EXPOSURES: LRGB (120,40,40,40)
OBJECT DESCRIPTION AND IMAGE SESSION
NGC 1672 is a barred spiral galaxy located in the constellation Dorado that can be seen face on from Earth perspective. It was discovered by Scotish astronomer James Dunlop on November 5, 1826. Some years ago it was originally unclear whether NGC 1672 was a member of the Dorado Group... some some sources were finding it to be a member and other sources were rejecting the membership. However, recent measurements indicates that NGC 1672 is located at the same distance as other members, suggesting it is indeed a member of the Dorado Group.
Records of NGC 1672 published in the web indicates a diameter of 6.7 arc minutes but this galaxy has a dim outer halo which result in a wider diameter probably reaching 10 arc minutes or even more.
NGC 1672 has a large bar which is estimated to measure around 20 kpc. It has very strong activity from its core that likely house a super massive black hole. In the annotated image which is at 100 % resolution, dark lanes are noticeable and also some areas with glowing hydrogen gas indicating active star forming regions.
---
NGC 1672
BARRED GALAXY IN DORADO (THE DOLPHINFISH)
ANNOTATED IMAGE AT 100% RESOLUTION