NGC 1761; 1763 & 1765
EMISSION NEBULA AND OPEN CLUSTER IN THE LARGE MAGELLANIC CLOUD
(Image centered at: ra 04 h:56 m / dec - 66º 22')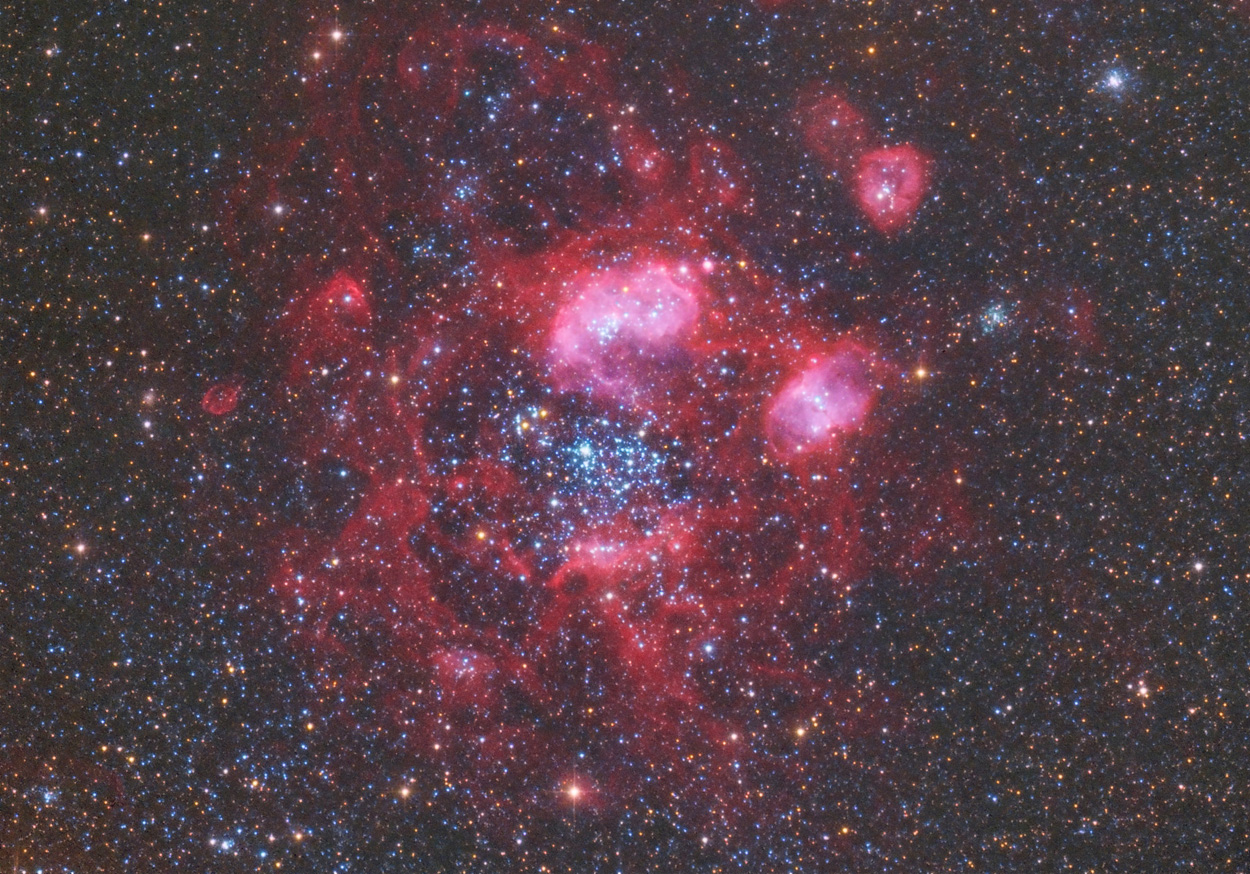 CLICK THE IMAGE FOR A HIGH RESOLUTION VIEW
November 2022, Home Backyard in Martínez, Buenos Aires, Argentina
---
DATA
TYPE: Emission Nebula & Open Cluster
APPARENT DIAMETER: FOV is approximately 35 x 27 arc minutes
APPARENT MAGNITUDE (V): NGC 1761 Open Cluster 9.9
DISTANCE: 158.000 light years
IMAGE INFORMATION
INSTRUMENT: 8" ORION OPTICS UK (Ultra Grade Optics) w/Televue Paracorr working at at f5,75
CAMERA: QSI 583 WS
MOUNT: SKY WATCHER NEQ6, OAG with Starligh Xpress Lodestar
FILTERS: Baader LRGB Set; Astronomik Ha 6nm
SKY CONDITIONS: urban skies - Bortle 8
EXPOSURES: LHARGB (60,60,60,60,60)
OBJECT DESCRIPTION AND IMAGE SESSION
The image gathers three interesting and not so common photographed deep sky objects. The open cluster in the centre is NGC 1761 which is embedded with emission nebulas. At the top of the open cluster with 4 to 5 arc minutes we have NGC 1763 (also known as N11 B, LH 10 or ESO 85-EN20). The nebula is very bright and it has an irregular shape. To the right we have NGC 1765 another emission nebula with a smaller apparent diameter.
To the upper left of NGC 1765 we have Globular Cluster NGC 1776 of a bit more than 1 arc minute in diameter.
NGC 1763 and 1765 are part of a large region of stars called LMC-N11 (N11) which was discovered with a 23-cm telescope by Scottish astronomer James Dunlop in 1826 and was also observed by English mathematician John Herschel in 1834.
---