NGC 2070 NEBULOSITY COMPLEX
MENSA & DORADO
(Image Centred at: ra 05.39/ dec -69:23)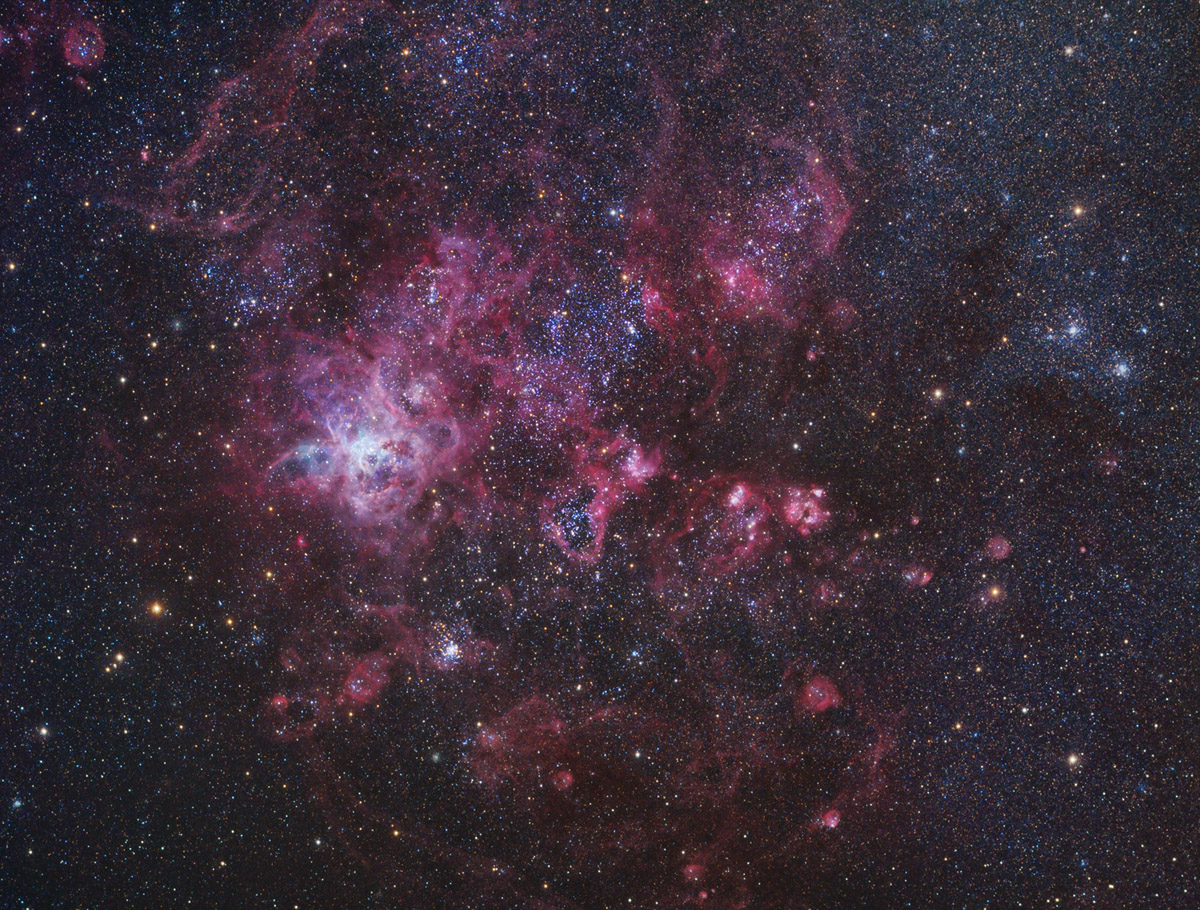 November 2011, Mercedes, Buenos Aires, Argentina
CLICK IN THE IMAGE FOR A HIGH RESOLUTION VIEW
---
DATA
TYPE: Nebulosity Complex
Visual Magnitude: 8.2 for NGC 2070
Image FOV: arround 2 x 1.3 degrees
DISTANCE: 179.000 lights years
IMAGE INFORMATION
SCOPE: TMB 92 L Triplet Apo at f5.5 with Astro Tech field flattener
CAMERA: QSI 583 WS
GUIDING: Orion Short Tube 80/400 working at f5
IMAGE ACQUISITION: Guiding PHD v 12 - Starlight Xpress Lodestar
FILTERS: Baader LRGB
SKY CONDITIONS: rural skies - transparency and seeing good. Session interrupted by cirrus and then clouds.
EXPOSURES: LHaRGB (30,30,20,20,20)
PROCESSING: calibration (Sigma Median), pixel removal done Images Plus. No darks no flats no bias used. CCD Sharp, Photoshop CS2
OBJECT DESCRIPTION AND IMAGE SESSION
Our nearby galaxy (after Sagittarius Dwarf Galaxy) is one of the marvelous sight of the southern sky. First spotted by Persian astronomers and afterwards by Amerigo Vespucci, but it was by Ferdinand Magellan on his voyage in 1519 who brought it to popularity.
Like many irregular galaxies the LMC is very rich in dust and HII regions. Right now is under a intense process of star formation activity.
This was the first try in a new location near Mercedes City 108 km away from Buenos Aires. The night was not at all transparent because cirrus and dust. We decided to aim to this generous target. Despite the night conditions the TMB 92 and QSI 583 combo, were able to gather a bunch of photons. No electricity was used, so the equipment were fed by a gas generator provided by Juan Destefani. In the future we expect to have the whole equipment running with car batteries.