NGC 2451
OPEN CLUSTER WITH NEBULOSITY IN PUPPIS (THE POOP DECK)
(Image centered at: ra 07 h:56 m / dec - 38º 01')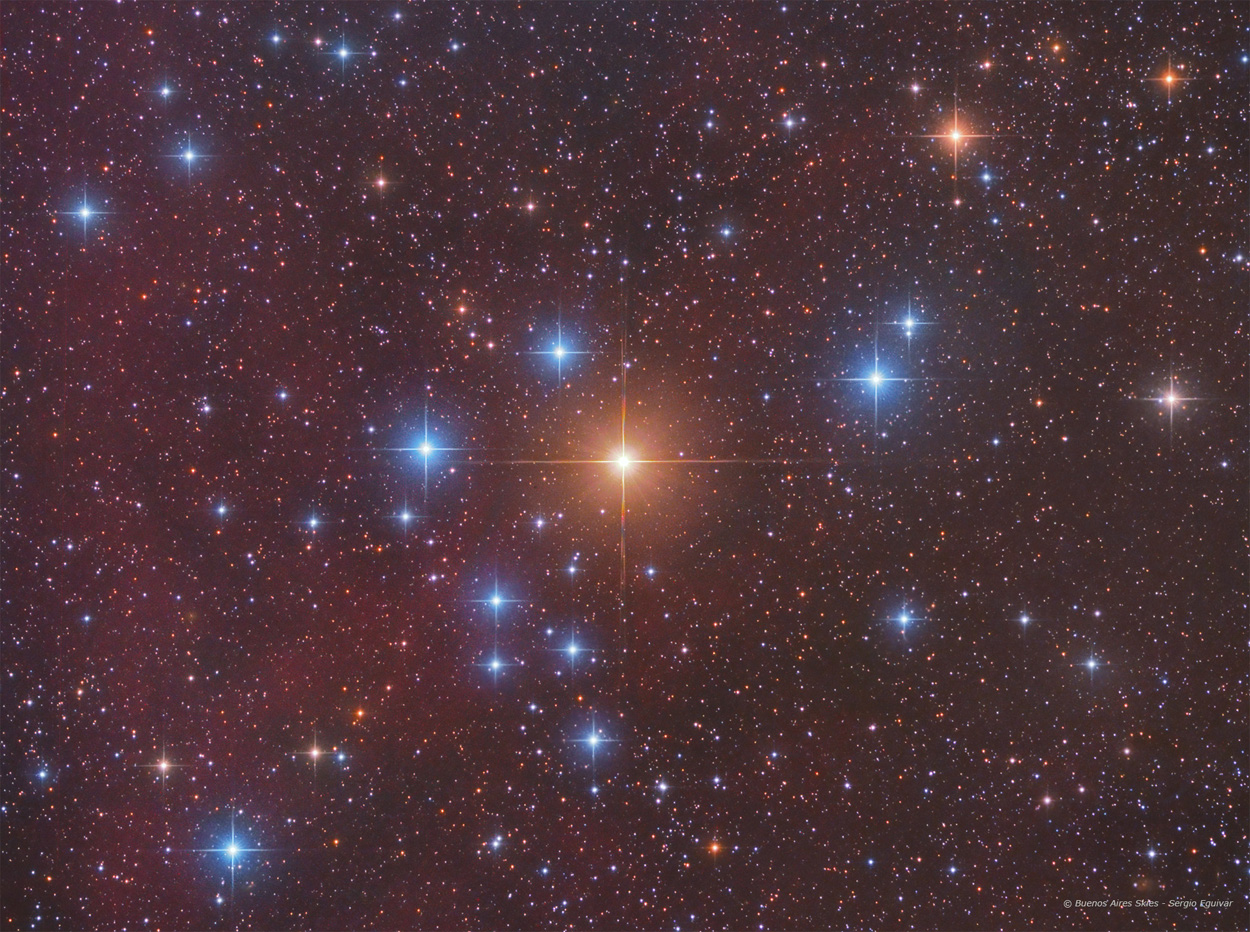 CLICK THE IMAGE FOR A HIGH RESOLUTION VIEW
December 2022, Home Backyard in Martínez, Buenos Aires, Argentina
---
DATA
TYPE: Open Cluster with nebulosity
APPARENT DIAMETER: 45 arc minutes
APPARENT MAGNITUDE (V): 2.8
DISTANCE: 600 light years for NGC 2541 A and 1200 light years for NGC 2451 B
IMAGE INFORMATION
INSTRUMENT: 8" ORION OPTICS UK (Ultra Grade Optics) w/Televue Paracorr working at at f5,75
CAMERA: QSI 583 WS
MOUNT: SKY WATCHER NEQ6, OAG with Starligh Xpress Lodestar
FILTERS: Baader LRGB Set; Astronomik Ha 6nm
SKY CONDITIONS: urban skies - Bortle 8
EXPOSURES: LHARGB (40,120,40,40,40)
OBJECT DESCRIPTION AND IMAGE SESSION
NGC 2451 is a bright open star cluster in the constellation of Puppis, probably discovered by Italian astronomer Giovanni Battista Hodierna before 1654 and catalogued by John Herschel in 1835. In 1994, it was postulated that this object consist actually in two open clusters that lie along the same line of sight. The duality was confirmed in 1996. The respective clusters are now labeled as NGC 2451 A and NGC 2451 B, and they are located at a distances of 600 and 1,200 light-years, respectively.
The bright star in the centre of the image is C Puppis (SAO 198398), a red giant with 3.62 visual magnitude. The red giant is believed to be a member of Cluster "B". Noticeable in the background we have a faint red glow coming from the ionized gas of Gum 12a, a 2.6 million year old supernova remnant.
This is one of my favorites Open Cluster in Puppis which I always like to find with binoculars. A very bright and a good target to look for. It was difficult to managed the transition of the bright stars blue halos and the background Gum 12a nebula.
---