NGC 2451; NGC 2477 & GUM 12
OPEN CLUSTERS WITH NEBULOSITY IN PUPPIS
(Image centered at: ra 07 h:49 m / dec - 38º 15')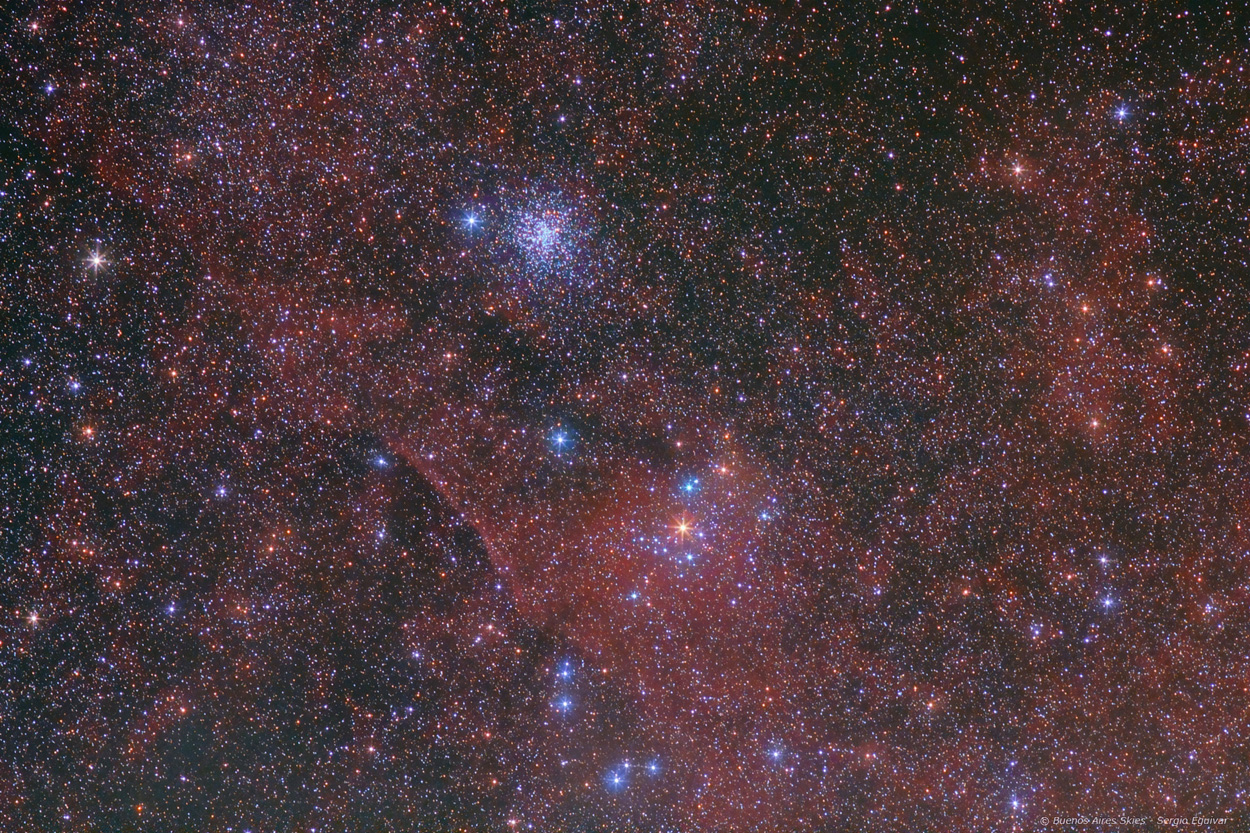 CLICK THE IMAGE FOR A HIGH RESOLUTION VIEW
February 2023, Observatorio Cielos Albertnos, Alberti, Buenos Aires, Argentina
---
DATA
TYPE: Open Clusters with nebulosity
APPARENT DIAMETER: FOV 5 degrees (image was croped)
APPARENT MAGNITUDE (V): NGC 2477 5.8 & NGC 2451 2.8
DISTANCE: NGC 2477 4.200 light years NGC 2451 850 light years
IMAGE INFORMATION
INSTRUMENT: CANON EF 200 mm f2,8 L lens stoped at 4,5
CAMERA: Canon 60Da
MOUNT: Synta EQ3 with GOTO kit with QHY 5 II guiding camera
FILTERS: none
SKY CONDITIONS: dark skies - Bortle 3
EXPOSURES: 60 x 2 minutes exposures. No darks, no bias, no flats.
OBJECT DESCRIPTION AND IMAGE SESSION
Two nice couple of clusters suitable for wide fields telescopes. For visual practice and in rural skies, both clusters are good targets for any kind of instruments even for naked eyes. NGC 2451 is far closer compared to his compact neighbor NGC 2477. It has around 40 stars well dispersed. It brightest star is c puppis a yellowish giant of magnitude 3,6. The cluster was discovered by Giovanni Batista Hodierna in 1654. NGC 2477 is a splendid rich cluster grouping over 300 stars. Its age is estimated in 700 million years. NGC 2477 is almost as extensive as the full Moon. The sky background is covered by faint Hydrogen clouds that belongs to GUM 12 giving the whole area a nice contrast.
Starting imaging this object just passing the meridian and falling to the west which is in fact the darkest area of the Observatorio Cielos Albertinos.
Great night with good company... meeting astrophotographers and local authorities of Alberti
By the 2023 summer Buenos Aires interior is suffering from the "la niña effect" and consequently we had dry fields over the pampas. North winds brought some dust into de atmosphere which was of very little effect on a 200 mm focal length lens.
---
+