NGC 2477 & NGC 2451 REGION
OPEN STAR CLUSTERS IN PUPPIS
(IMAGE CENTRED AT ra 7:48.54/ dec -38:23)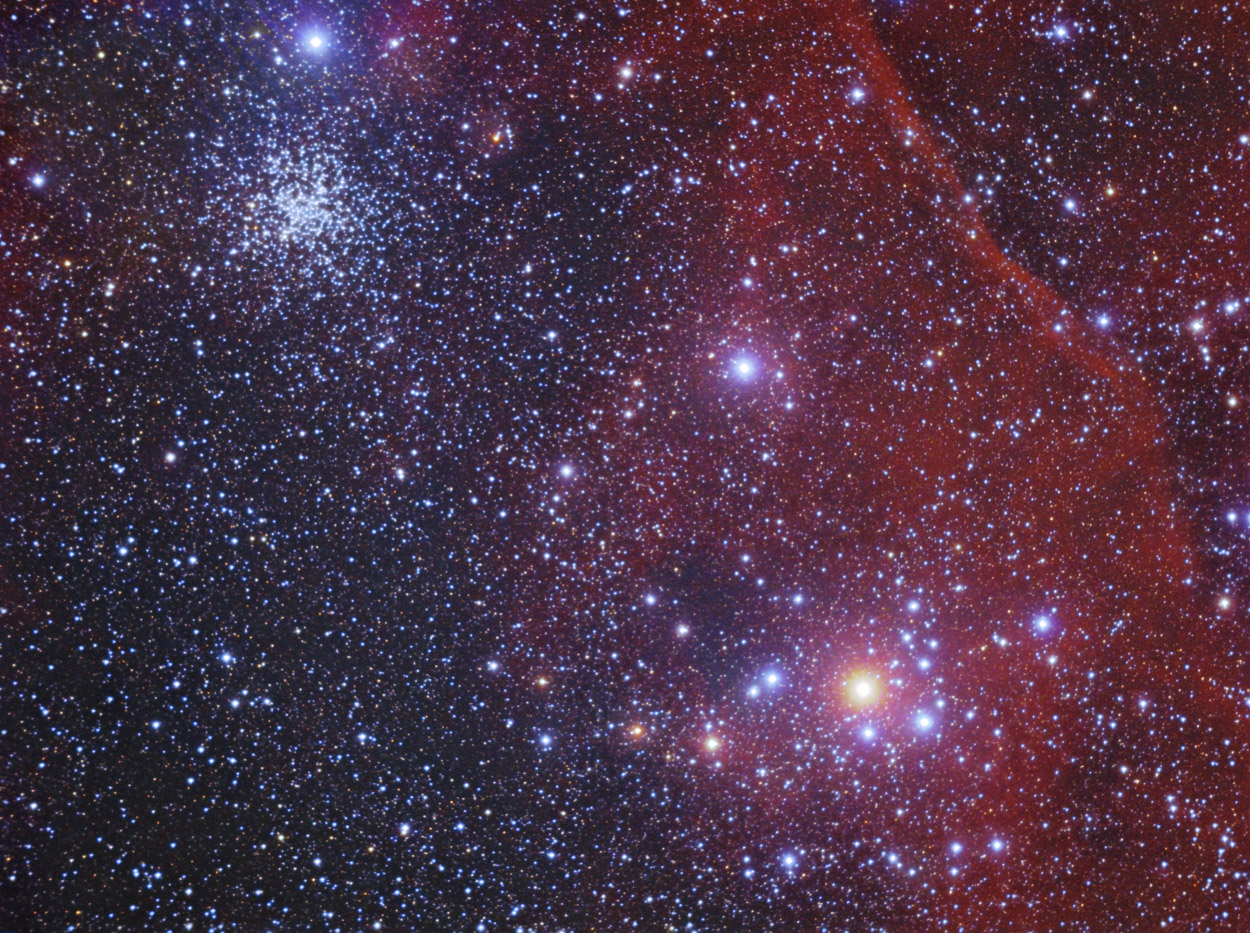 November 2013 - Camping La Porteņa - San Antonio de Areco, Buenos Aires, Argentina
---
DATA
TYPE: Open Cluster with nebulosity
Apparent magnitude: NGC 2477 5.8 & NGC 2451 2.8
FOV 2.36 x 2 degrees
Distance: NGC 2477 4.200 light years NGC 2451 850 light years
IMAGE INFORMATION
SCOPE: 66 Long Perng f6 with LP field flattener
CAMERA: QSI 583 WS
FILTERS: Baader LRGB
SKY CONDITIONS: rural skies with clouds starting to show up!
EXPOSURES: LHaRGB (20,20,20,20,20) All channels bin 2x2
OBJECT DESCRIPTION AND IMAGE SESSION
A nice couple of clusters suitable for wide fields telescopes. For visual practice and in rural skies, both clusters are good targets for any kind of instruments even for naked eyes. NGC 2451 is far closer compared to his compact neighbor. It has around 40 stars well dispersed. It brightest star is c puppis a yellowish giant of magnitude 3,6. The cluster was discovered by Giovanni Batista Hodierna in 1654. NGC 2477 is a splendid rich cluster grouping over 300. Its age is estimated in 700 million years. NGC 2477 is almost as extensive as the full Moon. The sky background is covered by faint Hydrogen clouds giving the whole area a nice contrast.