NGC 3228
OPEN CLUSTER - VELA aka COLLINDER 218 - DUNLOP 386
(Image centered at ra: 10:21.8 / dec -51:43)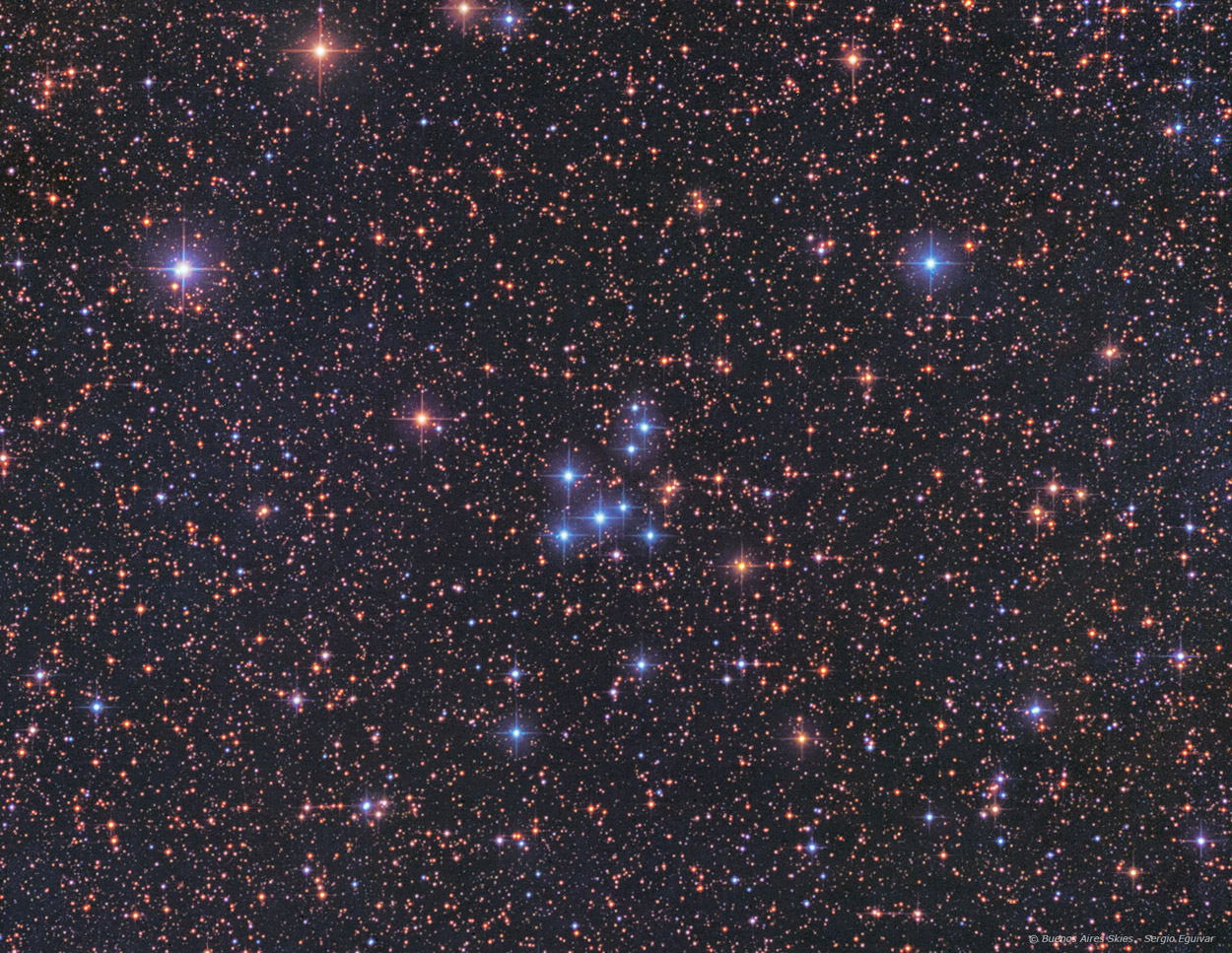 CLICK THE IMAGE FOR A LARGE VIEW
January 2021 - Home Backyard in Martínez, Buenos Aires, Argentina
---
DATA
TYPE: Open Cluster
APPARENT MAGNITUDE: 6
APPARENT DIAMETER: 18 arc minutes
DISTANCE:1600 light years
IMAGE INFORMATION
SCOPE: ORION OPTICS UK 8" f5 Newtonian w/Antares Optics 2,6" Secondary & Televue Paracorr working at f5,75
CAMERA: QSI 583 WS at - 5%
MOUNT: SKY WATCHER NEQ6
FILTERS: Baader LRGB Set
SKY CONDITIONS: Urban Skies - Bortle 8.
EXPOSURES: RGB (60,60,60)
OBJECT DESCRIPTION AND IMAGE SESSION
Discovered by French astronomer Nicholas Louis de Lacaille in 1751- 1752 from South Africa. It is a small open cluster but very bright and can be observed with binoculars from rural skies. The cluster has 25 members in a large bright range with slight concentration towards the center. (Klarchenco mentions 53 stars) The brightest star SAO 237969 (visible in the image) shines at magnitude 7,88. The spectral class of the hottest (bluest) star was determined as B9, implying an age of the cluster of 42 million years. The cluster spans over 4,5 to 18 light years
Summer nights are quite hot in the neighborhood so the cooler was at - 5% in order not to force the QSI 583. We had a crescent Moon at 84% washing out the sky background with an irregular seeing during the whole session.