NGC 3372 – ETA CARINAE NEBULA
Carina (ra: 10:43,8/ dec -59:52)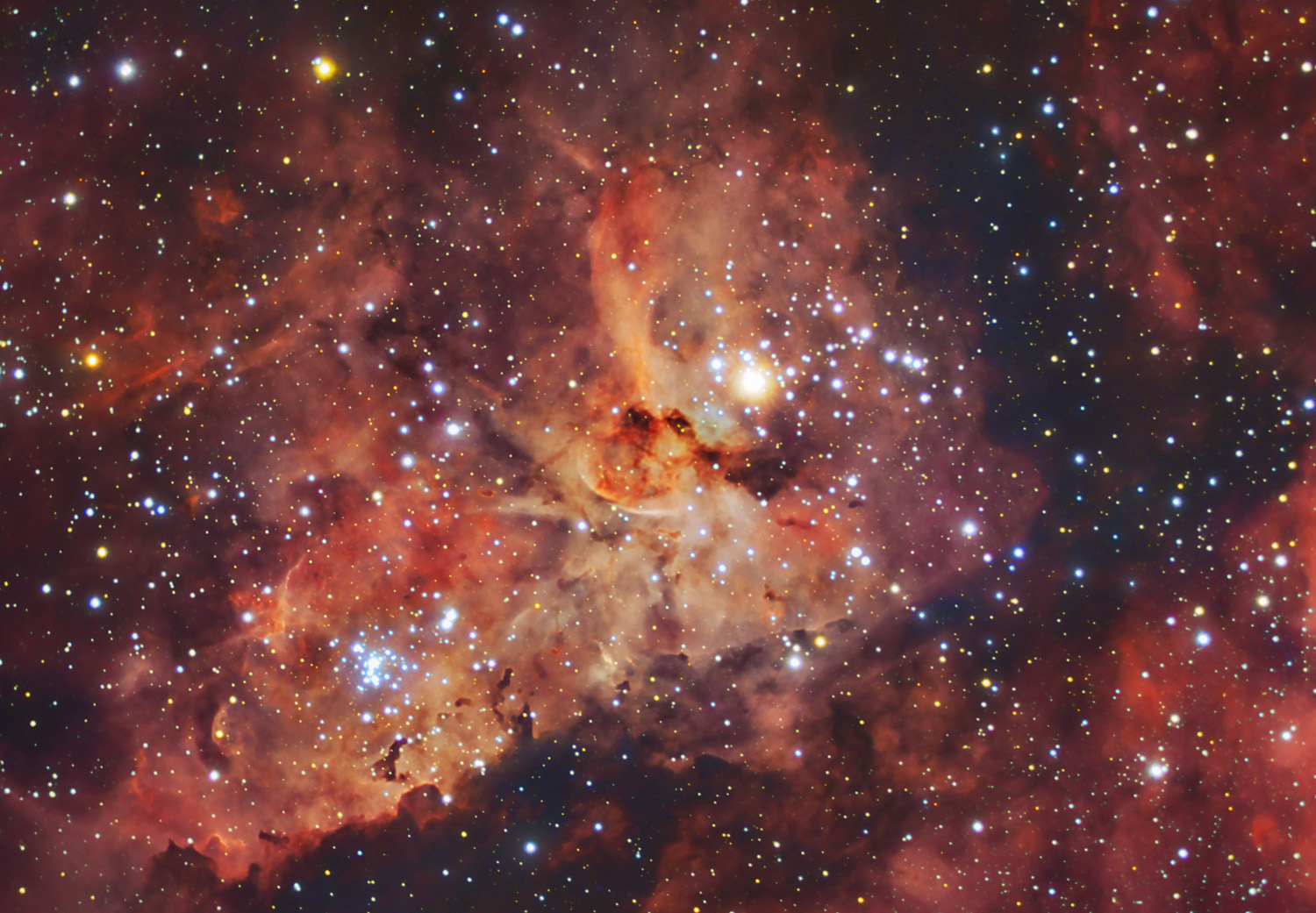 CLICK IN THE IMAGE FOR A HIGHER RESOLUTION VIEW
February 2011, Complejo La Aldea in Villa de Merlo
San Luis, Argentina
---
DATA
TYPE: Bright Emission and Reflection Nebula.
VISUAL BRIGHTNESS: 1
SIZE: image 120 x 120 arc minutes.
DISTANCE: 10,000 light years.
OBJECT DESCRIPTION
The Eta Carinae Nebula is one of the largest region of ionized hydrogen gas in our Galaxy. Expanded in a distance of 260 light years it has seven times the size of the Orion Nebula. The photograph only shows a partial view of the complex. The Nebula has produced the Star Eta Carina which is among of the most massive and luminous star in our Milky Way. NGC 3372 present us its generous detail and regions formed of bright and dark interstellar matter. The Eta Carinae Nebula was discovered by Abble Lacaille during his 2-year journey to the Cape of Good Hope in 1751/1752
IMAGE INFORMATION
SCOPE: SCT 8"
SKY CONDITIONS: transparency and seeing good
CAMERA: QSI 583 ws
FILTERS: Astronomik Type II
EXPOSURES: LHaRGB (60,40,40,40,40)
IMAGE ACQUISITION: Astro Art. CCD Control Plug in Interface version 3.72
PROCESSED: Images Plus, (Sigma Average combination), CCD Sharp, Photoshop CS2