NGC 3576 & NGC 3603
NEBULA COMPLEX IN CARINA
(Image Centred at ra 11h:14m / dec -61:24)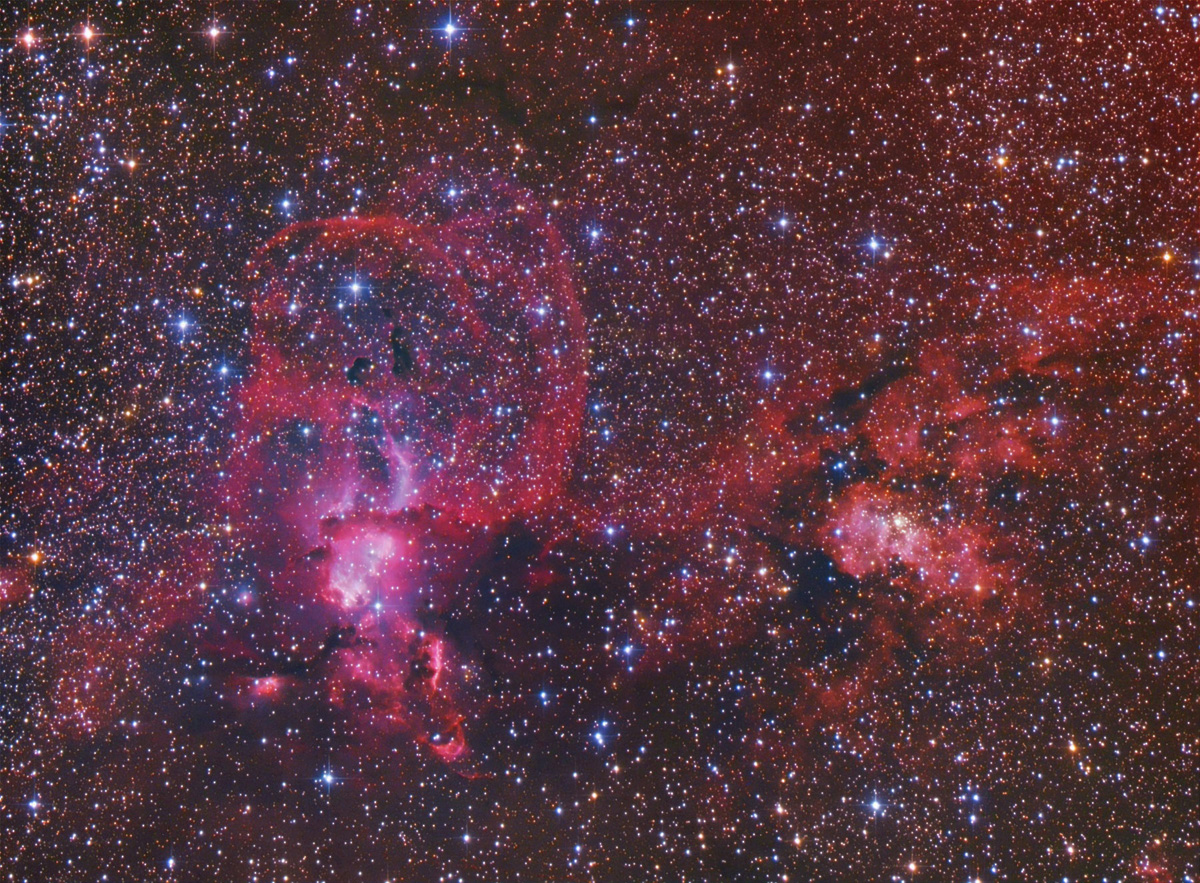 CLICK THE IMAGE FOR A HIGHER RESOLUTION VIEW
April 2015 - Camping La Porteņa, San Antonio de Areco, Buenos Aires, Argentina
---
DATA
Type: HII Region
Apparent Magnitude: n/a
Apparent diameter: 8.1 arc minutes
Distance: 10.000 & 23,000 light years respectively
IMAGE INFORMATION
Optic: 8" f5 Orion Optics Reflector with Televue Paracorr working at 5.75
CAMERA: QSI 583 WS
FILTERS: Baader LRGB
Mount: Sky Watcher NEQ6
SKY CONDITIONS: seeing regular
EXPOSURES: LRGB (60,30,30,30)
OBJECT DESCRIPTION AND IMAGE SESSION
Both nebulas shown in the picture are giant and luminous HII regions. What seems to be side by side from the Earth perspective, is just an illusion. These two objectS are separated by 13.000 light years, being NGC 3603 (right structure) more far away. The LRGB image shows some distinctions out of the different reddish tad of both objects indicating, to some extend, that there are not related.
NGC 3576 is also known as the "Statue of Liberty" because the shape in the inner part of the nebula nicknamed by Steve Mazlin after this picture . The object present also dark nebulae know as Bok Globules which are dense gas and dust concentration.
NGC 3603 is an open cluster situated within a massive HII region in our Carina Galaxy arm. It spans over 1000 light years across. At the center of the cluster we have a bright compact core cluster called HD 97950 which contains at least 50 massive O type stars. Within HD 97950 there are three Wolf Rayet Stars with approximately 100 solar masses each.