NGC 3603
CLUSTER ASSOCIATED WITH NEBULOSITY - CARINA
(ra: 11:51 1s / dec - 61º15' 54")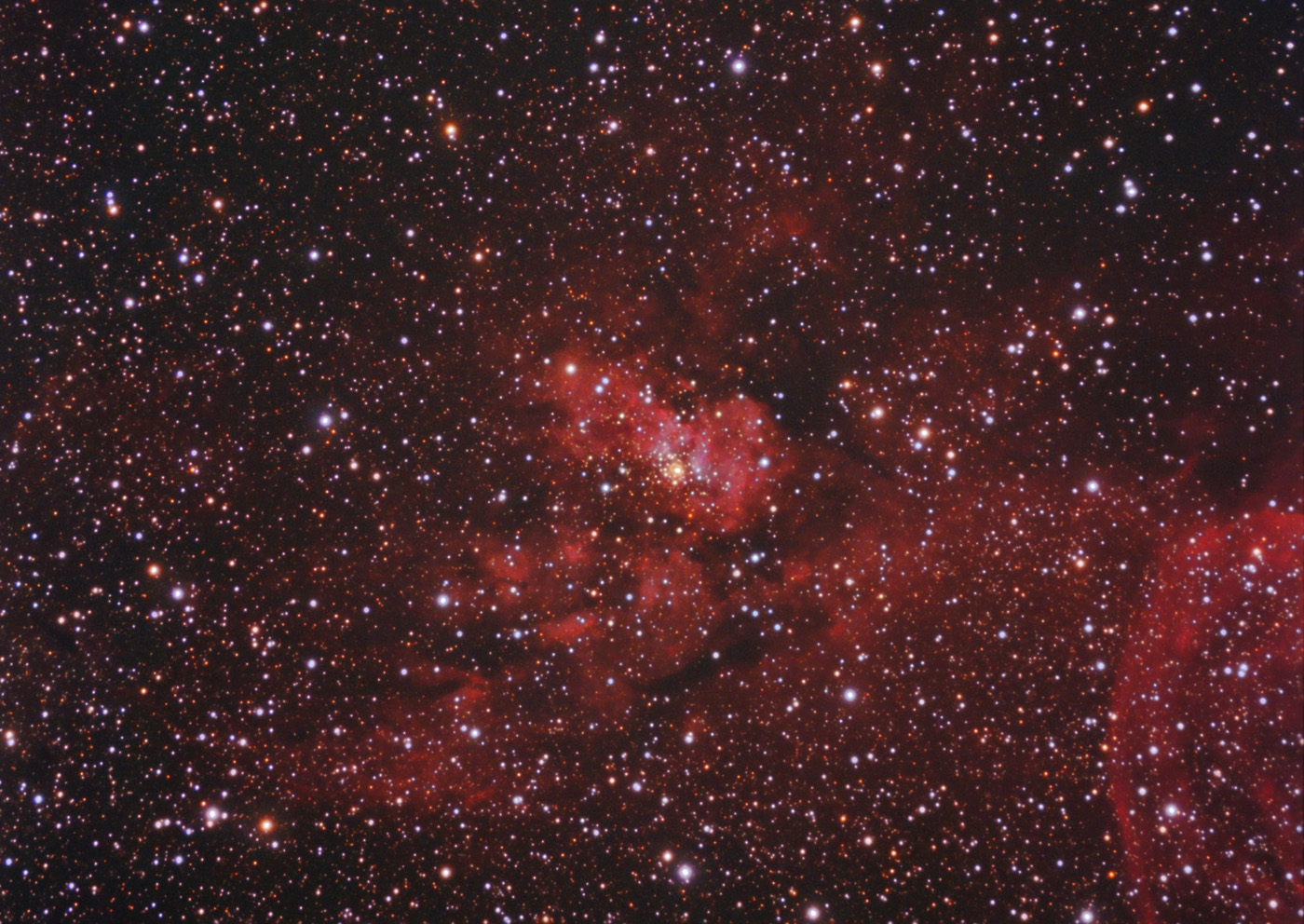 CLICK IN THE IMAGE FOR HIGHER RESOLUTION VIEW
JULY 2012, Archicampo, Doyle Provincia de Buenos Aires,
Argentina
---
DATA
TYPE: Cluster in Nebulosity Complex
APPARENT MAGNITUDE: 9.1
IMAGE FOV: 32 x 25 arc minutes
SIZE: NGC 3603 12 arc minutes
DISTANCE: 20.000 light years
OBJECT DESCRIPTION AND IMAGE SESSION
NGC 3603 is an open cluster situated within a massive HII region in our Carina Galaxy arm. It spans over 1000 light years across. At the center of the cluster we have a bright compact core cluster called HD 97950 which contains at least 50 massive O type stars. Within HD 97950 there are three Wolf Rayet Stars with approximately 100 solar masses each. Due to its small apparent size, the cluster was not possible to be resolved with 1600 mm of focal length and 0.7 arc second x pixel resolution. In the image it only appears as a bright star.
NGC 3603 is visible in the telescope as a small rather insignificant nebulosity with a yellowish tinge due to the effects of interstellar absorption. It was observed by John Herschel on the 14th of March 1834 during his visit to South Africa, who stated that it was "a very remarkable object... perhaps a globular cluster"
This image was taken
IMAGE INFORMATION
SCOPE: Celestron SCT 8" Starizona Corrector @ f8 (1600 mm FL)
MOUNT: Sky Watcher NEQ6
SKY CONDITIONS: Rural Skies - seeing good - transparency good
CAMERAS: QSI 583 WS -10Cº
FILTERS: Baader 31 mm LRGB,
EXPOSURES: LRGB (30,30,30,30)
GUIDING: William Optics ZenithStar 66 f6. Starlight Xpress Lodestar Camera. PHD Guiding
PROCESSING: Images Plus, NASA Photoshop Fits Liberator, Photoshop CS
---
NGC 3603 CLOSE UP HD 97950 (100% RESOLUTION)
CLUSTER ASSOCIATED WITH NEBULOSITY - CARINA
(ra: 11:51 1s / dec - 61º15' 54")