11
NGC 5168 - COLLINDER 272 - HOGG 16
Open Clusters in CENTAURUS
(Image centered at: ra 13h:32m / dec - 61º 12')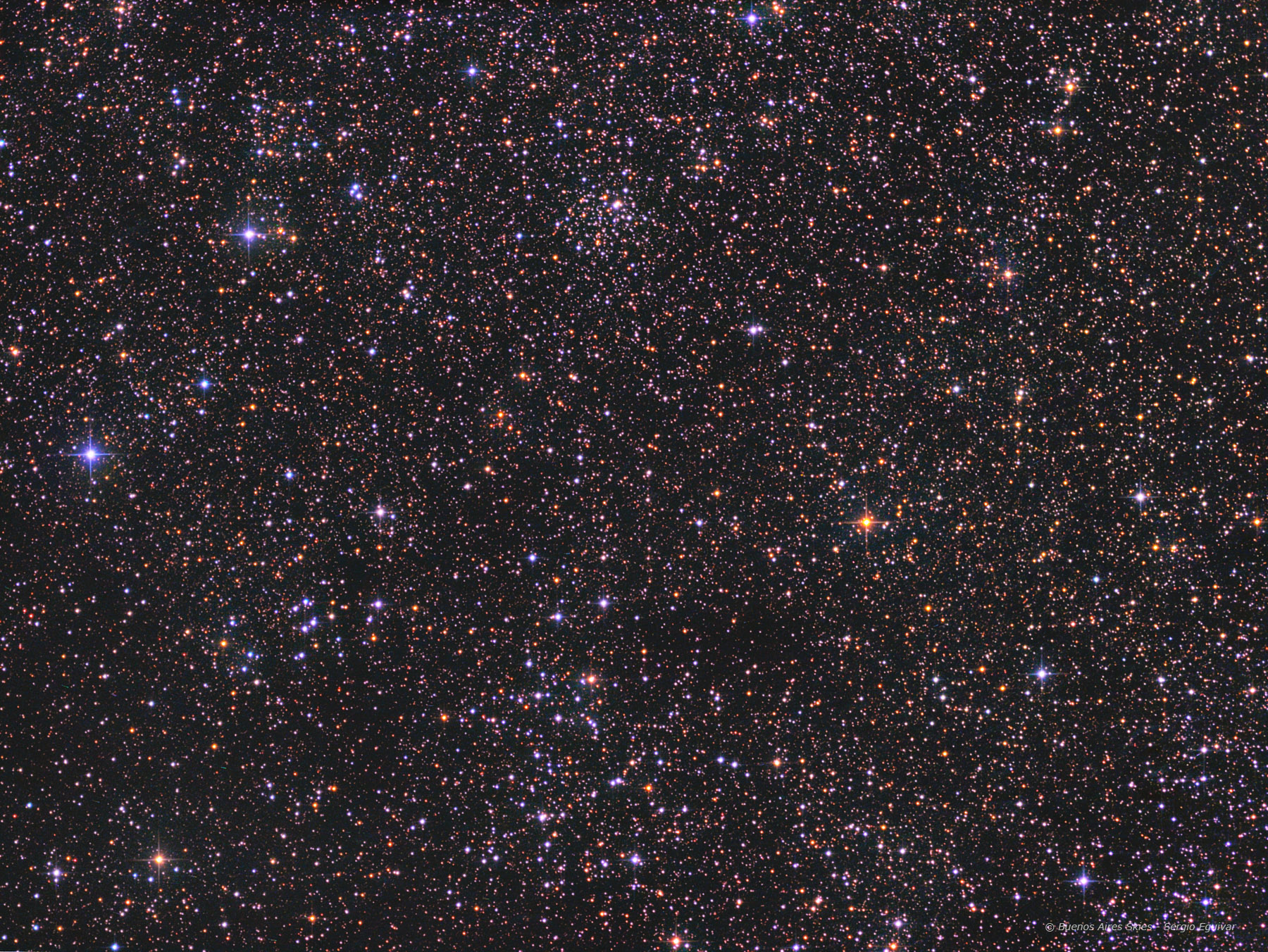 September 2021, Home Backyard in Martínez, Buenos Aires, Argentina
---
DATA
TYPE: Open Clusters
VISUAL BRIGHTNESS: 9,1; 7,7 and 8,4 respectively (NGC 5168; Collinder 272; Hogg 16)
OBJECT SIZE: 4; 9 and 4 arc minutes respectively (NGC 5168; Collinder 272; Hogg 16)
DISTANCE: 5800 light years for NGC 5168
IMAGE INFORMATION
SCOPE: 8" ORION OPTICS UK (Ultra Grade Optics) w/Televue Paracorr working at at f5,75
CAMERA: QSI 583 WS
MOUNT: SKY WATCHER NEQ6
FILTERS: Baader LRGB Set
SKY CONDITIONS: urban skies
EXPOSURES: LRGB (30,30,30,30)
OBJECT DESCRIPTION AND IMAGE SESSION
Deep south in the Constellation of Centaurus we found three open clusters relative close from Earth perspective that can be framed in a 50 x 40 arc minutes field of view. The open clusters are located 3 degrees west from Beta Centauri.
NGC 5168 quite compact compared to the other two and stands in the top center of the image. Collinder 272 (center down) in large and less concentrated and Hogg 16 (middle left) is also loosed. The last two are difficult to distinguish in the image.
Collinder catalogue contains 471 open clusters grouped by Swedish Astronomer Per Collinder published in 1931. Some of the objects are not open clusters, but asterisms as for example Collinder 399. Helen Sawyer Hogg was an American-Canadian astronomer. Helen led a life of remarkable achievements and she is well known for her research on variable stars in globular clusters.
---