NGC 5170
EDGE ON GALAXY IN VIRGO
(Image Centred at ra 13h:29.48m / dec -17:57)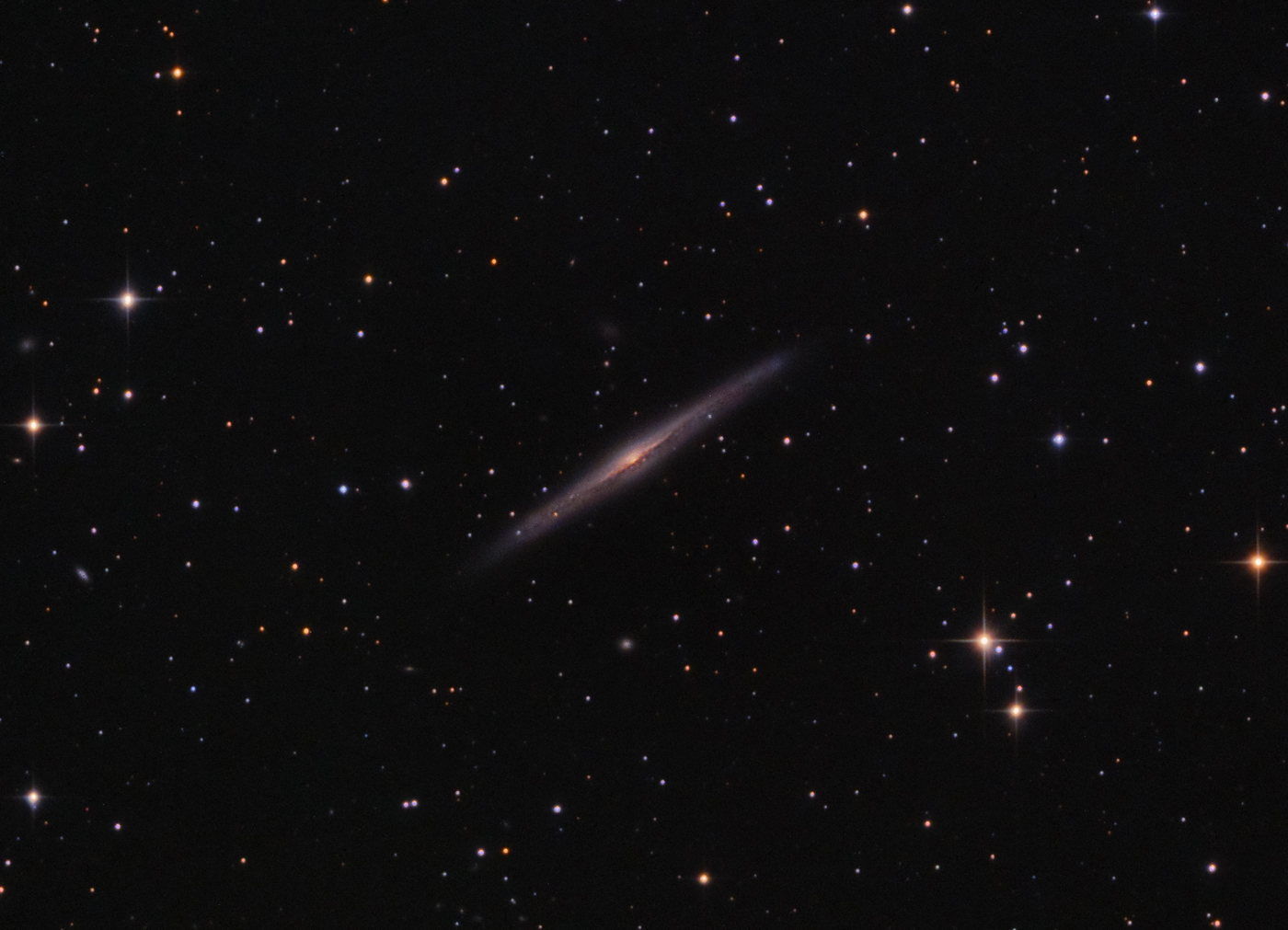 CLICK IN THE IMAGE FOR A WIDER VIEW
May 2014 - Camping La Porteña, San Antonio de Areco, Buenos Aires, Argentina
---
DATA
Type: Galaxy
Apparent magnitude: 12
Apparent diameter: 8.2 x 1 arc minutes
Distance: 95 Millions lights years
IMAGE INFORMATION
SCOPE: 8" Orion Optics UK with Televue Paracorr
CAMERA: QSI 583 WS
FILTERS: Baader LRGB
SKY CONDITIONS: rural skies, foggy night
EXPOSURES: LRGB (60,30,30,30)
OBJECT DESCRIPTION AND IMAGE SESSION
A very thin but fairly large galaxy in the constellation of Virgo aligned in a south east - north west orientation. It contains a moderately bright oval core with fainter and larger extensions. NGC 5170 has also a narrow dust lane that cross the central bulge.
During November 2009 studies with the Hubble Space Telescope Advance Camera for Surveys (ACS) detected 142 objects with colors and sizes typical of globular clusters. This was done in B and I bands excluding the central disc region as it can be seen in the image below. It was derived a total GC system population of 600 +/- 100, making much richer than our Milky Way.
HST/ACS I-band image of NGC 5170 covering 370 × 210 arcsec2.
North is up and east is left. The interchip gap runs across the image east–west. The location of a potential UCD (ultra compact dwarf) is shown by an open circle