NGC 6188 COMPLEX – WIDE VIEW
Ara
(ra: 16h 41m 09s/ dec -48º 48' 00'')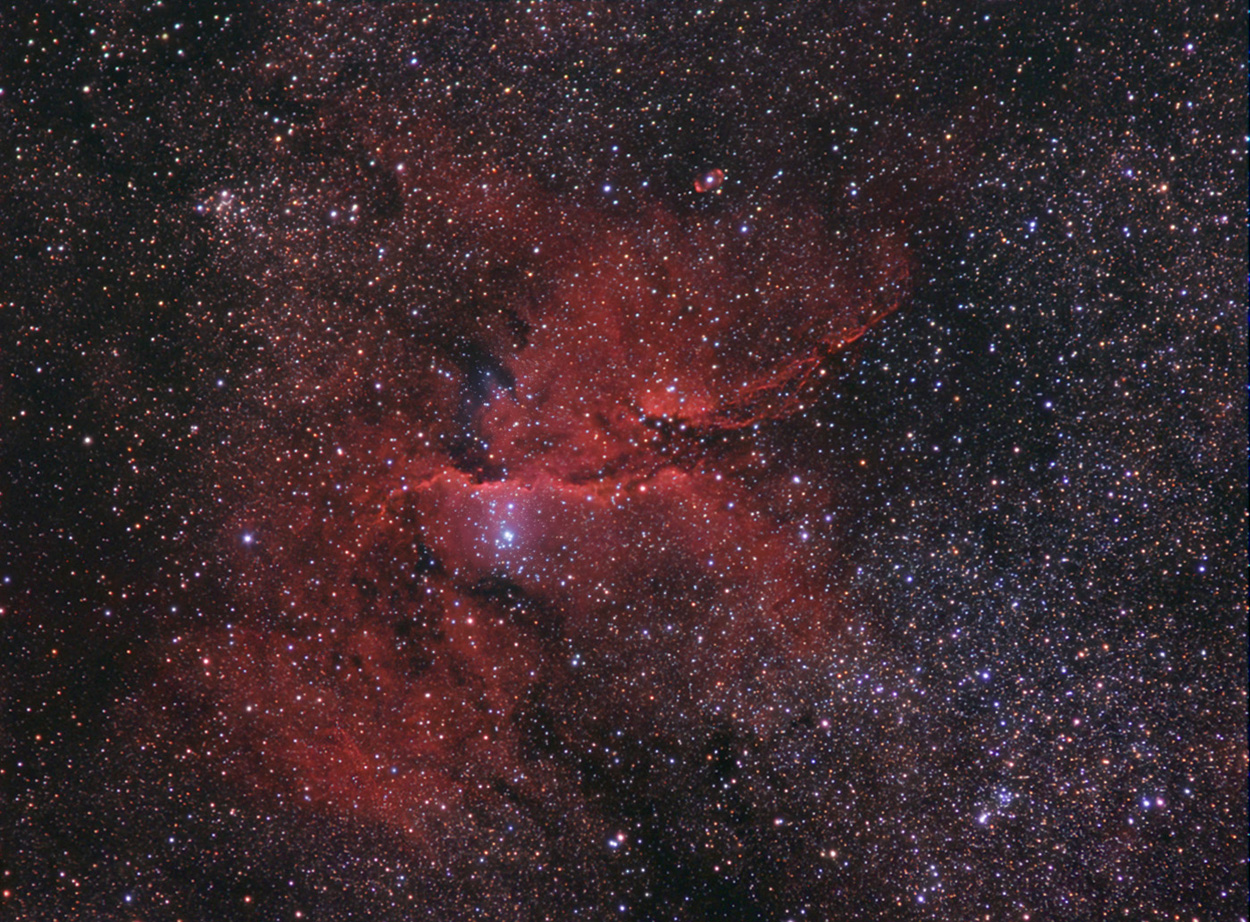 September 2009, Mercedes Observatory Backyard- Buenos Aires, Argentina
---
DATA
TYPE: Bright Reflection Nebula and lot of stars !!
VISUAL BRIGHTNESS: NGC 6193: 5.2 (visual); NGC 6188 N/A
SIZE: NGC 6193 14 arcs seconds; NGC 6188 x 20 x 12 arc minutes
DISTANCE: 4000 light years
OBJECT DESCRIPTION AND IMAGE SESSION
NGC 6188 is one of the most beautiful emission nebula of the southern sky. The region gathers young blue stars, hot red gas and cool dark dust. Is the home of a group of young stars which forms the open cluster NGC 6193. Its stars are so bright that reflects interstellar dust forming a diffuse blue glow which is nearly visible in the photograph.
The lens was quite sharp in all channels but the blue. Had to fight against aberrations in bright stars. The image is too under sampled nevertheless it was a interesting test for this little lens.
IMAGE INFORMATION
OPTICS: Pentax Tacumar 135mm f2.8 stop at f4
SKY CONDITIONS: rural skies - very good
CAMERA: Starlight Xpress SXVF H9
FILTERS: Astronomik Type II & Ha 6nm
EXPOSURES: LHaRGB (20,30,20,20,20) all 300 secs sub exposures
IMAGE ACQUISITION: AstroArt v 3. CCD control Interface v. 3.72
GUIDING: Orion ED 80 f 7.5 - SXV Guide Camera - Astro Art 3.0 CCD Control Interface Plug In
PROCESSED: Calibrated with Images Plus (no darks, nor bias used), Photoshop CS
---