NGC 6302 – THE BUG NEBULA
Scorpius
(ra: 17:13,7/ dec -37:06)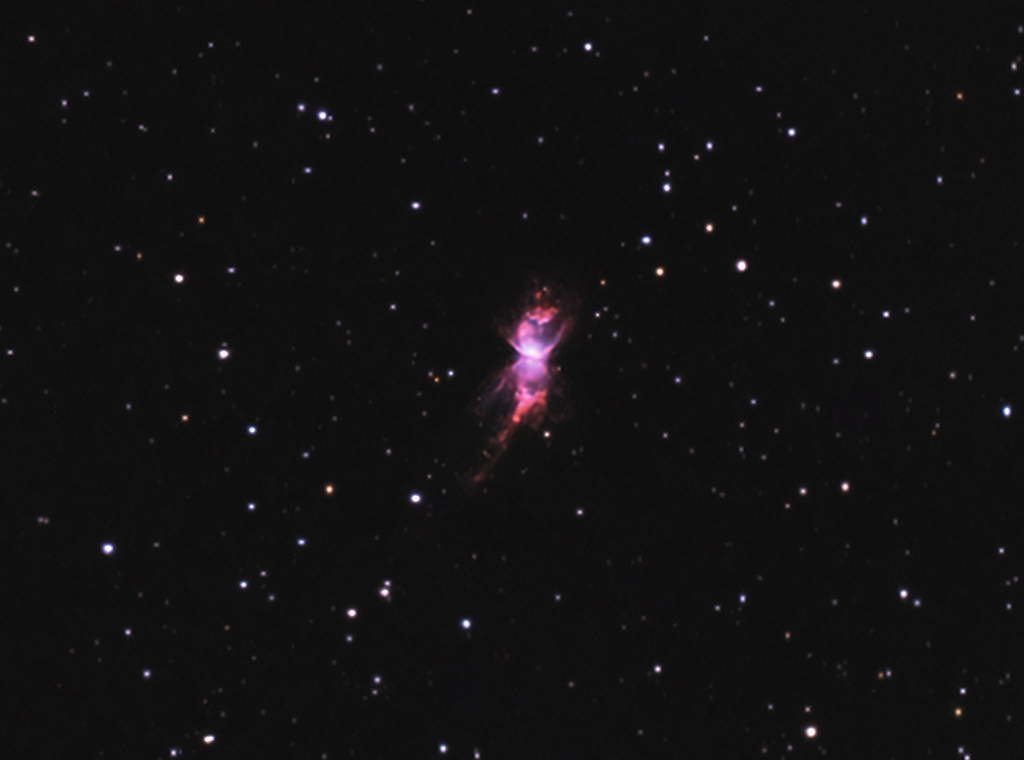 ---
DATA
TYPE: Planetary Nebula
APPARENT MAGNITUDE: 13
SIZE: 1.48 arc minutes.
DISTANCE: 3400 light years
DATE: October the 2nd 2008
OBJECT DESCRIPTION
Also known by the nickname "Bug Nebula" NGC 6302 is interesting object located in the Constellation of Scorpius. There are studies of this object from 1888. In 1907 Edward Barnard draw and described the nebula. Is one of the most complex planetary nebulas known. The central star can not be seen in visible light, but is extremely hot: with a temperature over 200.000 kelvin. The star is throwing off outer envelopes of gas in a strong stellar wind. This bipolar will continue to shine a few more thousands years. After its central star will fade and become a white dwarf.
IMAGE INFORMATION
SCOPE: Celestron C8 (SCT) Vixen GPDX Mount. Sky Sensor 2000 guided with SXV guide Camera
SKY CONDITIONS: Seeing: Good. Visual limit magnitude 4.
CAMERA: Starlight Xpress SXVF H9 @f 5 (imaged croped)
FILTERS: Astronomik Ha, Astronomik Type II, IDAS LPS II for Luminance
EXPOSURES: LRGB(10,10,10,10)
IMAGE ACQUISITION & GUIDING: AstroArt 3.0 - CCD Control Interface 3.72 Plug In
PROCESSED: ImagesPlus 2.75, Photoshop CS
---
NGC 6302 – THE BUG NEBULA - WIDE VIEW
Scorpius
(ra: 17:13,7/ dec -37:06)