NGC 6357
WIDE FIELD IN SCORPIUS
(Image Centred at ra 17h:26m / dec -34:15)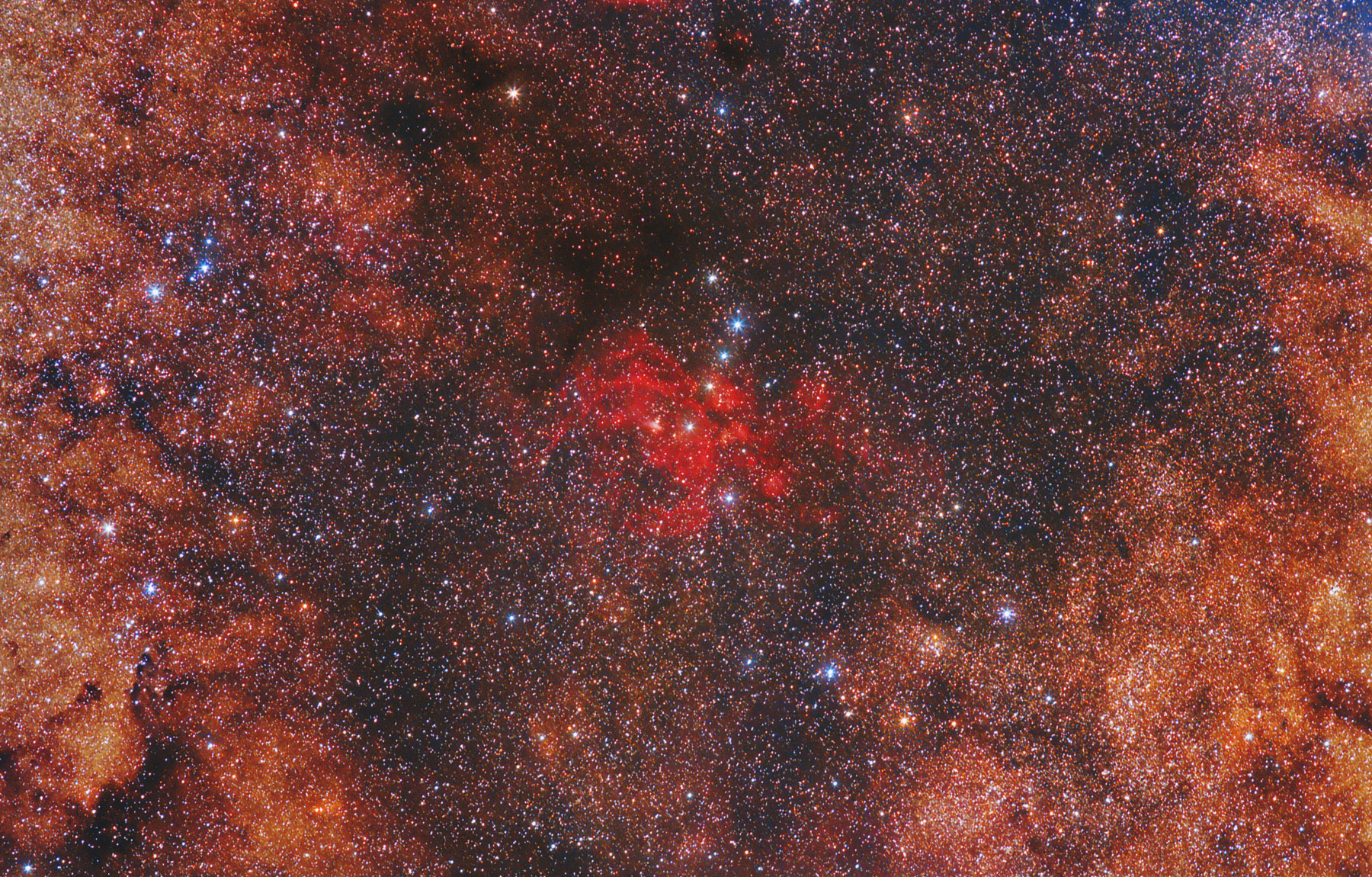 May 2015 - Camping La Porteña, San Antonio de Areco, Buenos Aires, Argentina
---
DATA
Type: Wilde field area
Apparent Magnitude: N/A
Image FOV: roughly 5º x 3.4º
Distance: 8.000 light years for NGC 6357
IMAGE INFORMATION
INSTRUMENT: Canon EF 2.8 / 200 mm stopped at f4 lens
CAMERA: Canon 60Da
FILTERS: none
SKY CONDITIONS: rural skies
EXPOSURES: 12 x 5 minutes
OBJECT DESCRIPTION AND IMAGE SESSION
NGC 6357 is one of the several gems we can find in the Constellation of Scorpius. This wild field picture shows the region where the nebula is located. The nebula is situated in the plane of our Milky Way, therefore the contrast of the center of our galaxy enhance the image background.
For visual observers NGC 6357 is easily located because the nice star pattern called "The four Juanitas" (Las Cuatro Juanitas) actually they are five with visual magnitudes from six to seven. Those stars form a colourful "J" or a "hockey stick" shape, which stand out very well with binoculars, finders and low power telescopes.
NGC 6357 contains several proto stars shielded by dark disk of gas. At the core lies the stellar cluster Pismis 24 with star exceeding 100 solar masses. The nebula spans 400 light years, showing intricate shapes carved by stellar winds and energetic radiation from the young forming massive stars.
---