NGC 6559 - Barnard 303
DARK EMISSION AND REFLECTION NEBULA REGION IN SAGITTARIUS
(Image Centred at ra: 18.10/ dec -23:68)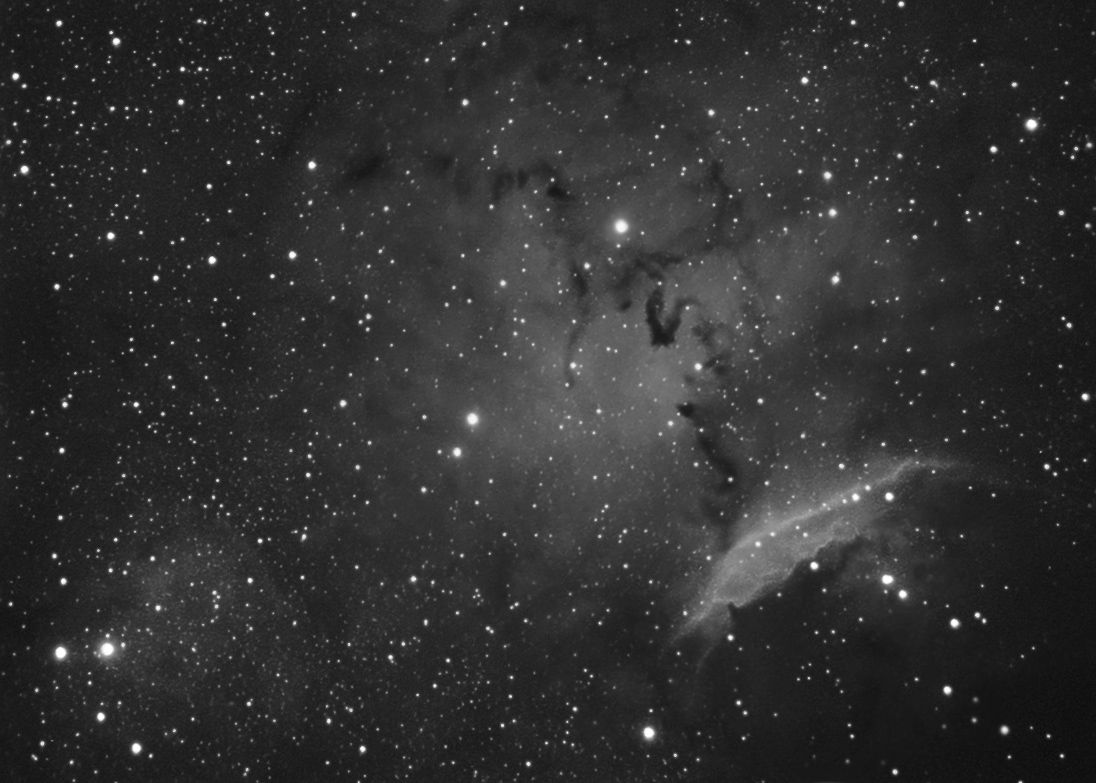 June 2009, Home Backyard in Martinez Buenos Aires, Argentina
---
DATA
TYPE: Bright Emission, Reflection and Dark Nebula Region
Apparent Magnitude: n/a
Apparent Diameter: Picture 35 arc minutes
DISTANCE: 7000 lights years
IMAGE INFORMATION
SCOPE: Celestron C8 SCT working at f6 (roughly)
CAMERA: SXVF H9
GUIDING: William Optics Zenithstar 66 with WO 0.8 x fr/ff
IMAGE ACQUISITION: AstroArt 3.0 - Control Interface 3.72 plug in
FILTERS: Astronomik CLS Astronomik Ha 6 nm - Atik Filter Wheel
SKY CONDITIONS: urban skies - transparency and seeing regular
EXPOSURES: LHa (20,40)
PROCESSING: Calibrated in Images Plus (no darks, no flats, no bias), CCD Sharp, Photoshop CS2.
OBJECT DESCRIPTION AND IMAGE SESSION
The picture shows an interesting region that includes a variety of objects. They are located at only one degree west from the Lagoon Nebula. NGC 6559 is a emission nebula located below the arc shaped glowing cloud.
B 303 is the "serpent shaped" dark nebula. It starts 3 arcs minutes from the brightest star in the photograph SAO 186366 with 7.6 magnitude. B 303 does not generate light, but absorb the light of the hydrogen cloud which is more distant. This dark nebula spreads it path into 7 light years.
The image was taken in a regular to bad night, as a consequence the RGB channels were washed out. For urban locations it would be convenient to double or tripled the exposure time used here or try with shorter focal lengths.