CORONA AUSTRALIS NEBULA COMPLEX
INCLUDING NGC 6723; 6726; 6727, 6729 & IC 4812
(Image Centred at ra 19h:02m / dec -36:40)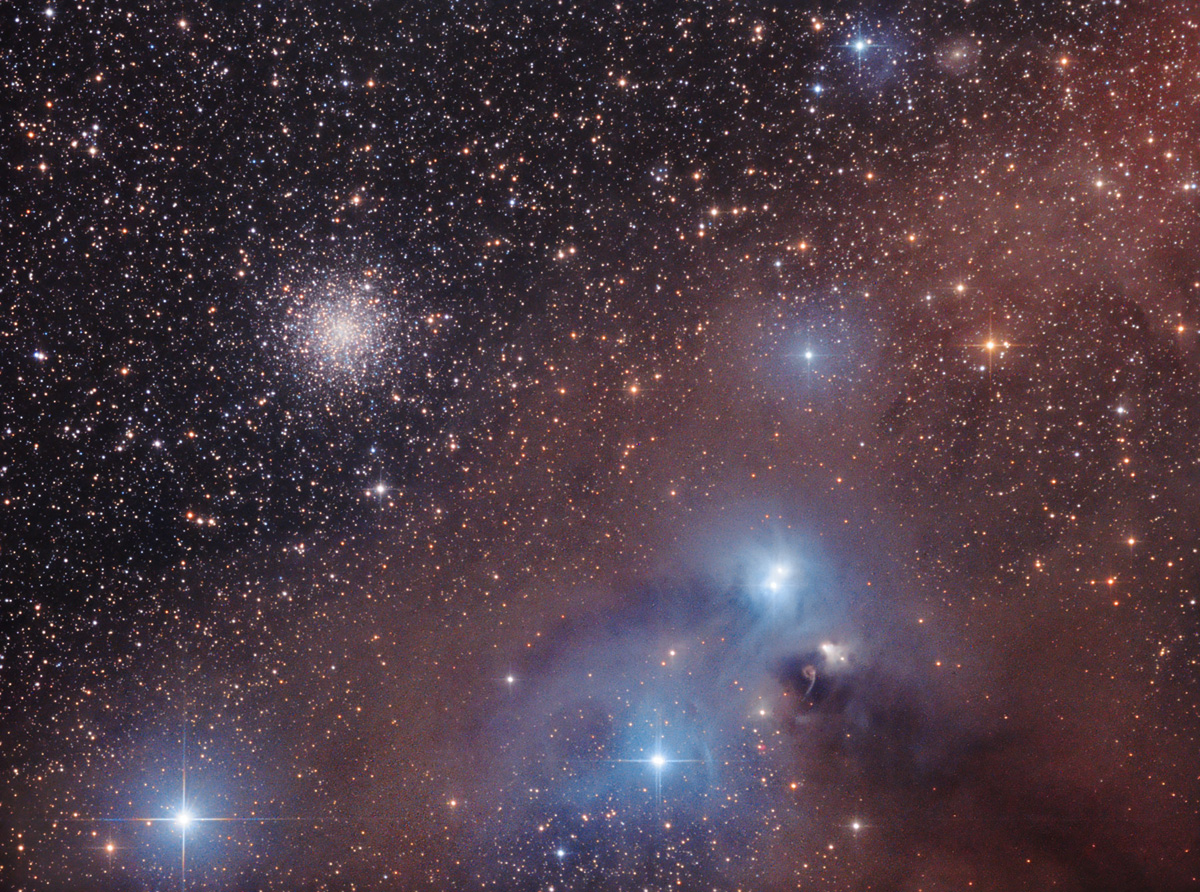 CLICK THE IMAGE FOR A HIGHER RESOLUTION VIEW
July 2015 - Complejo La Aldea, San Luis, Argentina
---
DATA
Type: Reflection Nebula Complex, Dust Clouds and Globular Cluster
Apparent Magnitude: NA for the nebula and dust complex - Globular Cluster NGC 6723: 6.8
Apparent Diameter: Image FOV 1 x 0.5 degree
Distance: less than 500 light years
IMAGE INFORMATION
OPTICS: 6" f5 Orion Optics Reflector with Televue Paracorr working at 5.75
CAMERA: QSI 583 WS
FILTERS: Baader LRGB
MOUNT: Sky Watcher NEQ6
SKY CONDITIONS: rural skies.
EXPOSURES: LRGB (70,30,30,30) RGB bin 2x2.
OBJECT DESCRIPTION AND IMAGE SESSION
The 6 inches Newtonian with the QSI 583 chip gave a suitable FOV combination to cover the above intriguing area with very interesting objects..
NGC 6729, 6727 and 6726 are reflection nebula illuminated by energetic young and hot stars producing the well known blue colour. Dust clouds known as Barnes 157 is also revealed into the picture blocking the light of more distant stars. Finally Globular Star Cluster NGC 6723 complete the frame covering around 13 arc minutes.
The reflection complex includes variables stars as magnitude 10 RCrA covered by a yellow cloud which also varies its brightness. RCrA is a main sequence star with two to ten times de mass of our Sun and it is one of the closest star forming region. A 100 % resolution image can be seen below with RCrA at the center of the frame.
---
NGC 6729 AT 100 % RESOLUTION
6 " NEWTONIAN ORION OPTICS UK